Today I though I would venture a little further afield to get my nature fix so I decided I would go and hunt down some rare butterflies. I had come across some pictures online the other day of dingy and grizzled skipper (little butterflies) at a place called Foulden common. These are both butterflies I have never seen before so I jumped onto google maps and found it was about an hours drive from where I live. I was tempted to go looking for swallowtails this morning. Norfolk is the only place in the UK where you find them and being big, beautiful and charismatic butterflies there were bound to be loads of people at my local nature reserve trying to photograph them. I'm not a fan of crowds at nature reserves and being a beautiful bank holiday Monday it was bound to be busy so I thought I would leave the swallowtails for a quieter day. I knew I wouldn't be jostling with many people for the skippers, these guys are small and are rather moth like in appearance, more a specialist pursuit, and I love all butterflies so I thought I would make the effort. I found the site easily and was surprised to find out was the only person there. I started seeing butterflies right away, there where Speckled Woods at the entrance and orange tips and brimstones flying round the hedges.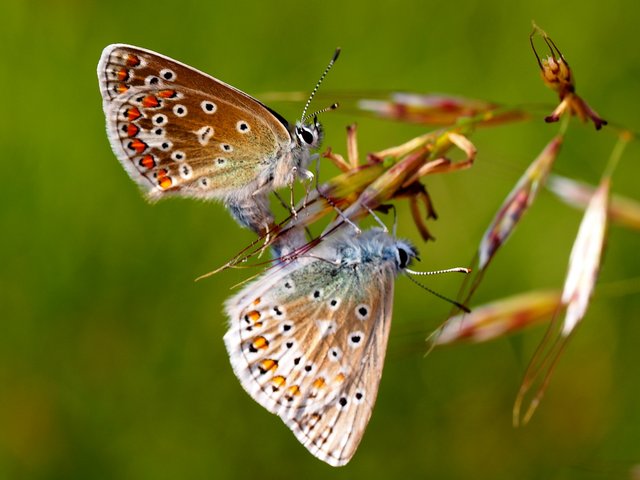 (Common blues mating)
It wasn't long before I found the area I was looking for marked by the lovely little yellow flowers of Horseshoe Vetch. This plant will only grow on chalky soils and there is only one other sight in Norfolk with chalky grassland that I know of. This is the reason these butterflies I was hunting are particularly rare here in Norfolk.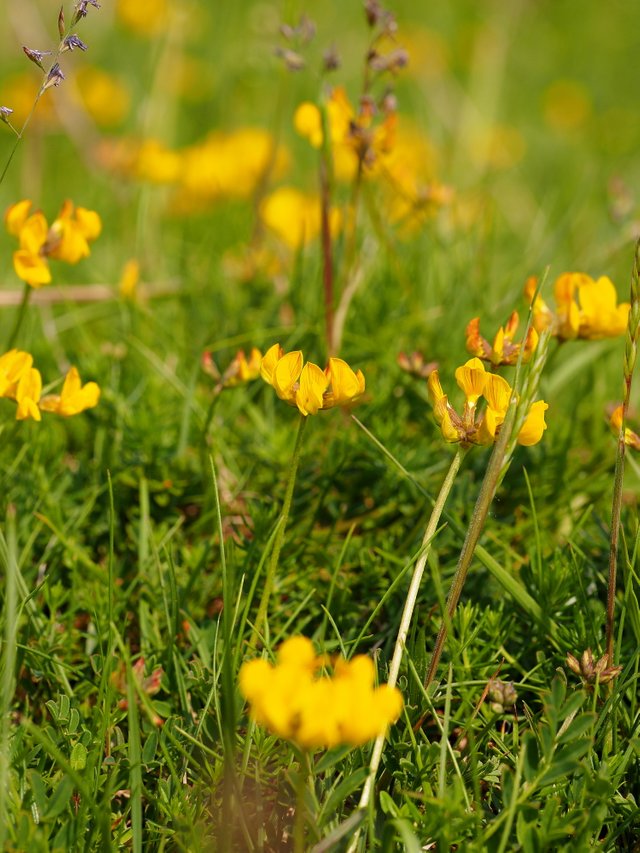 I very quickly got my first views of a dingy skippers. There where quite a few around but there were moving fast and quite trick to photograph. They were very similar in flight to many moths around and flew quickly and erratically it was very hard to follow them from one perch to the next.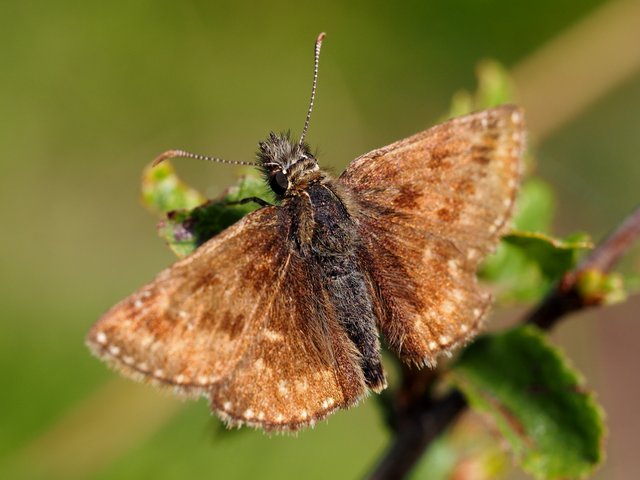 I soon saw another two species of butterfly. The lovely little common skipper, one of the few spring visitors to my little city garden, and common blues. I found one lovely pair of blues that had just started mating and seemed to have no problems with allowing to get up close with my macro lense.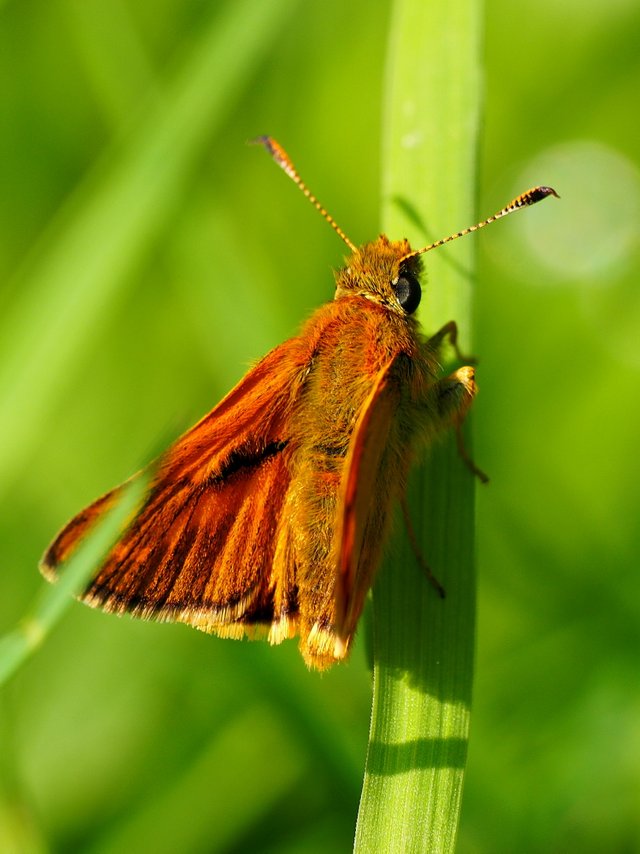 With my early success I decided to have a wonder around the whole site and had some good wildlife sighting. There where several montjac deer about and I nearly jumped out of my skin when a pheasant jumped out from under my feet. I got a glimpse of a bird that must have been a peregrine falcon, saw another two species of butterfly (peacocks and large white) and saw many damselflies and dragonflies around. The only reptiles of the day where two common lizards.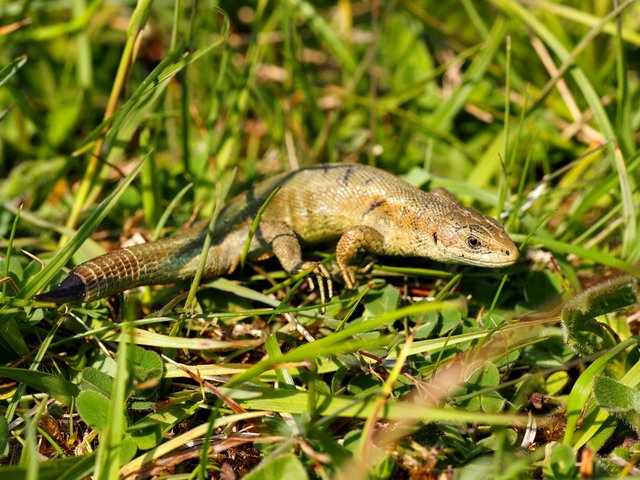 I still had not seen the grizzled skipper yet so returned to the original spot with all the horseshoe Vetch but after being on site for nearly two and a half hours I was giving up hope of finding it. Just as I was about to leave I followed a small flying insect right out into the field away from the flowers and it was there I spotted my first and only grizzled skipper. Thankfully the tinny butterfly landed and I snapped a few shots before it flew off and rapidly disappeared.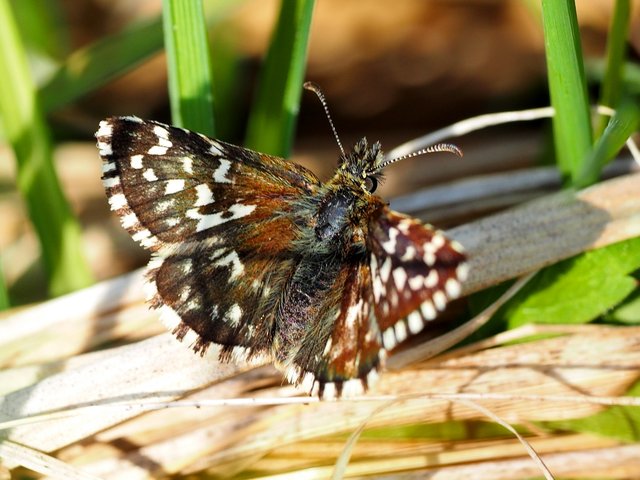 Not big and beautiful but the skippers were full of energy and character I'm glad I made the trip to see them flying at Foulden common. :-)