Nature always surprises with many unique things and beauty. There are many things around us, but we never notice them or even we notice we never like to explore them. During one such afternoon walk to nearby Medico shop ( To get some medicine for Dad ) today, i saw these Cuscuta weed in a plant.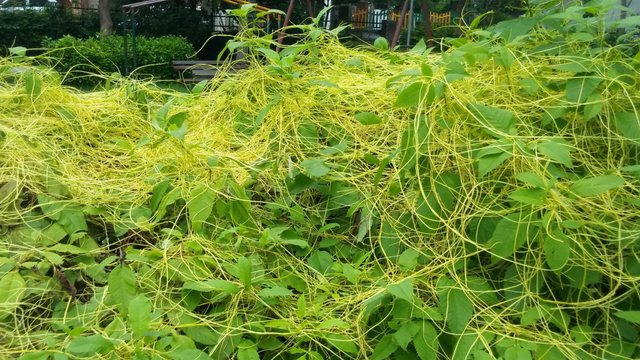 ---
These Cuscuta weeds in Yellow are very common in Asean countries and mostly found everywhere. Inspite of beautifying the Green plant with its Yellow color, these have unique tendency to grow and spread to engulf the entire plant.
It clasps like Cobweb and cover stem and leafes of the plant.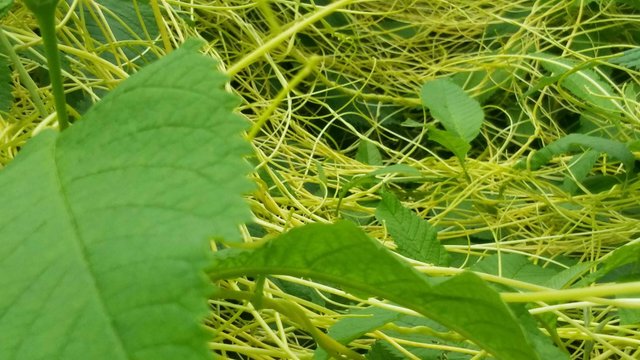 Though I have read about it my school. Today when I saw them after long time , I thought about digging some more detail. On checking on Wikipedia , it shows the following details
This plant species is common in the Indian Subcontinent. This parasitic plant species is a leafless twined sprawling thin vine that grows over a host plant. This species capable of producing numerous branches which can cover the host plant within a very short period of time and suck life out of the host plant. Flowers are small, bell shaped and white in colour with yellow filaments. Fruits and seeds are produced from the flower. This species is used in producing traditional medicines for the treatment of headache, labour pain, bone fracture, fever, rheumatism etc
So these are kind of Slow Poison which keep decreasing the plant life.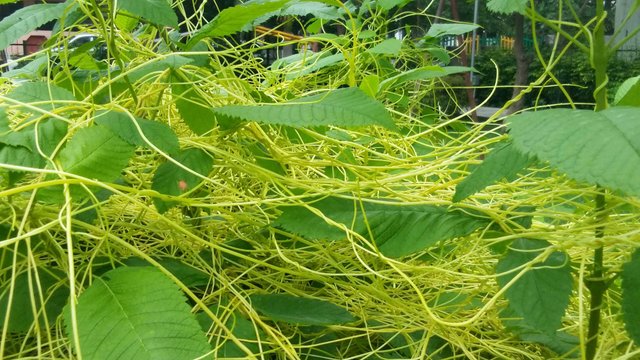 The thin tissues are intermingle with each other and very hard to seperate. One important thing is that they do not need soil & water to grow, they keep growing above the plant. Another intetesting thing is that spread very rapidly. Even if you carry a small tissue and put it another plant, these weeds quickly spread all over.
Quite interesting , still quite dangerous as it make plant to die. Still the Green and Yellow color gives a decent and attractive look. Death comes in any form.
Have you ever seen these?? What you call them ?
Stay Calm....
Keep Steeming...Steem On !!!
---
**Vote for Witness** I have given mine. Do you??
@firepower
,
@enginewitty
,
@therealwolf
@patrice
@reggaemuffin
@c0ff33a
@thekitchenfairy
@drakos
@roelandp
@good-karma
are in my list.
---



...........................................

..............................................