Kürzlich waren wir auf einer Pflanzentauschbörse in Köln. Die Idee dieser Börse ist in erster Linie Pflanzen und Ableger zu tauschen oder gegen Spende für einen guten Zweck zu erwerben. In nicht kommerziellem Umfeld sollen Wissen und Erfahrungen ausgetauscht werden und natürlich Pflanzen den Besitzer wechseln.
Die Tauschbörse gibt es wohl schon seit ein paar Jahren, mit wechselndem Standort, und so fiel in diesem Jahr die Wahl auf den Finkens Garten, einem Naturerlebnisgarten in Rodenkirchen. Beides war Neuland für mich, aber neue Erlebnisse bereichern ja nun mal unser Leben.
I've recently visited a plant exchange market in Cologne. The idea of this exchange is first and foremost (what a surprise) to exchange plants and cuttings or to buy them for a donation for a good cause. In a non-commercial environment knowledge and experience should be exchanged and of course plants change their owners.
The exchange already exists for a few years now, with changing location and this year the Finkens Garden was choosen. The Finkens Garden is a nature experience garden in a part of Cologne called Rodenkirchen. The garden, as well as the plant exchange market were new territory for me, but new experiences well enrich our lives.
Finkens Garten
Mit dem Ort des Geschehens haben wir uns erst einen Tag vor der Börse auseinandergesetzt, schließlich mussten wir ja wissen wo wir hinfahren.
Den Finkens Garten gibt es bereits seit über 30 Jahren. Er ist frei zugänglich für jedermann und gibt die Möglichkeit die heimische Tier- und Pflanzenwelt zu erkunden.
Das Angebot ist natürlich vornehmlich an Kinder gerichtet, aber auch als Erwachsener kann man hier seinen Spaß haben, wie wir feststellen sollten.
Schon am Eingang bekamen wir eine Karte in die Hand gedrückt und einige Erklärungen, wo wir was finden würden.
Das hatte ich nicht erwartet. Finden? Karte? Ich hatte nicht gedacht, dass wir uns noch auf eine Schatzsuche begeben müssen, ich wollte doch zur Tauschbörse.
"Einfach durch die Streuobstwiese geradeaus und an der Kreuzung rechts." Ok, das klang einfach, wir machten uns also auf den Weg, vorbei an vielen Bäumen, die den Weg auf beiden seiten säumten. Äpfel, Birnen, Kirschen, alle möglichen heimischen und teilweise völlig unbekannte Sorten waren zu finden. Jeder Baum ist einzeln beschriftet und auf einer großen Tafel findet man nähere Erläuterungen.
Früchte trug natürlich keiner der Bäume mehr, dafür steht am Weg eine kleine rote Box mit Äpfel, zur Selbstbedienung.
We only made ourselves familiar the location of the event one day before the we went there, at least we had to know where we were going.
The Finkens Garden exists for more 30 years now. It is freely accessible for everyone and gives the opportunity to explore the local flora and fauna.
Of course, the offer is primarily for children, but even as an adult you can have some fun here, as I found out.
At the entrance we received a map and some explanations, where we would find certain locations.
This was rather unexpected for me. Find it? Map? I hadn't thought that we would have to go on a treasure hunt, wasn't it just a plant exchange.
"Just go straight through the orchard and then turn right at the intersection." Ok, that sounds easy, so we moved along, passing many trees that lined the way on both sides. Apples, pears, cherries, all kinds of native and partly completely unknown varieties of fruits. Each tree is individually described and on a large board you can find more detailed explanations.
Of course none of the trees had fruit anymore, but there was a small red box with apples on the way, for self-service.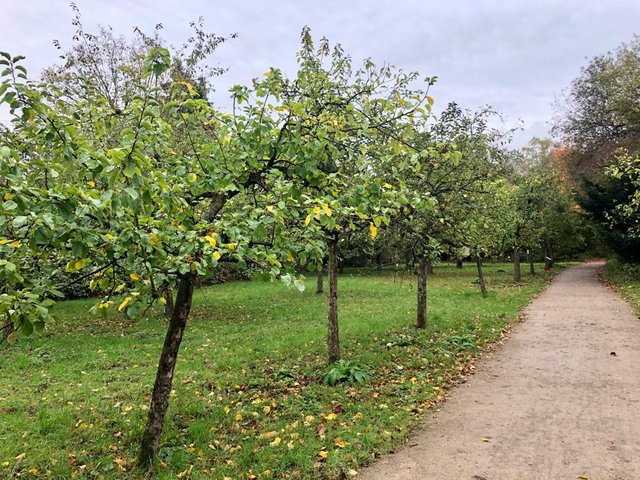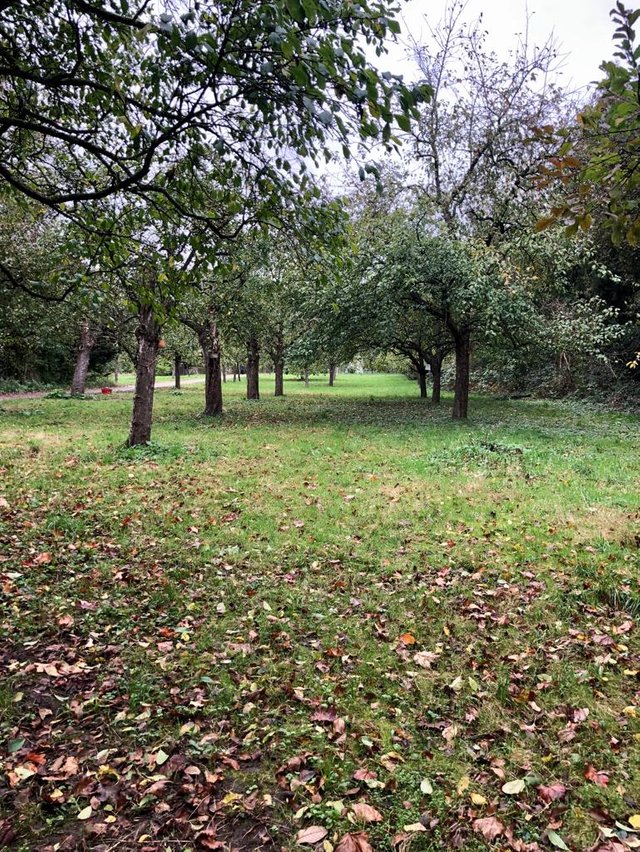 Hinter der Wiese geht es tatsächlich rechts auf einen paar Stände zu, doch mein Entdeckergeist ist geweckt und so lasse ich mich zunächst von ein paar Pflanzen am Straßenrand ablenken.
Behind the meadow we actually had turn right and we spotted indeed a few stands, but my spirit of discovery was awakened and I was distracted by a few plants at the roadside.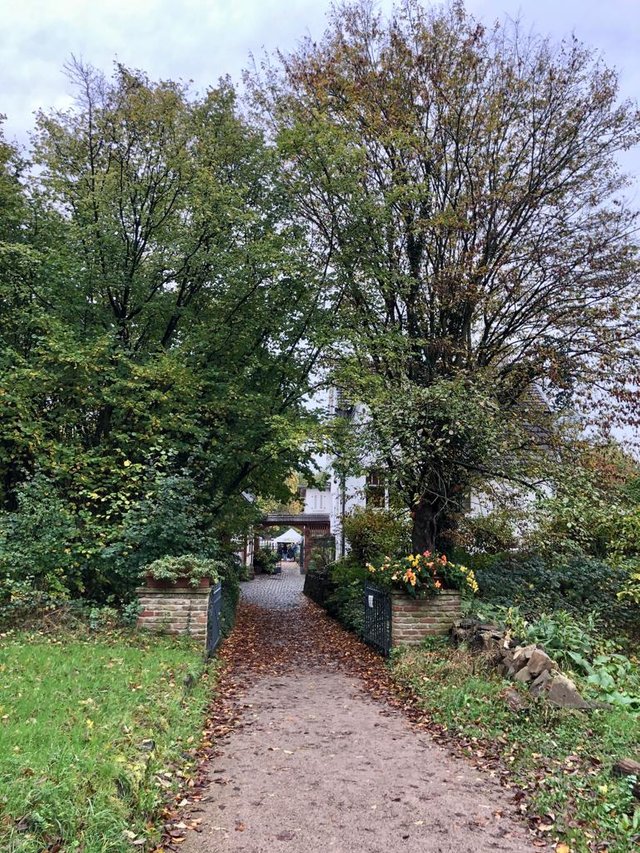 Hier wird der Nasengarten beworben. Pflanzen, die nach Kaugummi und Cola riechen, machen nicht nur Kindern Spaß. Man reibt vorsichtig die Blätter und riecht dann an den Fingern. Es funktioniert wirklich und macht unglaublichen Spaß auch einfach mal zu raten.
The nasal garden (or better translated with odour garden) is advertised here. Plants that have the odour of chewing gum and coke are not only fun for children. You carefully rub the leaves and then smell your fingers. It really works and is some fun to guess.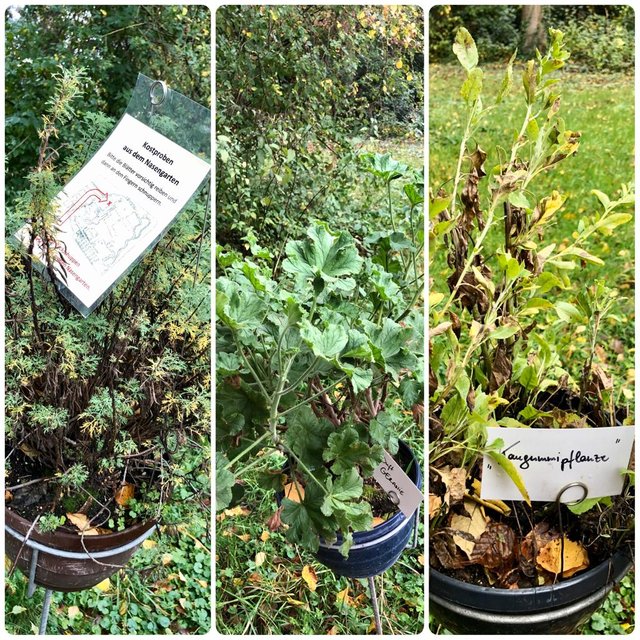 Wir beschließen uns den Rest des Geländes auch noch anzusehen, bevor wir uns den Ständen zuwenden und gehen noch ein Stück weiter in den Wald hinein.
Der Klanggarten empfängt uns mit eine paar Windspielen und einem kleinen Bambusdschungel. Auf ungefähr vier Quadratmetern wächst der Bambus in die Höhe, sehr auffällig in einem ansonsten typischen Mischwald.
We decide to have a look at the rest of the terrain before turning to the stands and walk a bit further into the forest.
The "sound garden" welcomes us with a few wind chimes and a small bamboo jungle. On about four square meters the bamboo grows up, very conspicuous in an otherwise typical Western European mixed forest.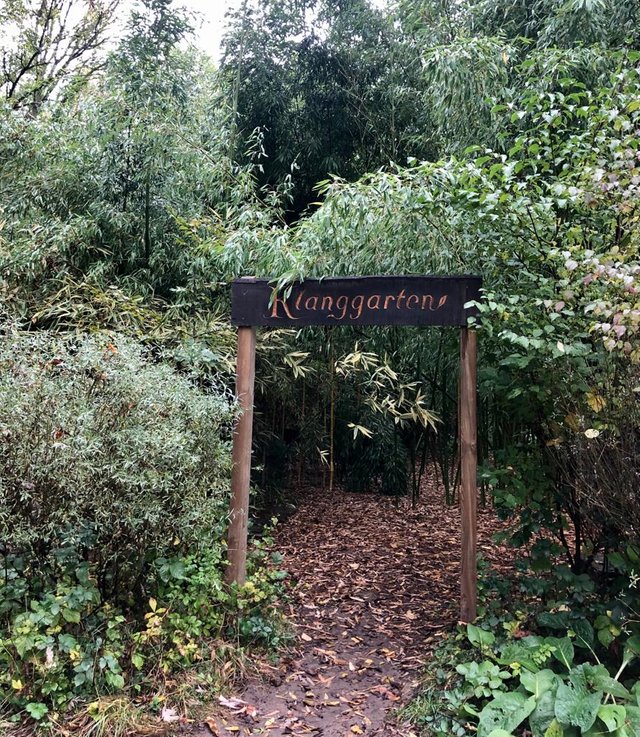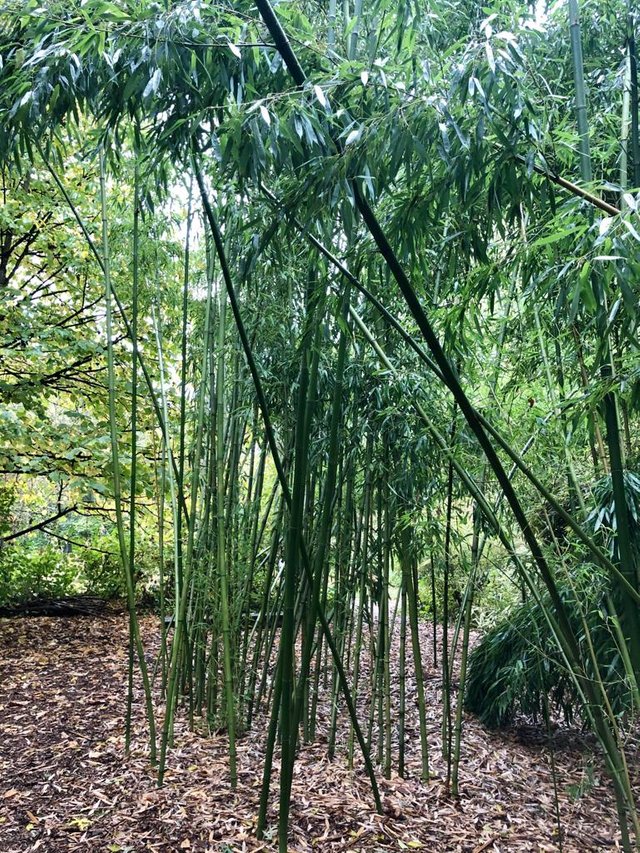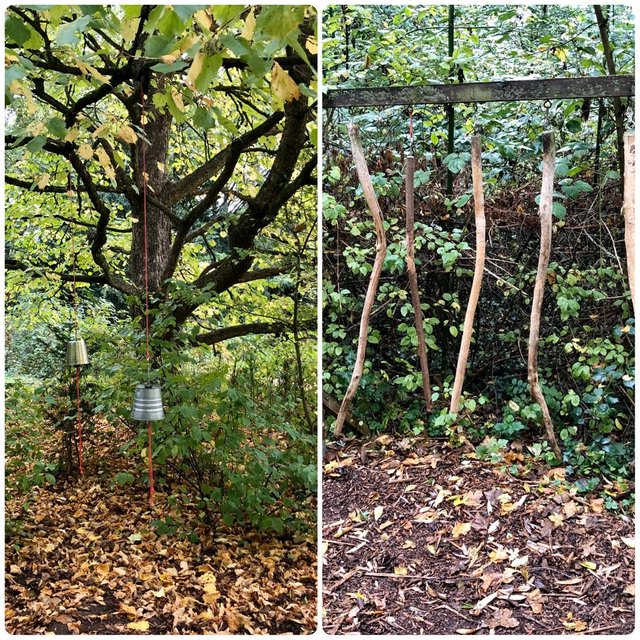 Direkt hinter dem Klanggarten schließt der Tastgarten an. Mehrere Boxen stehen am Weg und durch eine Klappe in der Vorderseite kann man hineingreifen um zu erraten, was sich darin befindet. Auf einem kleinen Schild unter dem Kasten findet man dich richtige Lösung.
Ich bin etwas skeptisch, greife aber mutig in einen der Kästen, schon in der Erwartung, dass mich darin Käfer erwarten (wer Indiana Jones und der Tempel des Todes gesehen hat, weiß ungefähr wie es mir ging)
Directly behind the "sound garden" is the "tactile garden". There are several boxes along the way and through a flap in the front you can reach in and guess what's inside. On a small sign under the box you'll find the right solution.
I'm a bit sceptical, but courageously put my hand inside the box, already expecting beetles waiting for me (whoever has seen Indiana Jones and the Temple of Doom knows about how I felt)
ab 1:30min / starts at 1:30min

Es waren Kastanien, Glück gehabt. ;-)
Chestnuts, lucky me. ;-)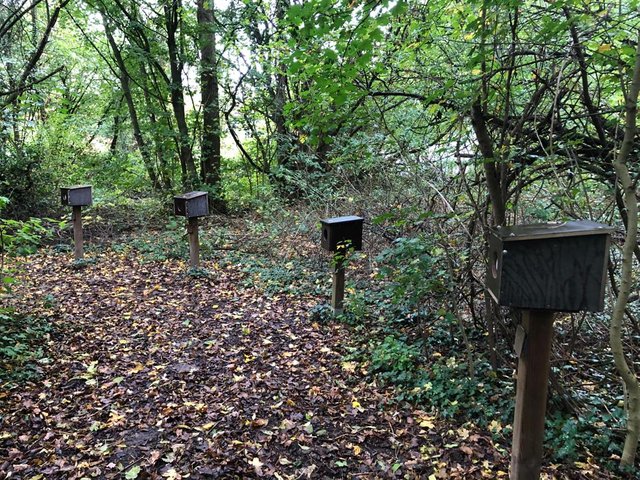 Dahinter konnte man sich dann im Ertasten von Bäumen üben, die Aufgabe ist die Augen zu verbinden und an der Rinde zu erkennen, um welchen Baum es sich handelt. Gar nicht so einfach, der Mammutbaum war noch leicht, aber ich bin wohl alles andere als ein Baumexperte. Wie viele hättet ihr erkannt?
Behind this part you can practice your self in palpating trees, the task is to recognize by the bark which tree it is, this has to be done blind of course. Not so easy at all, the sequoia tree was still quite easy, but I am probably anything but a tree expert. How many would you have guessed correctly?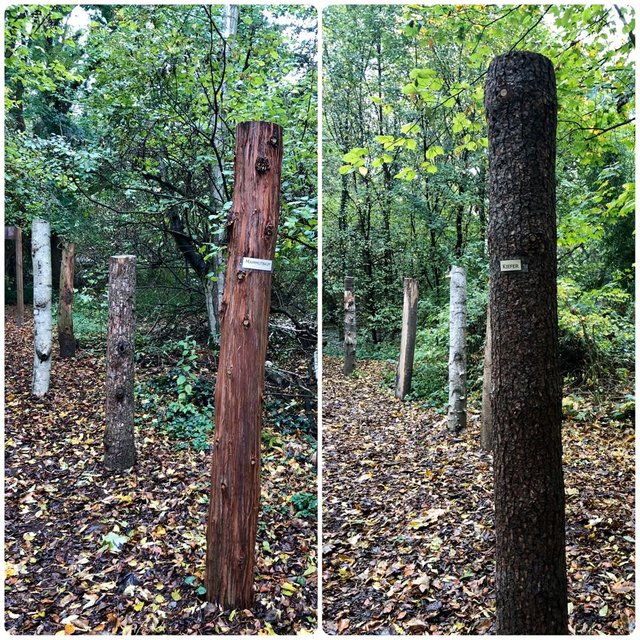 Auf dem Fußtastpfad hingegen kann man die Natur und unterschiedliche Untergründe über die Füße erleben. Da das Wetter an diesem Herbsttag jedoch in keinster Weise dazu einlädt barfuß zu laufen, lasse ich diesen Teil großzügig aus.
On the footpath, on the other hand, you can experience nature and different subsoils through your feet. Since the weather on this autumn day doesn't invite you to walk barefoot in any way, I leave this part out generously.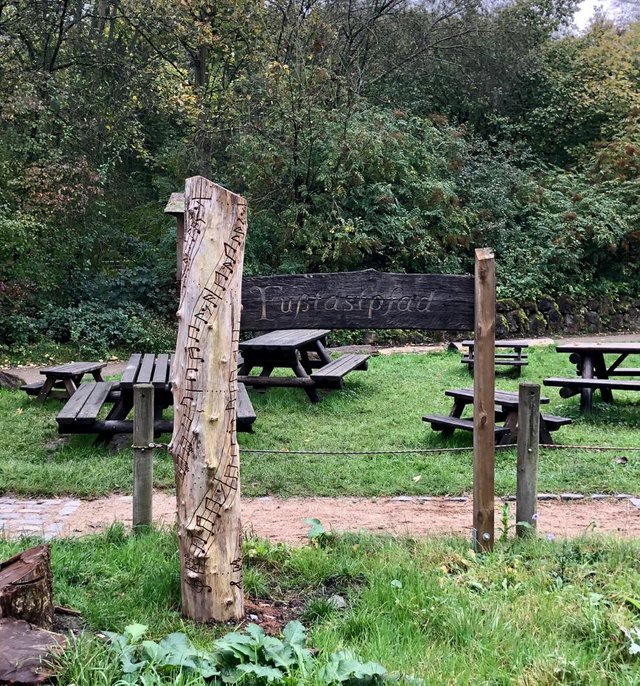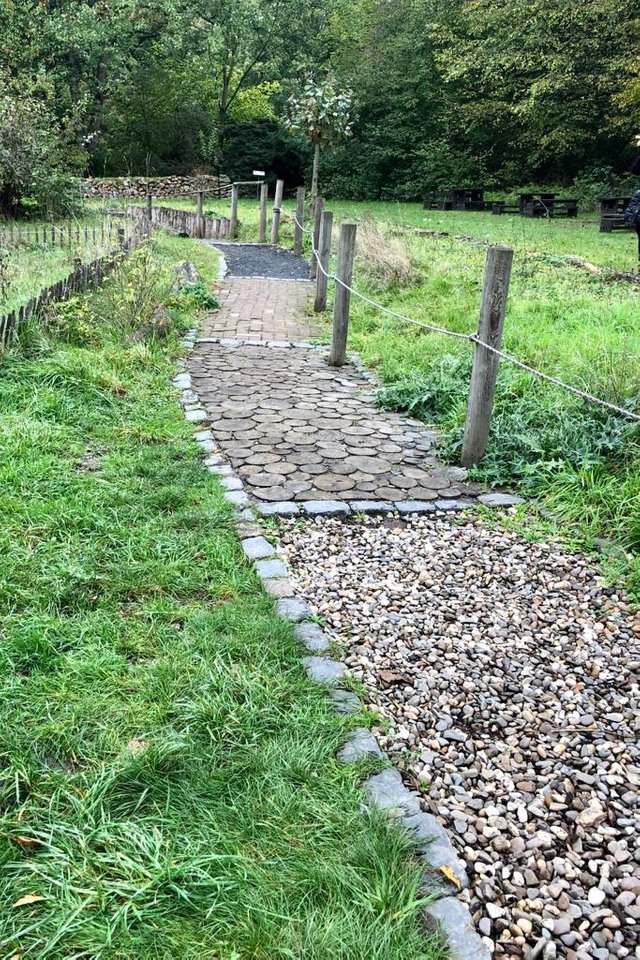 Im Bogen laufen wir über das Gelände, vorbei am Vogelbeobachtungshaus, was zu dieser Jahreszeit und den Wetterbedingungen weniger spannend erscheint, und gelangen schießlich zum Bienenhaus. Dort befinden sich vier Bienenstöcke und daneben eine Hütte in der unter anderem Produkte aus der eigenen Imkerei angeboten werden.
Einige Tafeln vermitteln interessante Informationen über Honigbienen. Wusstet ihr zum Beispiel das Bienen bis zu 30km/h schnell fliegen können?
We walk in an arc over the terrain, past the birdwatching house, which seems less exciting at this time of the year and accordng weather conditions, and finally arrive at the bee house. There are four beehives and next to them a hut where you can buy products from their own apiary.
Some boards provide interesting information about honey bees. Did you know, for example, that bees can fly up to 30km/h fast?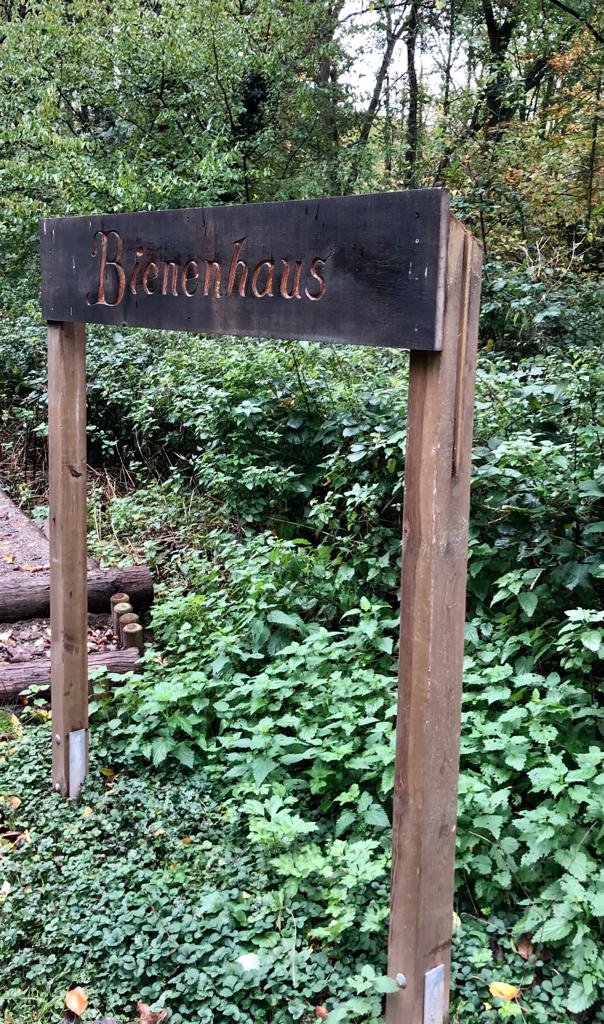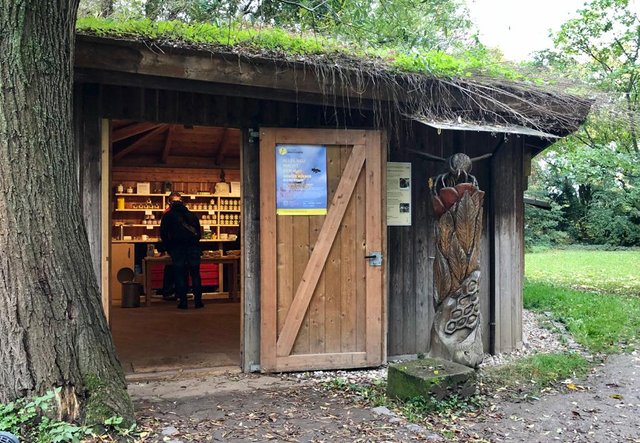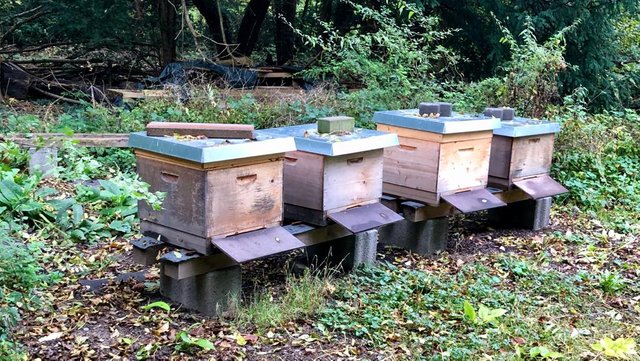 Bekanntermaßen kommunizieren Bienen nonverbal über eine Art Tanzbewegung, was die einzigen Bienen, die sich blicken ließen, uns mitteilen wollten, war mir allerdings nicht ganz klar. Vermutlich so etwas wie:"Mach dich vom Acker!"
It is well known that bees communicate non-verbally via a kind of dance movement, but I'm not sure what the only bees that showed up tired to tell us. Probably something like: "Get out of the field!"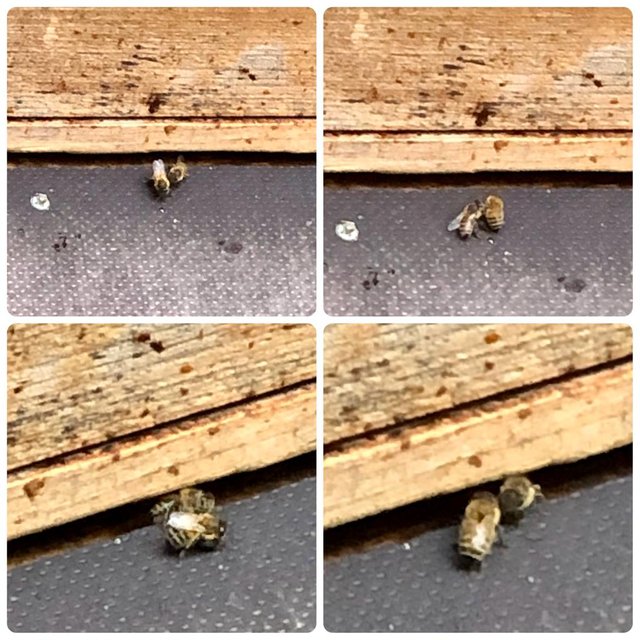 Auch an die Wildbienen ist aber gedacht, denn überall findet man Insektenhotels unterschiedlicher Qualität.
But also for wild bees I found a lot of insect hotels of different quality all over the place.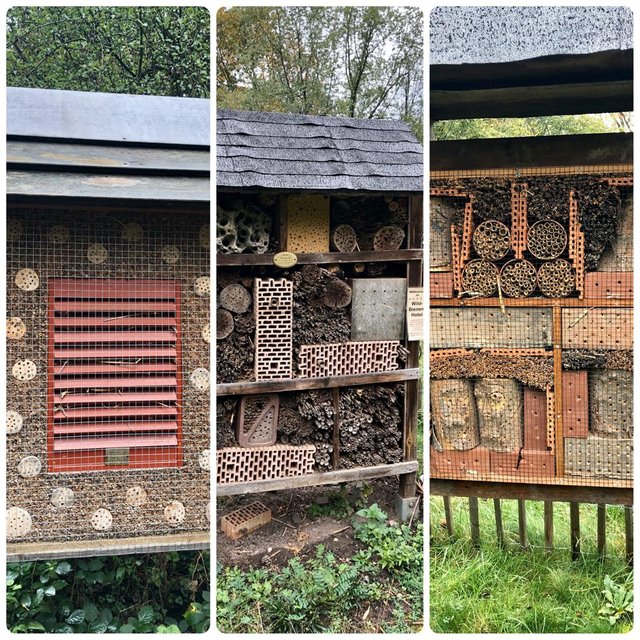 ---
Die Tauschbörse / The plant exchange market
Direkt hinter dem Bienenhaus geht es auch schon über einen kleinen Weg zur Pflanzentauschbörse. Vorbei an einigen wilden Gärten, erreichen wir die Stände und ich fühle mich erstmal etwas hilflos.
Directly behind the beehive was a small path to the plant exchange. Passing some wild gardens, we reach the stands and I feel immediately a bit helpless.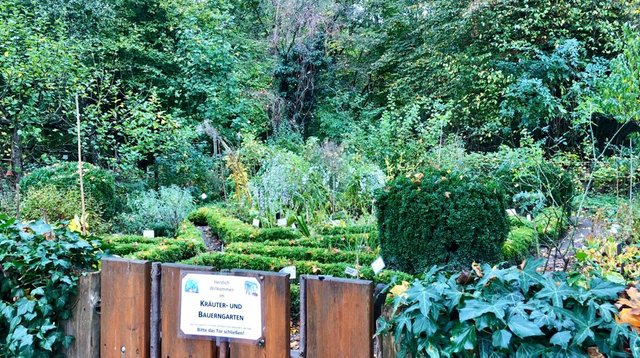 Wo soll man anfangen, auf der einen Seite haben einige Privatleute Tische aufgebaut, andere laufen mit Körben voll Pflanzen umher, die Auswahl der Pflanzen ist bunt und oft steht nicht dran, um was es sich eigentlich handelt.
Where to start? On one side some private people have set up tables, others walk around with baskets full of plants, the selection is more or less colourful and very often you can't find any indication of what kind of plant it is.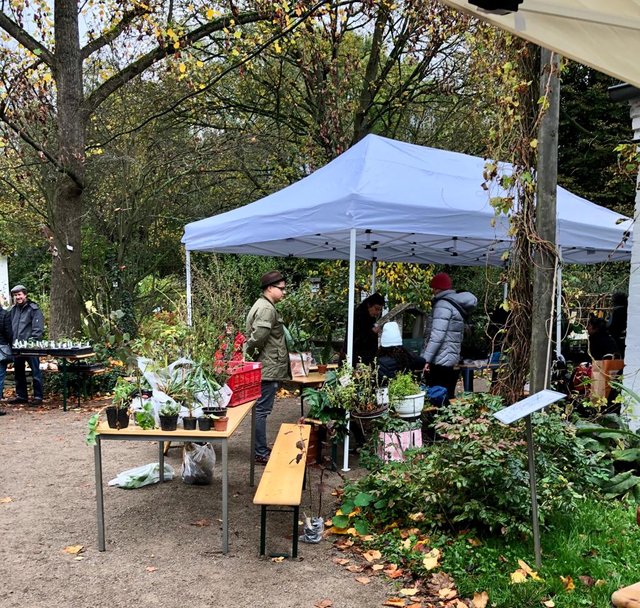 Es gibt auch einen Stand des Nabu (Naturschutzbund Deutschland), laut preist jemand dort die heimischen Astern an "Was man so im Gartenmarkt bekommt ist meist aus Amerika, diese hier sind also echt selten." und mir kommen auch schon einige willige Abnehmer mit großen Töpfen entgegen.
*There is also a stand of the Nabu (German nature protecting association), someone praises the local asters loudly "What you get in the garden market is mostly from America, so these are really rare here" and I already meet some willing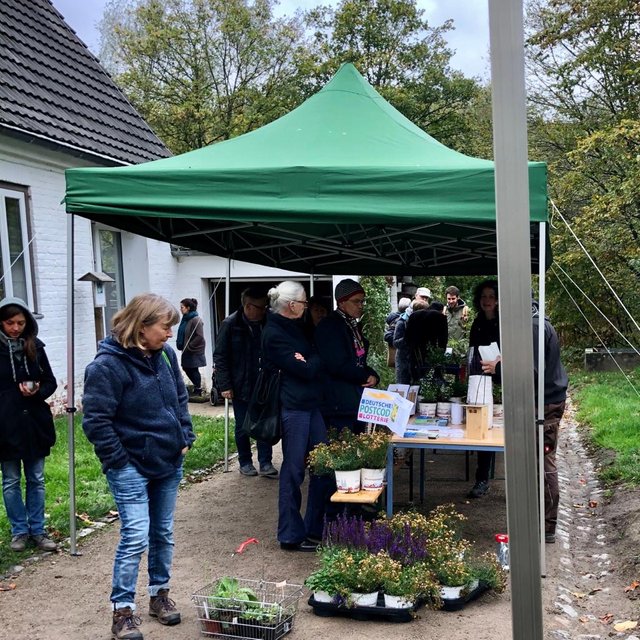 Besonders groß ist der Stand der Betreiber des Finkens Garten, alles ist ordentlich beschriftet und mehrfach vorhanden. Eine Mitarbeiterin erklärt in aller Ruhe einer Gruppe Kinder wie lecker Minze doch schmeckt.
The stand of the operators of the Finkens Garden is particularly large, everything is neatly labelled and available several times. An employee is just explaining how delicious mint tastes to a group of children.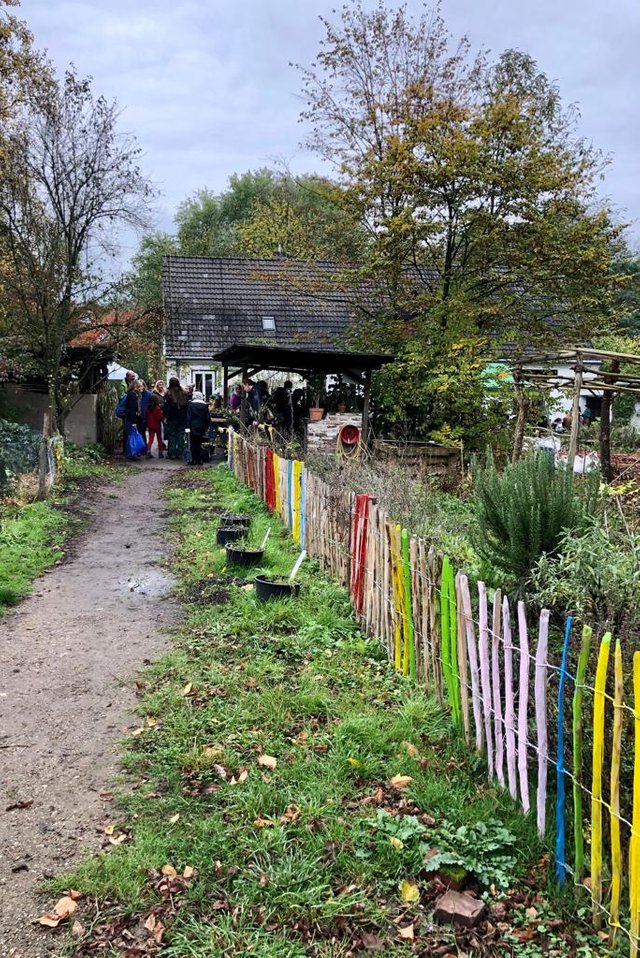 Damit hat sie mich dann auch geködert, ich fühle mich super beraten und stolz erwerbe ich eine Apfelminze gegen Spende. Motiviert trauen wir uns nun auch näher an die anderen Stände und schon bin ich in ein Gespräch mit einer passionierten Gärtnerin verwickelt, die mir zwei winzig kleine Erdbeerpflanzen überlässt.
Überhaupt scheint an ihrem Stand alles etwas kleiner zu sein, wie auch diese Fichte hier.
I loved it,I feel well advised and proudly buy an apple mint for a donation. Motivated we now dare to get closer to the other stands and already I am involved in a conversation with a passionate gardener who leaves me two tiny strawberry plants.
Everything seems to be a bit smaller at her stand, like this spruce here.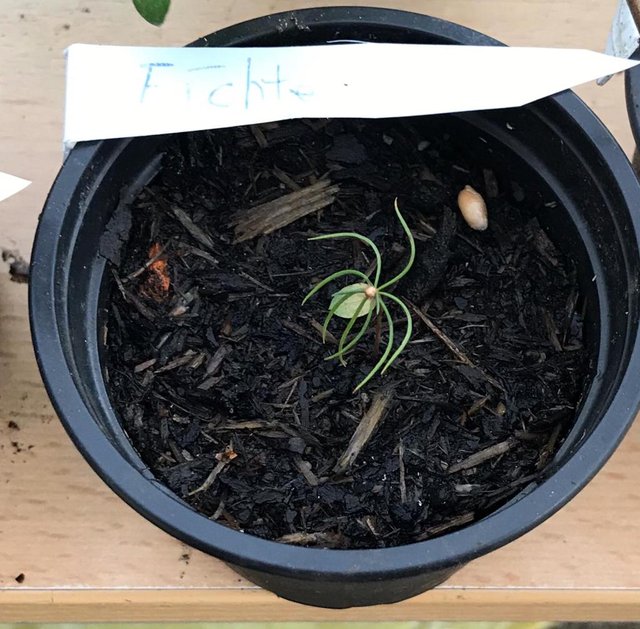 Ich hole mir noch einige Tipps zum Pflanzen und zur Pflege von einem anderen Besucher und verlasse schließlich stolz mit meiner Beute den Trubel, zurück durch den Wald in dem es angenehm ruhig ist.
I get some tips on planting and caring from another visitor and finally proudly leave the hustle and bustle with my prey, back through the forest where it is pleasantly quiet.