Update on Mulching Your Garden Paths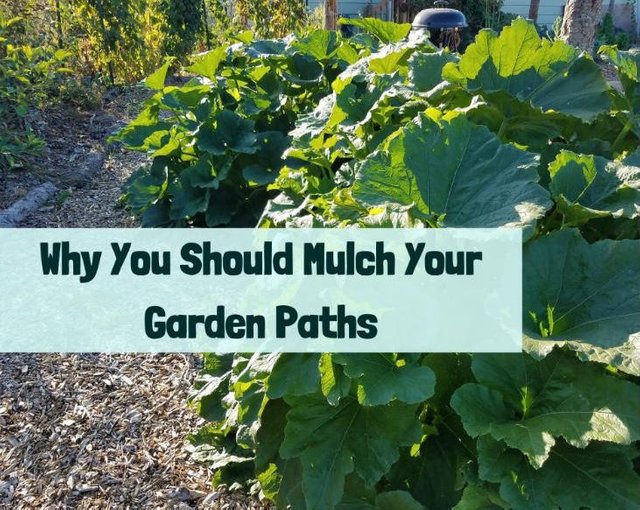 Mulching your garden paths provides a number of benefits—if you aren't doing this I highly recommend it! This is an update to an earlier post I made on STEEM about why you should mulch your garden paths.
I received some questions about mulching garden paths that I wanted to cover in a bit more detail. The result is my blog post – Why You Should Mulch Your Garden Paths – which covers this topic including the questions asked.
A big question was about slugs and mulch. I get this question a fair bit and I hear from people that they're worried about using too much mulch because of slugs or snails. It's true that mulch can create a moist habitat that slugs and snails like.
But despite that I actually find I have less slug and snail issues (not more!) when I use mulch in my garden paths and my garden beds.
The reason is that mulch also creates habitat for the predators that eat slugs and snails (or at least their eggs). Predators in my area include some large black ground beetles, centipedes, and garter snakes—plus I'm sure others that I'm not familiar with but all 3 of these predators hide in mulch.
Every time I mulch an area and remove the existing grass I see a big reduction in slugs—snails aren't really an issue here in my area.
The other reason for less slug/snail issues is that mulch helps maintain a consistent level of soil moisture (and cooler soil temperature). This helps to keep your plants happy and less stressed even during the heat of the summer. When plants are stressed, they tend to be more vulnerable to pests and less able to defend themselves.
Mulching your garden paths is a great way to boost your garden. Before you go make sure to check out the blog post to get started!
Thank you!
---

Follow me for more posts all about working with nature to grow your own food and build a natural life: @wildhomesteading
And check out my blog - www.wildhomesteading.com for weekly in-depth posts on how to work with nature, grow your own food, and build a wild homestead. When you work with nature, nature works with you.