This Weather Forecast Bothers Me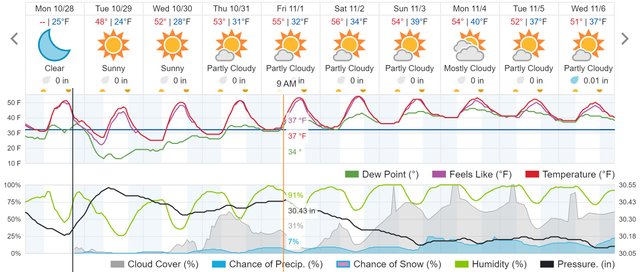 So this weather forecast just bothers me. I mean what is up with all this sun! The cold I can handle... but no rain? At the end of October! Going into November! This is just not what should be happening here in western Washington!
As a wild homesteader I watch the weather a lot. It really matters to how well my land can do--and this year has not been a good year. The sad thing is that this not so good year seems to be the new normal.
So far this month we are about 2 inches below normal here in terms of rainfall. That is after already being below normal for the year. Most years October is a much wetter month.
I don't like this!
So why am I writing about this? Well for one I just want to complain... I don't like this! But there is also a lesson here for all of us. Weather extremes are becoming the new normal due to the climate crisis.
One way to deal with this is to create systems that capture more water by slowing it, spreading it, and sinking it. This way when the rains do come more of the water is soaked into the ground where it can help your plants grow even during the dry times.
The rains should come again here--but the fact that the 10 day forecast shows virtually no rain after we have already gone days with no rain makes me worried. I keep hoping the rains will come back...
But since I know extremes are going to be more common in the future I'm doing what I can to slow, spread, and sink the water that does come.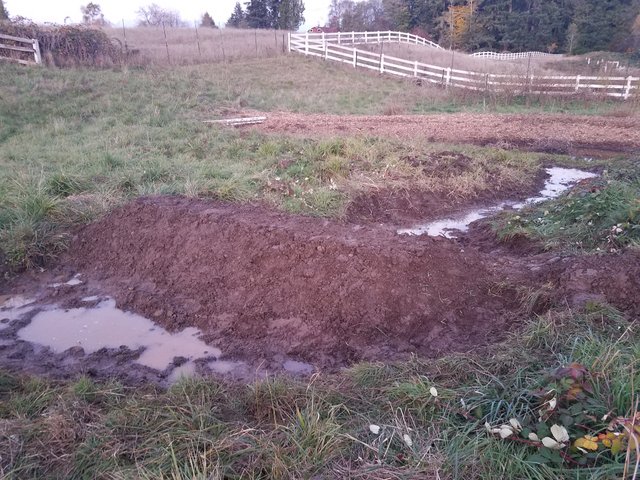 Just yesterday I grabbed my shovel and expanded my existing large pond a fair bit and built a new dam upstream of it. I still need to finish the dam (mulch on the dam, some wood to support the downstream side and some rocks for the spillway and the exposed end) and I need to build an island that it will one day connect to.
Yup, I'm building a whole island (a blueberry island!) surrounded by an interconnecting series of ponds--but that won't happen this year.
It's amazing what you can do with just a shovel. But it's these types of land modifications that can help us all weather the extremes that are becoming more and more common.
I have more water work planned for this year but it will take years to finish it all. But every little step of the way means more water will be slowed, spread, and sunk into the land.
Now I'm just going to wait for the rains to return and the ponds to fill up again...
Check out my blog post --- 3 Ways You Can Store Water on Your Wild Homestead --- to learn more.
---

Follow me for more posts all about working with nature to grow your own food and build a natural life: @wildhomesteading
And check out my blog - www.wildhomesteading.com for weekly in-depth posts on how to work with nature, grow your own food, and build a wild homestead. When you work with nature, nature works with you.