Treating anxiety with nature
Why does the fear that begins to govern our lives settle into our minds and bodies? More and more people are experiencing a variety of feelings of worrying, anxiety, fear on a daily basis. The hardest part about facing this kind of problem is still not understanding what is really happening to us.
We all know the feeling when we are scared. But when unreasonable fear and a constant feeling of anxiety arise, we are often overwhelmed by the thought that we are going crazy and that something is very wrong with us….
It is crucial to understand anxiety, and this is the only way we can deal with feelings and thoughts that may not be common to us, look them straight in the eyes, face them, and manage them.
When we feel anxiety, we usually cannot determine what exactly causes us to feel this. The focus of the anxiety state is more internal than external. It seems like a response to some distant, unrealistic or even unknown danger. We can be anxious to "lose control" of a certain situation "or" that something bad will happen ", but we don't know exactly why.
Many times, when we are anxious, we realize that the danger is not real, but the feeling of anxiety is still present, it is very strong and, despite our rational thinking, it does not disappear.
Anxiety affects us completely. It is a mental state, a behavior, and a physical reaction, all in one.
So, what is anxiety? Is it a disease of the body or mind? Is it a panic attack when our thoughts are hijacked by our bodies? Are the chemicals in the body the ones that begin to regulate our anxiety thoughts? The way we answer this question is important because it is related to how anxiety can be treated.
You have a lot of pills, but is this the right way to treat anxiety? Do you know there are natural ways to help with anxiety?
One of them is cognitive-behavioral therapy which calms our minds and the body. I will write about cognitive - behavioral therapy in the next article, but for now, let's see what can we start using right away.
The natural way of treating anxiety?
Lavender
Lavender essential oil is soothing. Relieves stress, tension, and anxiety and calms body and mind. So after a busy and stressful day, prepare a warm bath and add a few drops of lavender essential oil. You can drop some lavender oil on the candle burner, and even the smell of dried lavender soothes and can be also used as home decor. For those who have trouble sleeping, wrap a few twigs of lavender in a napkin or put it in a cotton bag and place it under the pillow. Or simply drop a few drops of lavender essential oil on the pillow. The lavender scent will calm you down and help you fall asleep more easily.
Chamomile
The use of chamomile is already well known, and probably the most popular herb used in almost all diseases. Chamomile tea calms gastrointestinal cramps, is useful for inflammation of the intestinal mucosa, helps with gastric ulcer, winds. It has been shown that chamomile has a calming effect on the nerves of anemic patients. A healing power that relieves pain and calms the body. Because of these characteristics, chamomile is indispensable for all nervous phenomena, irritability, hypersensitivity, internal restlessness, insomnia, or mere mental health. However, chamomile is less known to act similarly like medicines used in medicine to treat anxiety (such as diazepam, which is classified as benzodiazepines). Some substances contained in chamomile bind in the brain to the same receptors as these drugs. So, instead of drinking coffee in the morning, drink chamomile tea. Before going to bed also 😊
Breakfast
They say it is good and useful to eat breakfast. But most of us don't have time to eat in the morning, because we may be awake too late, or the coffee is enough, or we are just not hungry in the morning. This is a mistake. Our body needs energy and needs something in the stomach in the morning.
Not eating breakfast can be linked with anxiety?
In the morning, due to the lack of energy during the night, the body responds with increased adrenaline output. An elevated level of adrenaline is one that can lead to anxiety. So, if you feel anxiety in the morning, the cause may be just in the adrenaline rush. So, what to eat for breakfast?
To raise blood sugar levels, honey (it mainly contains easily digestible, simple sugars that are quickly absorbed into the blood) or smoothies may already be enough. They also recommend eggs. Eggs, in addition to being high in protein, are also an excellent natural source of choline, one of the B vitamins, which deficiency can cause anxiety.
So, one egg per day and anxiety is going away. 😊
Exercising
Physical activity is considered to be one of the ways to successfully overcome stress, and research on the effects of physical activity on the renewal of brain cells (neurons) has received a great deal of attention in recent years, as has the effects of exercise on anxiety disorders. Also, experiments in the lab prove that regular aerobic exercise works much like antidepressants - it raises the level of the happiness hormones - serotonin and norepinephrine.
Go for a walk, go biking, swimming or just exercise at home.
Exercise can be more intense, but it can also be moderate. However, exercise regularly, at least 30 to 40 minutes a day - 5 days a week.
Meditation and yoga
Meditation helps us to focus on breathing and keep the mind free of thoughts. Often, at such times, the idea to solve a problem comes by itself. Yoga is also considered to be a form of meditation that intensely involves the body. Yoga postures are strengthening and stretching muscles and other tissues. Blood pressure and heart rate are calming down and the mind becomes calmer.
And the last advice that I want to give you and that also works for me:
Use your voice and - SCREAM!
You will feel more relaxed after yelling. Of course, this is not meant to yell at a fellow human being, but go out into nature, woods, into the mountains, everywhere where you can be alone. You can also scream at the loud events, in the car, or in a pillow. There are so many options and it doesn't even matter how loud you are. Just scream. Believe me, you will feel relief and relaxation.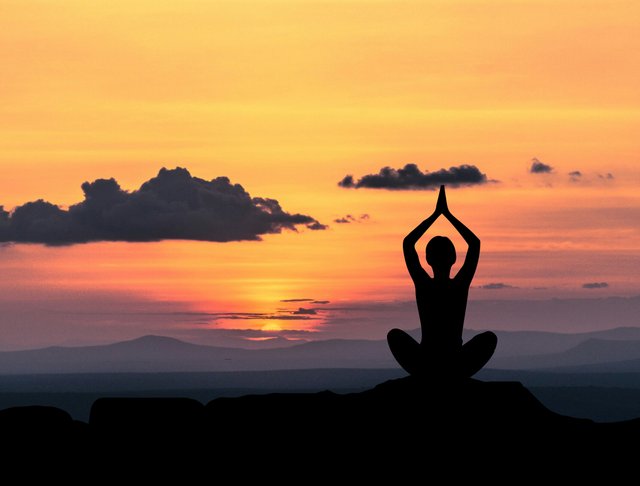 (https://pxhere.com/en/photo/1434851)
Just so you know, some of the most important people suffered from anxiety, such as Darwin, Newton, Kafka, Eliot, Kant, Wittgenstein ... but they still made it and they took our world and our mind high above the common understanding.
There are so many other ways to be coping with anxiety, because guys, is all in our heads. Find your own way to overcome this and most importantly - try to do that without the pills.
"You don't have to control your thoughts. You just have to stop letting them control you." – Dan Millman
Thanks guys for reading, and till the next time 🤘😎
With love, @tinabrezpike ❤