Can I squeal? There's SO much going on with Natural Medicine at the moment it's really making me even more excited than usual. We have some pretty interesting things that will be revealed in good time, lots of new members, and Mindful Life starting to really blosssom. It's enough to make this little @riverflows head spin! That's why this fortnight we're keeping it a little more simple after last time's deep philosophical musings on life, death and health (congratulations to @owasco, who took out the huge 20 Steem prize!). We're gonna roll up our sleeves and get practical.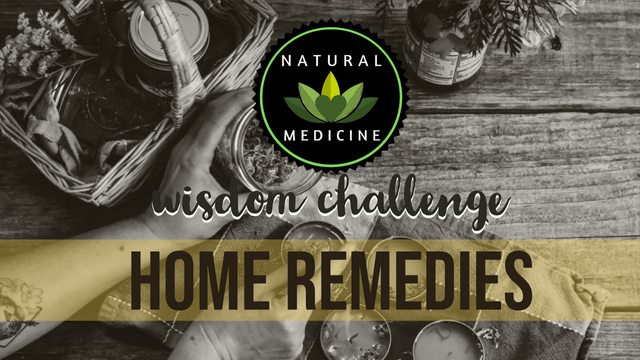 Steemfolk are AWESOME. They are a constant source of inspiration as they create content about amazing projects. So many people in Natural Medicine make their own in a desire to be keep it organic, safe, non-toxic and ethical - from tinctures to ferments to balms and salves. @nateonsteemit's been telling us about his oil infused brews in Discord this week, ready to make his own creme for when someone in his family injures themselves. He's got the glass jars all ready to go! So exciting.
Thus, our theme this week is HOME REMEDIES - practical solutions for common ailments from the flu to scraped knees to insomnia to cracked heels.
Some ideas
Document a process or a recipe for a new remedy you're experimenting with.
Investigate a remedy for what is bugging you, like an insect repellent (pun intended)
Talk about a childhood cure that your grandparents used to use on you - did it work? Was there any merit in it or was it a folk cure with no real medicinal backing?
Write about a home remedy you might use on animals or pets or children (sorry to group them all in one bullet point, he he)
We favour
posts with personal anecotes balanced with research or science if possible (this isn't always available, and there are many legitimate forms of knowledge)
posts with at least one original photo or image as the thumbnail image
well written, original posts
Guidelines
Resteem this post.
Comment on at least three to five other people who enter this contest (which might mean coming back to check on the tag)
Use the tag #naturalmedicine as your first tag (unless you are using steempress, in which case it'll be your second)
Post the link below - if you don't, we risk missing you!
Prize
Currently, we're applying for @curie to help our and increase our prizes - so exciting. Read our application here. For now, prizes as follows:
First Prize - 10 Steem

Two runners up - 5 Steem each
If we reach over 20 entries, we will also award 5 other winners with 2 SBI each! If you would like to sponsor this challenge, please let us know!
AND... if we hit THIRTY entries, @nateonsteemit has a turkeytail mushroom tincture he will give away to one random US entry!!! Cool huh?
Also, I had to come back and edit this post because the lovely @freedompoint offered to sponsor this contest via Inner Blocks - they are offering 20 Steem too! Thankyou so much for your generous offer - and thanks for supporting conscious content on the steem Blockchain!


You can read more about @innerblocks and what they stand for and support here.
Due Date: FRIDAY 17TH MAY
Keen to enter? Got something brewing? We'd love to get excited about your offerings - drop a comment below!

Natural Medicine Needs YOU! Please consider delegating to @naturalmedicine by clicking any amount below to help keep this collective going. The minimum entry for membership is 20SP (free for members under 150SP), and helps support and celebrate your work with natural remedies, healings and nurturings on this gorgeous blockchain! Join us on Discord here - we'd love to have you!