In my first Keto post I talked about switching over to a ketogenic or Keto Lifestyle and talked about what it was. It is a diet low in carbs, adequate protein and high in fats.
Being in the state of ketosis feels amazing! This occurs when the body is metabolizing fat at a high rate and converting fatty acids into ketones. You have boosted energy, feel more focused and like a new person. Once you've experienced it you can tell when you're no longer in it.
Taking on this new lifestyle has been challenging. To remain in ketosis it requires less sugar intake which has been my downfall. There are long periods when I'm focused on eating smart and cutting back from my regular junk food consumption. Then those where in between I loose sight, give in and fall back into my old ways. It leaves me feeling sluggish, drowsy, not as focused and just blah. I can literally tell when I'm not in ketosis anymore.
The good thing about a Keto lifestyle is that you can jump right back in. You can quickly get back on track if you stay focused and clear of too many carbs and sugars. I believe it will get easier as we go. It may take some time for it to stick and for me to be strong to resist what I'm used to consuming.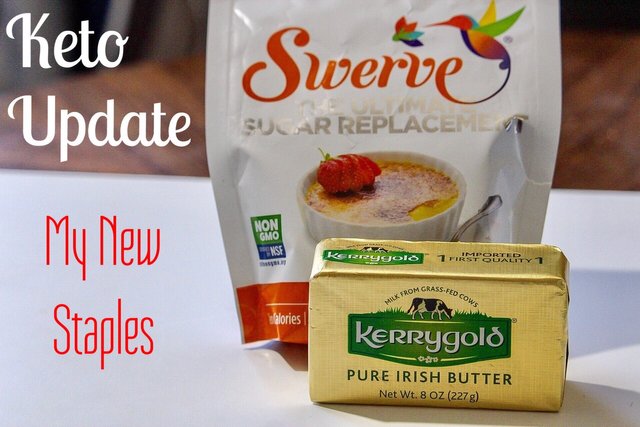 I purchased more Keto staples to have on hand. Swerve is the sweetener we use now in place of sugar. It had some really good reviews and quite a few people said it tastes the closes to sugar compared to other ones. It actually does! It's not bad at all. It's a blend of non-GMO ingredients that are derived from fruits and vegetables. It contains no artificial ingredients, preservatives or flavors. Oh and it's zero calories too!
I also purchased grass fed butter which is higher in Vitamin K2 and Omega-3 fatty acids, nutrients that are incredibly important for the heart! It tastes yummy too! I love the idea of eating butter that came from the natural way of nature...from cows that eat grass instead of grain-based feeds with soy and corn. Grass fed butter is filled with many more nutrients.
Being more conscious of the foods we intake and what's in those foods is so important. For years we have been told that fat free is the healthiest but little did we know that while the fat was being taken out the sugar levels were being hiked up. Fat free = tons of sugar! No wonder so many of us are hooked on sugar.

I've been using cabbage as a replacement for noodles and it works! I actually prefer cabbage noodles over pasta noodles.
Now let me warn you, I do love taking photos but mainly of nature and my crochet work. I don't know how to make food look beautiful. It may not look beautiful but it tastes good lol! So these next photos were snapshots taken from my iPhone and not our Cannon. Some people like @birdsinparadise and @lizelle are talented like that when taking pics of food...but not I! 😂😜
This was a chicken and cabbage soup I made. I didn't get a picture of the finished soup after the cabbage became transparent but you can still see here that it's loaded with veggies and herbs. My family, including my kids loves this soup and prefers I keep making it with cabbage.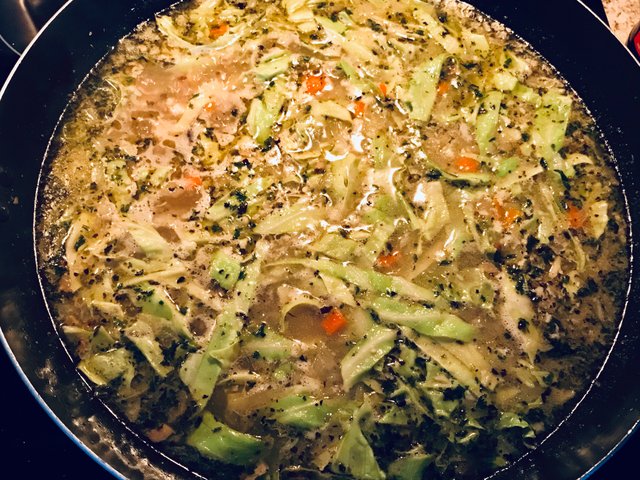 I also made a one-pot cabbage and pork meal. I love one-pot meals anyway because they are quick and simple to make. I really loved this one because of the fat content and the cabbage which is always tasty! This was towards the end of my first bowl but hopefully you get the drift. 😁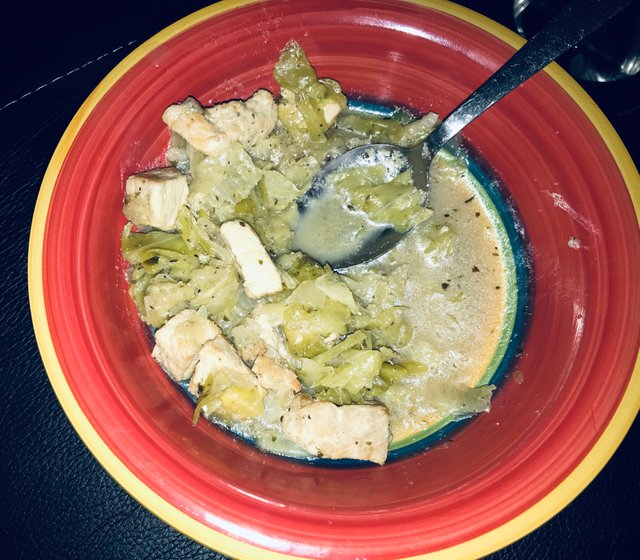 Overall I am really enjoying this new lifestyle. It's fun learning more about it and purchasing new staples to cook with. With my busy days and very active children having more energy is a must to keep up around here. I am still exercising during the week as well.
Thanks for Reading!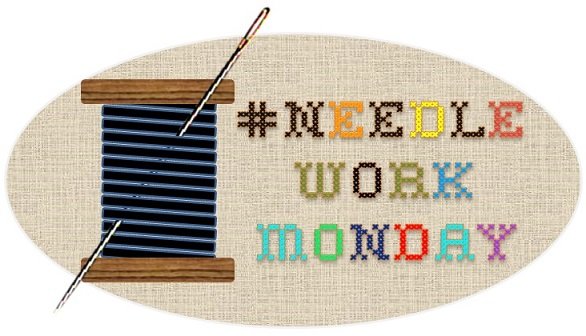 Logo/Banner created by @rigaronib!