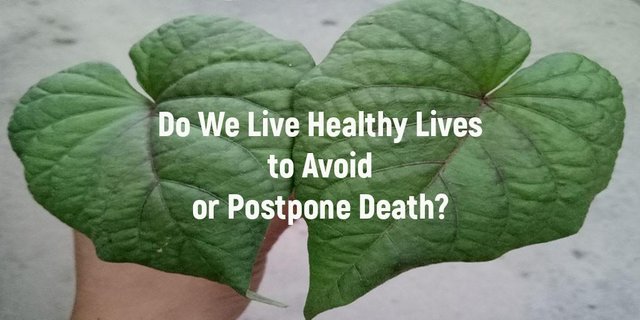 This week, @NaturalMedicine is back again to provide a challenge to the Steemians. You can participate and win Steem. For more information, please read here: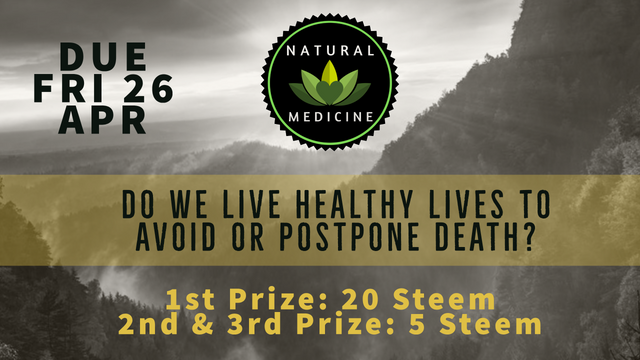 The question brings an analogy and philosophy that I will share with you. Let's discuss about it.

Healthy Life Is Not a Guarantee to Avoid Death
Imagine, there are two people who will go to the door. The door that will determine the two people will face life or death. No one will ever know what will be on the next door. Not only that, nobody even knows when it's time the two of them will arrive at that door.
A, is a person who lives a healthy life, and B is a person who doesn't care about health at all.
We will not know who will face the door of death first. In fact, A can first accept the door of death and B who has never lived a healthy life can live longer.
But, there are facts that can at least make us rethink what we are living in a healthy way. B did live longer, managed to postpone death even though B did nothing to make his life healthy. It turns out, even though he managed to live longer, B experienced sickness not only one disease, but had entered the complication phase. That is why even though B has spent more time in this world, B cannot live a quality life with family. Why? Because various diseases that attacked B made B unable to enjoy food normally, because a lot of food was prohibited for B. B was no longer fit even to walk around his residence with family.

Let's go back to A. Even though A has a shorter life time than B, it doesn't mean that A isn't happy. A can live a quality life with a feeling of happiness every day. A can gather with its members with a feeling of being cheerful without pain. A can take a walk to enjoy the beauty of the world without fear of striking pain. A does not have food restrictions and certain conditions.
Because quality life is not determined by how long we live, but how we can live life happily and can share it with family and others.

To be happy, we need a strong soul to be able to maintain a psychological condition when facing a lot of stress problems in this life. And, so that the soul is strong, it needs a healthy body. As the famous Latin Phrase, "Mens sana in corpore sano."
So, in my opinion, a healthy life is to postponing death. Then, what is meant by postponing death? Can we really postpone death by living a healthy life?

About Postponing Death
We never know when the door of death will come before us. Then, why can a healthy lives postpone death? Postponing the death meant here is to enjoy the freedom of body and soul, because by living a healthy life a person will be freer to do anything than someone who does not manage a healthy lifestyle which will then get sick.
Death can also mean pain that constantly attacks the body of a person and does not allow the sufferer to do the things he wants. That was the beginning of someone's death. His/her body was still soulless, but it was only a vacuum because his/her days were only filled with pain. Heal can't, and death doesn't want to pick up. Are there the right words to describe the condition besides the death of the soul of life itself?

Healthy Life As Gratitude
Your life until this second is a gift, and healthy living is one of the many ways to be grateful. We thank you for life which gives you the opportunity to breathe fresh air every morning. Because not caring about the health of our own bodies is true pride, assuming you can always be strong even though you do not care about the health of your own body.
So, let's live a healthy life, though not really to postpone death, but to live a quality life, with many sweet moments full of physical freedom and soul, and not giving burden to others.

Important Notes
The story of A and B is the story of my grandmother and grandfather. A is my grandfather, and B is my gradmother who always not cares about her health. My grandfather's simplest lifestyle and always do it every day is to walk and ride a bicycle every morning and evening. Then, my grandfather did not want to use modern technology to cook food.
My grandfather did die first than my grandmother, but everyone who saw it also knew that he was happy with the moment of his life, which was always painlessly laughing at him.
Unlike my grandmother, for the rest of her life, I still remember the pain she suffered. For many years my grandmother suffered from various diseases which made her unable to live life as free as a grandfather.

The main picture of this post is Sweet Potato leaves. Because it is heart shaped, it symbolizes the heart, and health.

Live healthy for sweet moments with the people you care about.

Hopefully my writing can have benefits, so you don't waste time for reading my posts.
Thank you so much for upvote and comment. Have a great day.
Keep growing with your confidence.
Keep healing with Natural Medicine.
Regards,
AnggrekLestari
A Part Of Natural Medicine Community and Steemit Bloggers Community

MY NATURAL LIFE SERIES: