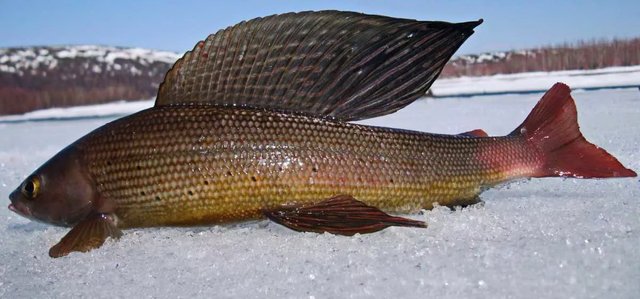 (с)
The team of the fishing channel Fish5TV began the new 6th season with an expedition to the North of the Arkhangelsk region, going on a long journey at the end of January 2019. After driving 1,700 kilometers by car and another 100 km by snowmobiles, the expedition members found themselves in the wild places of the Northern taiga, on the shore of one of the small rivers. About this fishing adventure will be a few programs that we will definitely see...
What is worth going to such distant lands? In the lakes and rivers of the Arkhangelsk region live familiar to us in Central Russia pike, perch, bream, roach ,burbot, etc. But not for them to go so far? Of course not. Anglers who go fishing in these regions are attracted by the opportunity to catch European grayling from the ice , some species of whitefish and salmon fish ( trout and char). This we have in the suburbs just do not catch)).
Fishing at a temperature of minus 35-40 degrees is not an easy task, although it is said that due to the dryness of the air such a frost is perceived as about minus 15 degrees in the city. But in fact, this adventure-a real test for equipment, equipment, gear and fishermen themselves.
Grayling in the North of the Arkhangelsk region prefers to live in fast-flowing rivers, occupying in winter small pits with depths up to 1.5-2 meters below the rifts. Here he develops the most favorable oxygen regime and the ability to supply. Tackle-rods for vertical jigging and fishing rods for fishing on a jig. Monofilament fishing line with a diameter of 0.12 mm to 0.2 mm. Baits-spinners for ice fishing, balancers and jig (weight of jig from 2 to 6 grams depending on the strength of the current). When catching grayling, you can use natural attachments such as worm and maggot. The only difficulty will be to bring them with you and not freeze. But you can do only spinners, balancers , flies ( as a second bait to the lure or jig). I would also definitely try silicone imitations of nymphs and larvae on a tungsten jig heads...
Let's see the first part of the video Report of Roman Baikov catching grayling on the taiga river. And fish and adventure in this story is not enough...))
I hope that in the next parts of the story about this expedition there will be lake fishing for whitefish, trout and char.