Time to See which .22 Pellets perform best in my rifle. As many know, some rifles and barrels just like some pellets or bullet weights and shapes better than others.
I recently got a few handfuls of samples from a friend of mine who is also testing in his rifle.
Today, I tested 4 different types that seem to be favorites among other shooters.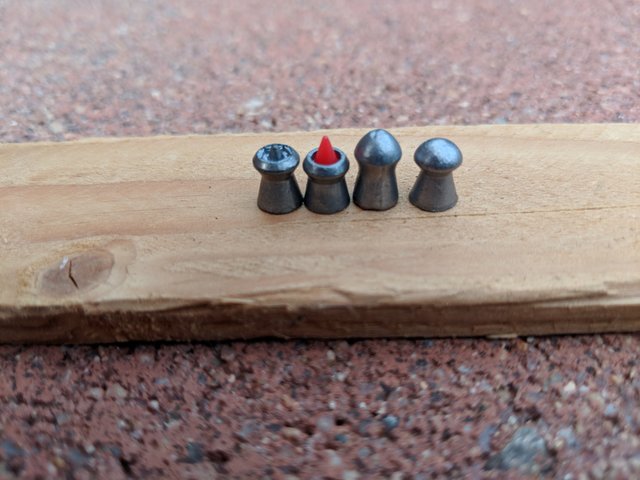 Left to Right are:
H&N Terminator (16.36 grain); PolyMag Short (15.89 grain); Gamo Whisper (21.8 grain); and JSB Diablo (18.13 grain).
The Rifle used is a Benjamin Marauder in .22 Caliber PCP rifle, with ATN X-sight II Day/Night scope. Pictures are in my earlier blogs.
Here are the results at 30 Yards with 10 shots in each group. Rifle was filled before each group.
First Place - As shown in my other posts, this rifle definitely likes the JSB Diablo 18.13 grain pellets. (pictured top right).
This grouped 10 shots into about 1/2 inch center to center, most going into one hole, with the outside edges maybe going to 3/4 with that one pellet at bottom right stretching out what would have been a single hole!

Second Place - The Heavier Gamo Whisper at 21.8 grains came in second (pictured bottom left), with most shots staying close, still within about an inch, but one flyer up high. I will have to get some more of these to try again and see if that was just a single bad pellet in the batch I borrowed, or if it was a legitimate outlier.

Third place goes to the H&N Terminators (16.36 grains). These grouped about 1 1/2 inches, not too bad. These seem to be liked by hunters, and may deserve some additional testing.

Last place was the Polymag Shorts (15.89 grain). The full size Polymags are heavier, but are too long to function in the Benjamin Marauder Magazine. My rifle did not do well with these pellets at all. At least a 3 inch group or bigger, with pellets scattered all over. I've heard really good things about the full size Polymags in other's rifles, and was quite surprised (and disappointed) at this performance.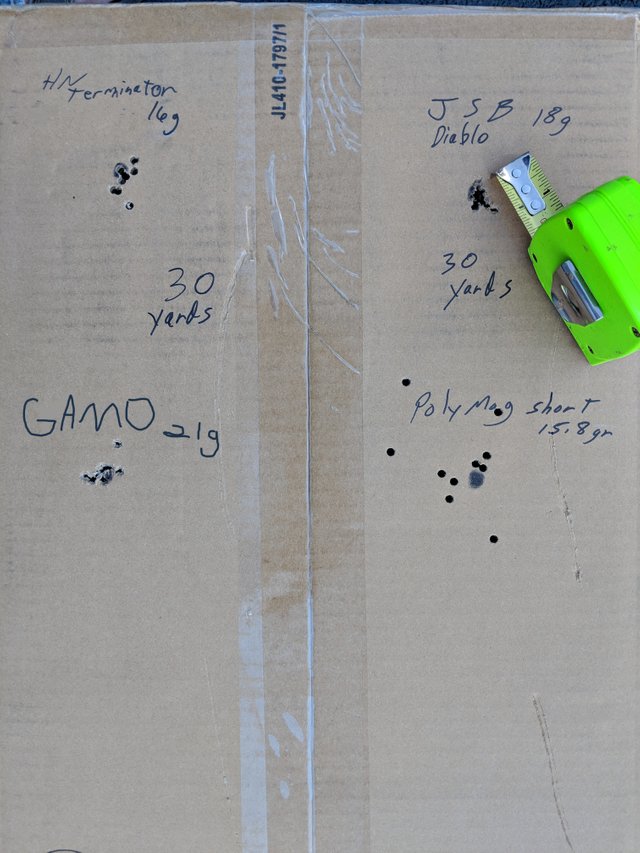 Check my blog for some earlier posts with 40 and 50 yard groups and sniper scope view videos.
All photos original copyright by author.
Follow me @ksteem