So I had to learn how to do this on my own. Last night when we got back from salmon fishing we started to process them. My hubby started it first, he got in about three fish and cut himself so I had to take over.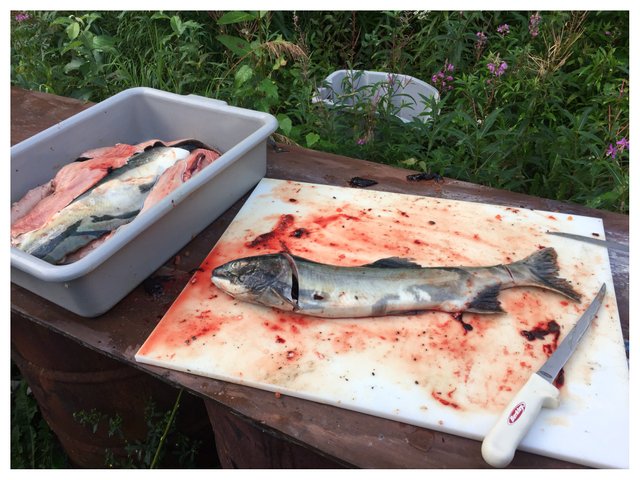 🐟🔪🐟🔪🐟🔪🐟🔪🐟🔪🐟🔪🐟🔪🐟🔪🐟
So let's start 😊
We are going to do it in steps with photos.
First you are going to need:
• A good and long fillet knife that bends good
• A big cutting board
• A bin for the fillets
• And a carcass bin
---
The fishes head should be in your left hand, fish belly towards you. Lift the gill plate.

You are going to use your fillet knife to cut from the top of the fishes back(make sure you hit bone) to its belly.

Cut a straight line at the tail.

Flip and repeat

That's just to prep it for the cutting.
---
Now we cut the fillets.
Flip the fish so the the head is in your left hand and it's back is towards you.

Slide your knife into the slit at the head. Tilt the head back to open the slit and run the blade down the full length of the body. Make sure you applying pressure the whole time and riding the back bone. It will sound like a zipper. You will end at the cut in the tail.

Flip the Fish, fish head to your right hand. You will start your cut at the tail.

When making the first cut in the slit I noticed if I used my fingers as an anchor and held the slit/tail it was much smoother. Yup dig those glitter nail polished fingers into the fish and hold on. LOL 😂

The reason we start the second cut at the tail is because it now has a flat spot on the other side so it won't roll. I did try to do it from the head like the other side and botched it. Starting the second cut from the tail is cleaner and easier. If you do get stuck going up from the tail, cut half way down from the head. I did have to do that a few times. 😕
---
You end up with very little waste, and what you do have can be tossed to your birds(chickens/turkeys), if you have them.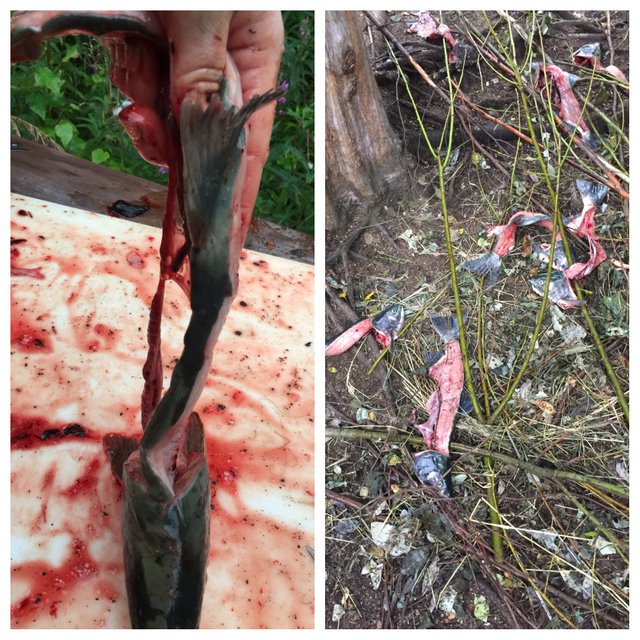 Well I hope that helped someone, it was hard to take photos while cutting. My phone got slimy.
• All photos and content are our own. Please do not use any part of this post without our expressed permission. Thanks for not being a dick •