At EmpowermeEOS, all we really want to do is to tell stories about how the EOS Blockchain and it's Dapps, like Sensechat, Karma, Gyftie, Prospectors etc, are empowering people.
There is nothing in the world more powerful than a good story- Tyrion Lannister (Game of Thrones)
Last time, we shared Mercy's story Today we have another one for you. However, before we jump right into that, we have a little side dish for you. Right before the interview, our community manager, Jeremy, spoke to him just to warm up to him and we want you to see that too.
Michael
I am Micheal, known as breathe by many.
Jeremy
Exactly how many? (Laughs)
Michael
Everyone I've known in school for over 4 years now
Jeremy
Wow. That's totally awesome.😁
Michael
You think so, bro?
Jeremy
Yeah. It's a wonderful name. It means you are full of life. After all, breath is the essence of our existence. The GENESIS, in fact. ❤
Michael
Hmmm. . . its from a Greek word in d bible "pneuma" which means breath, spirit or wind
Jeremy
Wow, that's so deep and did I mention that its really nice to meet you?
---
---
Inherently, Michael is someone so full of life and if Jeremy had fun getting to know him, we hope you feel a breath of fresh air as you get to meet him too! Enjoy!
MEET MICHAEL "BREATHE" ETEFIA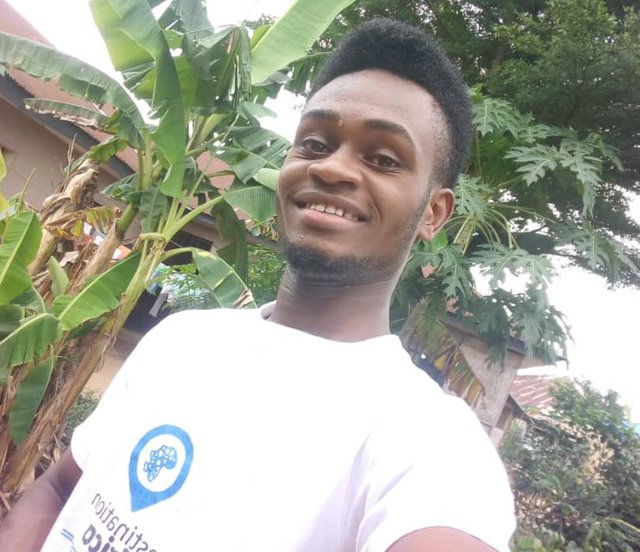 Can you tell us about yourself?
I am Micheal, as you already know. I have always been someone that has a passion for technical stuffs and I love to learn, especially skills or things that can produce money. I get along with people quite easily and I started trying to be self-dependent at an early age. I got to know about blockchain and EOS basically from Davizoe and passively, Samsticks.
How has life been since EmpowermeEOS came into the picture?
Well, being part of EmpowermeEos has brought more exposure to the numerous opportunities of thr Eos blockchain. It has helped to provide passive income without putting much stress due to very useful information provided by the EmpowermeEOS team.
How long have you been a student at EmpowermeEOS and what has been your experience so far?
I have been a student for about two weeks now and it has been a cool experience so far.
How did you learn about EmpowermeEOS and why did you choose to become a student?
Davizoe (EmpowermeEOS mentor) told me about it and I joined for the sake of getting more knowledge about EOS blockchain and the opportunities that come with it.
Can you talk briefly about your empowermeEOS journey so far. What has it been like?
Well, my journey so far has been amazing. I've learnt some new things and as well made some new friends like Toju Kaka (Mentor), Emeka Collins (Mentor), Jeremy (Community Manager) and most especially Mercy (Fellow Student).
What's your dream and what do you hope to achieve with EmpowermeEOS?
My dream is to be very wealthy so as to make life better for others because each time I see a need and I can't meet it, it really gets to me. This is the reason I have decided to make use of this unique opportunity by the EmpowermeEOS team to build myself and then be able to build others in the long run.
Over time, you've learnt about and operated on so many EOS based Dapps so far. Do you have a favorite? If yes, which is your favourite and why?
I love Sensechat and Karma but I love Sensechat more because of its privacy and good call network.
So you've been playing the prospectors game for a while now. How has been the experience so far?
I love the game so much its a really cool game
What is your view about the Prospectors game and what have you learnt by playing the game?
Aside the money making aspect, is really fun connecting with people. Its also a form of relaxation and leisure, as I play it like every normal game and also it's educative because it helps build your mindset about proper planning and use of available resources to maximize income and minimize expenses which can be applied to a real life scenario.
Let's talk about the money making aspect though since that after all is center focus of EME (making you financially independent). How much have you made since joining the program?
Since early access, I think I have made up to 10,000
So, generally, what do you think collaboration between Prospectors and EmpowermeEOS?
To me, it's one of the best moves by EME and its really going to make a lot of impact.
What do you have to say to Bonz Manifest and the rest of the guys at Prospectors game?
First, I say thank you for the partnership and great work here. It is really a great idea! The game is perfect, organized and very detailed
---
---
Thanks for reading,
Join the fun at https://prospectors.io today.
---
---
You can learn more about EmpowermeEOS via the following medium:
Our Website:
https://empowermeeos.org
Twitter:
https://twitter.com/empowermeeos
Telegram:
t.me/empowermeeos
Instagram:
https://instagram.com/empowermeeos
Facebook:
https://facebook.com/empowermeeos
Email:
[email protected]
Steemit
https://steemit.com/empowermeeos
---
---
Written by Owolabi Jeremy,
EmpowermeEOS Student and Acting Community Manager