🎼 Musikschnipselcontest #15 🎼 - Guess the song and win STEEM and VALIUM 😎
Every comment will be rewarded with a @steem-bounty - [Deutsch unten]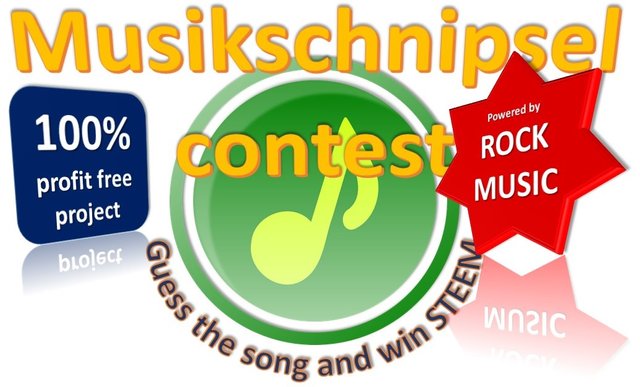 Hi Guys,
today there is concentrated female power. This time I got music proposals from @condeas and @chriddi. The second song suggestion from @condeas will appear next week.
snippet from @condeas
A Danish-Norwegian Eurodance music group. This song was their biggest hit in 1997.

snippet from @chriddi
A female American rock singer. The album, which contained this song and with it their first international super hit, was published in 1983.

snippets from me
A symphonic metal band from the Netherlands founded in 2002. The eleventh single, with this song, was released in February 2012.
Have fun guessing!
Cheers,
Prinz Valium II.
---
P.S .: What do you think of the idea?
You can suggest me a song with coded transfer. However, the song should already be well known, so that the others have a chance to guess the song. As a criterion, I just say >1 million views on YouTube. Or a very well-known classical rock song. You get an additional +3% upvote.
---
[Please do not post the solution unencrypted]
(other comments do not need to be encrypted, of course)
Please send the solution as an encrypted transfer to my wallet (SteemWorld: Tools / Transfer / Encrypt Memo) or encode the solution with my PGP Public Key on https://sela.io/pgp/ and post it as an encrypted comment.
Each comment receives a small upvote, the right solution accordingly more:
Each comment: 3% upvote
Sending an encrypted message: +3% upvote
Each correct band: +3%
Each correct song: +3%
Sending an encrypted song proposal for the next contest: +3%
Resteem: +3%
The exposed Steem-Bounty will be distributed after seven days on all answers denpending on the upvote value. In addition, I also distribute some of my insanely valuable VALIUM tokens from
https://steem-engine.com
.
Everybody who knows all three songs gets 0,1 VALIUM

The VALIUM can be exchanged for an upvote by me (1 VALIUM = 100% upvote) or can be traded at the marketplace of https://steem-engine.com or keep it until it is immeasurably valuable 😁
My earnings of the contest (75% of all earnings) will be distributed as @steem-bounty at the next contest.
↓ ↓ ↓ ↓ ↓ Guess these songs ↓ ↓ ↓ ↓ ↓
---
https://soundcloud.com/prinz-valium-876719653/musikschnipsel-18
---
↑ ↑ ↑ ↑ ↑ Errate diese Songs ↑ ↑ ↑ ↑ ↑
Hallo Leute,
heute gibt es geballte Frauenpower. Diesmal habe ich Musikschnipsel von @condeas und @chriddi zugeschickt bekommen. Der zweite Songvorschlag von @condeas kommt dann nächste Woche dran.
Schnipsel von @condeas
Eine dänisch-norwegische Eurodance-Musikgruppe. Dieser Song war ihr größter Erfolg aus dem Jahr 1997.

Schnipsel von @chriddi
Eine US-amerikanische Rock-Sängerin. Auf dem Höhepunkt ihrer Karriere kam im Herbst 1983 das Album auf den Markt, das mit diesem Song ihren ersten internationalen Superhit enthielt.

Schnipsel von mir
Eine 2002 gegründete Symphonic-Metal-Band aus den Niederlanden. Die elfte Single, mit diesem Song, erschien im Februar 2012.
Viel Spaß beim Raten!
Schöne Grüße,
Prinz Valium II.
---
P.S.: Was haltet ihr von folgender Idee?
Ihr könnt mir per verschlüsselter Überweisung einen Song vorschlagen. Der Song solte bekannt sein, damit die anderen eine Chance haben den Song zu erraten (>1 Mio. Aufrufe auf YouTube oder ein bekannter Klassikrock Song). Dieser Song gilt dann für euch beim Contest automatisch als korrekt gelöst. Außerdem bekommt ihr noch zusätzlich +3% Upvote.
---
[Bitte die Lösung nicht im Klartext posten]
(Sonstige Kommentare müssen natürlich nicht verschlüsselt werden)
Bitte die Lösung als verschlüsselte Überweisung an mein Wallet schicken (hier eine detailierte Beschreibung) oder alternativ mit meinem PGP Public Key auf https://sela.io/pgp/ verschlüsseln und als verschlüsselten Kommentar posten.
Jeder Kommentar erhält einen kleinen Upvote, die richtige Lösung entsprechend mehr:
Jeder Kommentar: 3% Upvote
Lösungsversuch per verschlüsselter Nachricht: +3% Upvote
Jede richtig geratene Band: +3%
Jeder richtig geratene Song: +3%
Verschlüsselter Songvorschlag für den nächsten Contest: +3%
Resteem: +3%
Die von mir ausgesetzte Steem-Bounty wird automatisch nach sieben Tagen anteilig auf die Antworten entsprechend der Upvotes verteilt. Wer mehr über
@steem-bounty
erfahren will, der sollte sich den Artikel von
@schlees
dazu durchlesen:
Steem-Bounty - So funktionierts!
Zusätzlich verteile ich auch noch einige meiner wahnsinnig wertvollen VALIUM Token von https://steem-engine.com 😀
Jeder, der alle drei Songs errät, bekommt 0,1 VALIUM

Das VALIUM kann bei mir gegen einen Upvote eingetauscht werden (1 VALIUM = 100% Upvote) oder am Marktplatz von https://steem-engine.com gehandelt werden oder aufheben bis es unermesslich wertvoll ist 😁
Meine Einnahmen des Contests (75% aller Einnahmen) werden beim nächsten Contest wieder als @steem-bounty ausgeschüttet.
---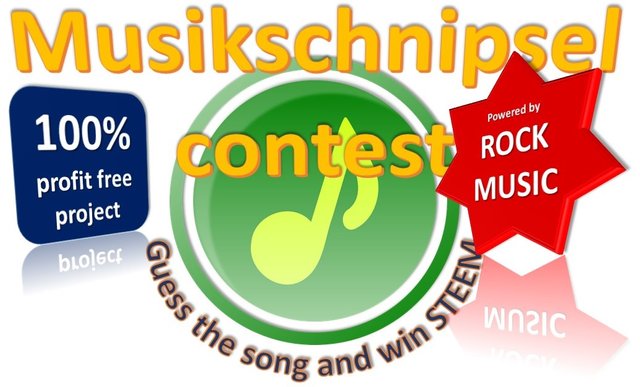 Here is the solution of the last contest:
musikschnipselcontest-14-guess-the-song-and-win-steem-and-valium

Congratulations to the following winner(s) of the last contests bounty!
@chriddi has earned 0.212 SBD. 0.209 SBD from the creator and 0.003 SBD from the community
@patschwork has earned 0.188 SBD. 0.186 SBD from the creator and 0.002 SBD from the community
@syalla has earned 0.187 SBD. 0.186 SBD from the creator and 0.001 SBD from the community
@nassimal has earned 0.187 SBD. 0.186 SBD from the creator and 0.001 SBD from the community
@depot69 has earned 0.187 SBD. 0.186 SBD from the creator and 0.001 SBD from the community
@citizenkane has earned 0.186 SBD. 0.186 SBD from the creator of the bounty
@lammbock has earned 0.186 SBD. 0.186 SBD from the creator of the bounty
@wonderwop has earned 0.186 SBD. 0.186 SBD from the creator of the bounty
@kadna has earned 0.186 SBD. 0.186 SBD from the creator of the bounty
@condeas has earned 0.167 SBD. 0.163 SBD from the creator and 0.004 SBD from the community
@chireerocks has earned 0.163 SBD. 0.163 SBD from the creator of the bounty
@andyjaypowell has earned 0.144 SBD. 0.139 SBD from the creator and 0.005 SBD from the community
@don-thomas has earned 0.14 SBD. 0.139 SBD from the creator and 0.001 SBD from the community
@lichtblick has earned 0.096 SBD. 0.093 SBD from the creator and 0.003 SBD from the community
@erniegreenhill has earned 0.093 SBD. 0.093 SBD from the creator of the bounty
@knochenhd has earned 0.093 SBD. 0.093 SBD from the creator of the bounty
@hmayak has earned 0.07 SBD. 0.07 SBD from the creator of the bounty
@xels has earned 0.056 SBD. 0.023 SBD from the creator and 0.033 SBD from the community
@grizzabella has earned 0.048 SBD. 0.046 SBD from the creator and 0.002 SBD from the community
@improvisation has earned 0.025 SBD. 0.023 SBD from the creator and 0.002 SBD from the community
@thomasthewolf has earned 0.024 SBD. 0.023 SBD from the creator and 0.001 SBD from the community
@adenijiadeshina has earned 0.023 SBD. 0.023 SBD from the creator of the bounty
@daniel-vs has earned 0.023 SBD. 0.023 SBD from the creator of the bounty
@mima2606 has earned 0.023 SBD. 0.023 SBD from the creator of the bounty
@arcange has earned 0.016 SBD. 0.016 SBD from the creator of the bounty