Volareo Speaker Announce Pre-order for Smart Speaker & you're able to use your Musicoins!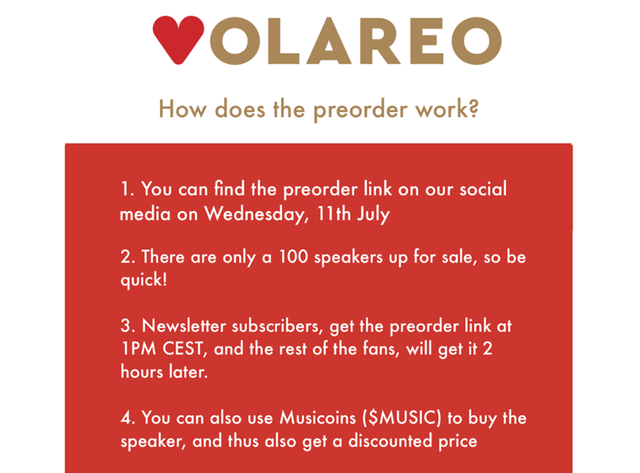 We're very excited to announce that on Wednesday that Volareo will have their first preorder, with 100 speakers up for sale!
How does the preorder work? The preorder link will be on our page on Wednesday 11th July and ONLY a 100 speakers available, so be quick!
For early access sign up for our newsletter at volareo.live
You can find important info about the sale below!
We're also going to host a contest where you can WIN a Volareo speaker! All you have to do is guess how much the @Volareo speaker costs in Musicoins ($MUSIC) and leave a comment in the comments section of this MC Plays show with Nick NM Yap from Volareo!
$MUSIC can now be used to buy tangible goods. The Volareo Smart speaker will go on preorder for the Musicoin community on Wednesday the 11th. This will be the first time that the Volareo speaker will be available for pre-order and also the first time a physical product can be bought with $MUSIC. This is a major breakthrough for Musicoin and Volareo! Finally Musicoin users can use their hard earned virtual coins to buy a physical product.
Newsletter subscribers will get the pre-order link 2 hours before the general community. We expect the limited 100 speakers to be pre-ordered very quickly, as it's the best deal exclusively for the community . Be sure to signup to newsletter over at www.volareo.live so you can be sure to get your speaker with the community discount.
Guess the price
We will be giving away 1 speaker to the first person to correctly guess the price in Musicoins. Make sure to leave the price in the comments below in this MC Plays episode
What is Volareo?
Volareo is the world's first smart speaker that uses blockchain technology.
Key differentiators:
-Privacy
-Unlike Alexa and Siri, we will respect your privacy. Never processing information on our servers without a good reason to do so.
-Open platform
It's decentralized vs centralized. Amazon, Apple & Google smart speakers are totally vertical - Amazon makes you buy products through amazon, listen to music with Amazon Music and watch movies through Amazon Prime. Google & Apple does the same. Shouldn't we all deserve an independent open alternative? Volareo allows anyone to develop for the platform, the community decentrally decides what they want.
Exclusive content
Music, podcasts, stories … using our technology you can tip your favourite musicians - clap to tip, say to tip, tap to tip… whatever way you tip, just tip! These tips will serve to incentivize artists to create exclusive content for their biggest fans. As well as things like pre-selling concert tickets to fans, no more ticket queues!
Fair pay for Artists
We are blockchain's first. This means that if available we will use blockchain technology to pay artists more and faster for their creative work.
Control with voice
Discover new content and buy cryptocurrency, simply ask for it. Voice is the easiest way to control anything, just say it!
On Wednesday the 11th of July we will be giving Musicoin fans the first opportunity to commit to buying a Volareo speaker. The speaker will be sold to Musicoin fans with an enormous discount when bought with Musicoins. As our email subscribers you are the first one to find out and also the first one to be able to buy.
The Volareo speaker will be available for pre-order for a short time only and will be limited to 100 buyers. At 13:00 (1 PM) CEST on Wednesday (we will email you) you will receive the link to the purchase page. Be sure to act quickly as two hours later regular Volareo followers will get the link.
The exact pricing will be announced on Wednesday on our socials.
Post Authored by daniel lawton
Mst. Ambassador & Video Coordinator