Musicoin guarantees best artist payouts among top streaming services
Musicoin guarantees best artist payouts among top streaming services
The Musicoin Project — the world's first music streaming service powered by blockchain — has achieved another industry first, a commitment to compensate artists better than any leading streaming platform.
After last year's monumental bull run, cryptocurrency market has been in a significant correction period for most of 2018. This is well within the nature of volatility, however to artists hosting songs on Musicoin, its market price is relied upon not purely for speculation, but for its utility.
Musicoin implementing artist payout adjustment September 8
Although each stream currently yields an instant payout of one Musicoin per play (still exceeding every leading music platform in the market, including Apple Music, Amazon Music, and Spotify) The Musicoin Project has chosen to enact an adjustment to its PPP (Pay-Per-Play) protocol, guaranteeing artists receive the best compensation — even during sustained bear markets.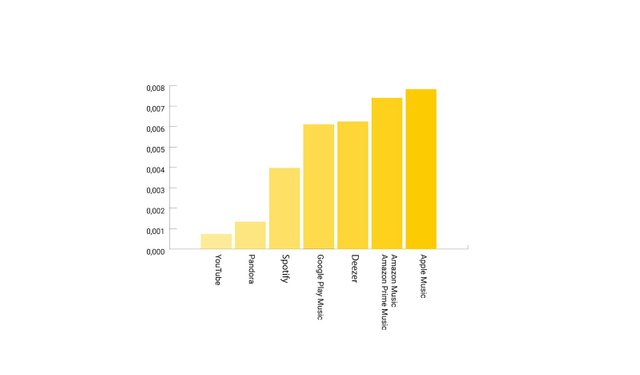 Average gross payouts per song stream (Source: The Trichordist, January 15, 2018)
With this adjustment in place, the platform will be coded to distribute a payout total equivalent to $0.011 worth of Musicoin per play whenever its market price is less than $0.01. And unlike leading streaming services, artists on Musicoin are awarded 100% of their streaming royalties, instantly. This particular adjustment will be automatically disable whenever Musicoin's market price goes above the minimum payout of $0.011, so artists can profit from volatility. Additionally, the minimum payout may be increased in the future, in order to remain the top payer among leading platforms.
"Guaranteeing best-in-class streaming royalties is a love letter to artists, the lifeblood of the music industry," says Isaac Mao, founder of The Musicoin Project. "We're tired of corporations getting fat off of the musician's hard work."
This transparent, focused commitment to putting the artist first is unprecedented in an industry dominated by large corporate players. According to a Citi GPS report published in August, record labels and music companies absorbed a staggering 88% of revenue generated in 2017, including album sales, streaming, YouTube ads, radio royalties, and ticket sales. And if that wasn't aggravating enough, consider that this measly 12% artist payout has only increased 5% since the year 2000.
Zeljko Stanojkovski, Musicoin's Chief Content Officer adds, "Putting artists first helps buck the unfortunate decades-long 'industry standard' of handing them the short end of the stick. We hope that giving artists 100% of their streaming royalties sends a strong message that can help trigger a sea change in the music industry. This PPP adjustment strengthens one of Musicoin's core ideas: to change the industry in favor of artists."
Artists eager to receive top streaming compensation are encouraged to join Musicoin today.
###
Musicoin (MUSIC) is a smart cryptocurrency and music streaming platform built upon the Musicoin blockchain. artists and listeners worldwide are encouraged to visit Musicoin's official website at musicoin.org.
---
Please contact [email protected] for media inquiries.
For updates, join the community at musicoin.org