Happy Sunday guys,
It's been a while I post here. These days I've been so busy with some school practicals and it seems like it's more than what I had ever imagined to encounter in the University but thank God for life.
In continuation, I would be talking about the Viola, a string instrument recognized in the Orchestra. Since I've been talking about music these days, so I intend to stage it up at a meaningful pace before I digress at all.
The Viola as a string instrument.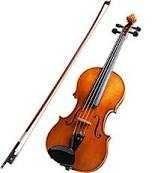 The Alto strings.
The Viola just like the VIOLIN has five strings and the same shape as the Violin but one of the essential difference is that the Viola is kind of bigger that the Violin. And the same thing is applicable to the strings on the instrument. The strings on the Viola is somewhat thicker than that of the Violin.
Another thing is that, when playing a piece of music with both instruments, the Violin just like the human voice (Soprano) the highest voice range for the woman and that's all the highest in the theory of voice ranges. While the Violin plays or gives the highest pitch, the Viola follows by playing on the lowest voice range for the female (Alto). Meanwhile the Viola can also play on the Soprano range to.
The strings in hierarchy.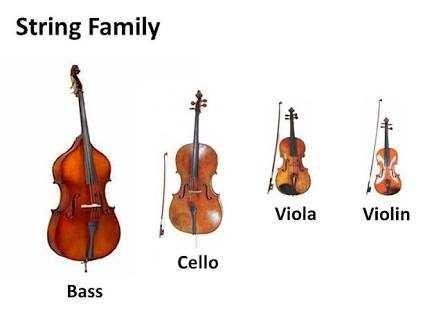 As you can see in the above picture, we have a the strings instruments recognized in the Orchestra excluding the Guitar like I've said earlier that the Guitar is not recognized in the Orchestra because it's a harmonic instruments. The picture above actually portrays a lot of things like:-
The bigger and heavier the instrument, the deeper the sound.

The bigger the instrument, the bigger the strings.

The smaller the instrument, the louder the sound.
The string instruments really have a lot of things on common like:-
-The shape.
The number of strings.

The mode of preservation.
And many more.
A well labeled Viola.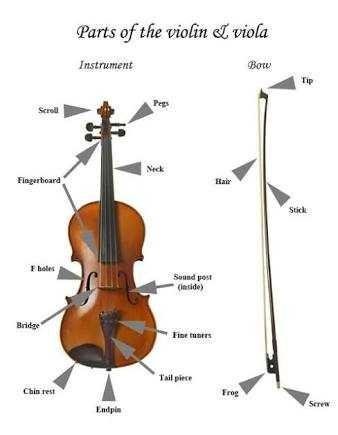 The Viola power parts.
.
The Viola parts are just like that of the Violin which I had talked about in my last posts, you can kindly check it out here. I would love you guys to know that I would or I'm planing to bring up my artistic skills again, it's been a while now and it doesn't seems fair even to nature!
Thank you all for stopping by. Kindly upvote, comment, resteem and follow @tezzmax.