Final details about songs on Tetrahedroseph's new album, "Jackie Lee Vs Bruce Chan Hip Hop Battle" Part 3 of 3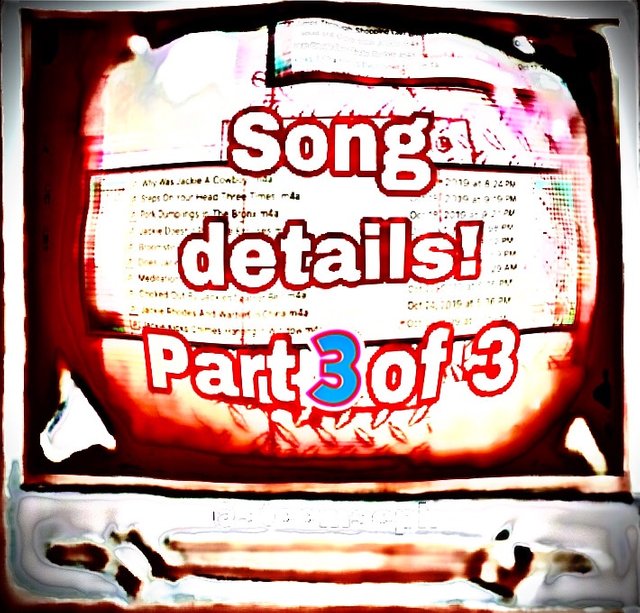 Welcome to part 3!
The final post featuring details about "Jackie Lee Vs Bruce Chan Hip Hop Battle," Tetrahedroseph's most recent album release.
The songs are beginning to have an obvious style and for some reason they are all in minor keys. Something to do with a desire to stay in the native key of one or two of the instruments I'm using ... or was it to create an overall chord theory based structure... not sure what game I was playing. (I wish I was playing Virtual Fighter or Bride Of Pinbot.)
Do you see any patterns in the music? Please share.

(Track Number, Song Title, Key Signature, Time Signature, Tempo, Duration, creation date.)
21. Masterful Drunken Eye Poke, D minor, 4/4, 175bpm, 01:50, 10/25/2019
Meditation is over. I actually tried to make this song sound like it could poke you. The crazy part represents the chaos one might feel after being poked in the eyeball.
This song contains lots of synths, a koto, and lots of percussion. The synth loops are sometimes reversed and double/half time adjusted. The koto part is like a solo because at this point I enjoy using the midi-koto instrument instead of the sampled loops. I'm not against using loops, but it's a technique I want use sparingly.

22. Does Jackie Use A Bass Pic, A minor, 4/4, 78bpm, 03:37, 10/25/2019
It just seemed like time to have more bass. I would like to play the bass parts, but I don't have an interface and doing that would not be as fast... YET. This robot... err midi bass is part of the traditional Chinese instrument ensemble. That was my point. I didn't want to get caught up in the details I just want to convey a fun mixture of the various instruments. Is this considered ethnic appropriation? I hope not... Lots of percussion, a Pipa, a Guzheng, and a drummer also make up the instrumentation in this song.
I like the vibe of this song. The bass might be too loud, but lots of people like that. I do too. "Does Jackie Use A Bass Pic" is in an a minor, but does it sound scary to you?

⏸

Quick Pause!
Have I mention that all the music on this album can be considered "SAFE FOR WORK."
IT'S THE PERFECT MUSIC FOR LIVE BROADCASTING!
You know, opposite of the other ones? N$FW kinda song... (I'm afraid to type it properly.)
The music on "Jackie Lee Vs Bruce Chan Hip Hop Battle is all safe for public consumption. Sometimes the music is annoying, but the general public obviously likes annoying stuff, so have fun too.
⏸
Pause AGAIN!?
I would now like to end the previous tangent with another...
Comical/Guerrilla Marketing Images!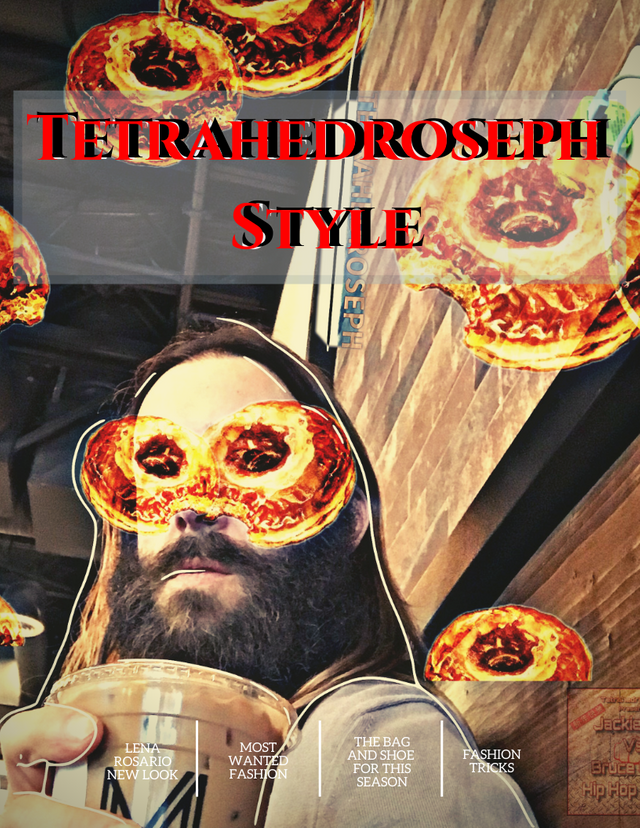 Remember how I was using the templates in Canva? The image above was originally a fashion magazine template. I fixed it up a little.
The next image is part of the series of images I capture while I run errands in DTLA. I actually planned this one and then created a marketing image out of it.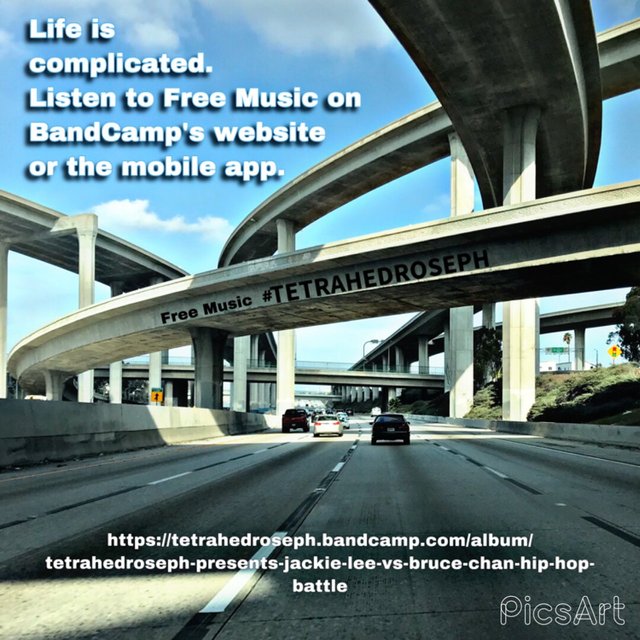 All this stuff is being created with my iPhone7.
PicsArt is a versatile app. Their logo is obvious in the image above. I'm not sure why... it is removable.
The next image was also taken while on my way to DTLA. It looks like a bad shot of a tent, but I intentionally wanted the wall to occupy a majority of the shot. I knew I was going to add the Tetrahedroseph album cover. I look for these opportunities a lot when I travel to DTLA. I like surfaces that make provide easy attempts at blending Tetrahedroseph's album covers into it.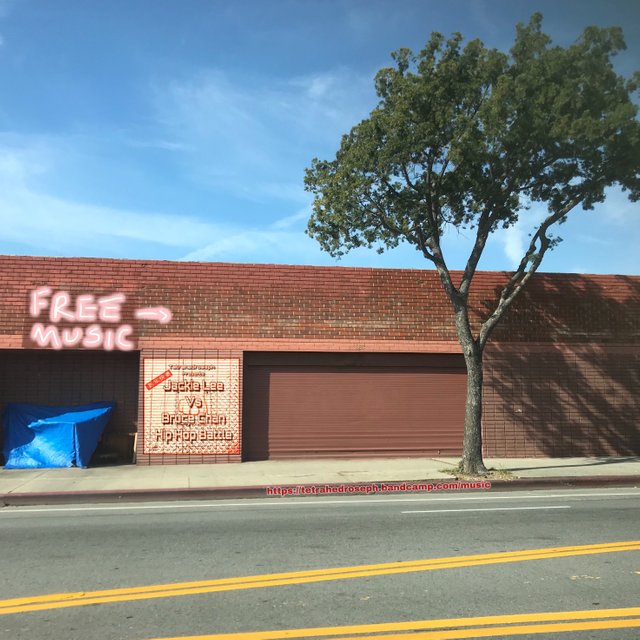 The images above and below have been used in recent Tetrahedroseph videos.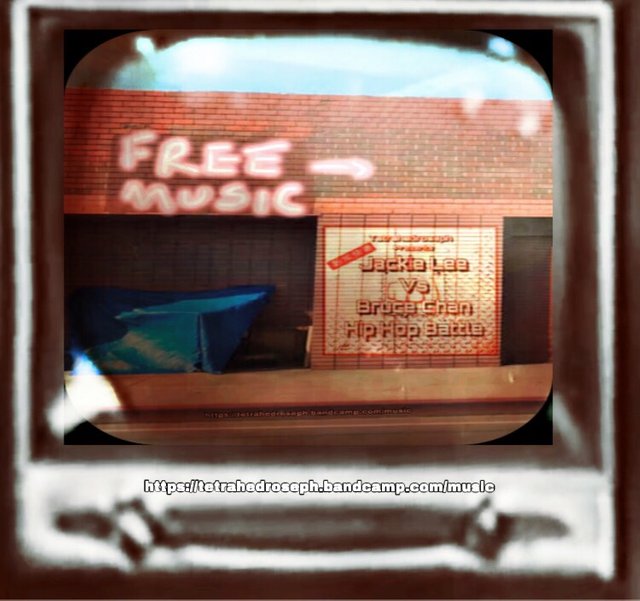 More videos on the way!

Let's resume this regular blog post and get these song details finished.
▶️
23. Wants To Bowl With Bruce, G minor, 6/8, 138bpm, 03:20, 10/25/2019
The title is the result of looking up facts about Jackie. I read that he likes bowling and since he also looks like such a nice guy, I figured he would also want to share a friendly game of bowling with Bruce instead of fighting.
Here we go again, another song with "odd" meter. This song is in 6/8 but I wanted it to still sound dance-able. It gets a little chaotic towards the end, but the pulse is obvious and that should help dancers lock-in easier.
Many of the parts in this songs were performed by me and then quantized or altered with the techniques I've been mentioning in previous descriptions. I'm starting to favor the midi instruments more and more. The green audio regions are midi information it can be edited in many ways. Lots of creative freedom with the software instruments. Get jiggy if you want.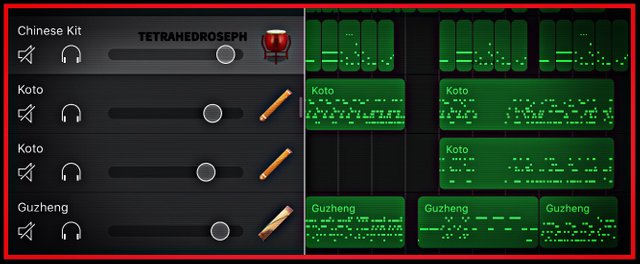 24. Pinche Jackie Fights At Papas And Beer, G minor, 4/4, 78bpm, 06:03, 10/27/2019
This song title was a reminder for me to mix sounds/loops/instruments from the "Reggaeton Pop Masher" and or "Gozadera Latina" with the ones from the traditional Chinese instrument set I've been favoring. New flavor right?
I basically wanted a soca/reggatone/dotted quarter to eighth note sound. More stuff to dance with. Do you know of Papas And Beer? Are they still around? Touristy, TJ dance club, right? I've forgotten where... @socalsteemit people back me up?
This idea of mixing and creating a "Latin" album is coming soon too. I didn't get into it too much with the concept album series, but soooooooon...
Instrumentation here includes a Pipa solo near the end and chinese percussion in various forms though-out. The other instrument parts are loops and midi tracks from the "Reggaeton Pop Masher" Live Loops set.

We can see the other Live Loops sets I've also been using. These are great resource if one is willing to take the time to alter them. I do both. I alter them loops. Yes, I'm bragging a little, but still, it's button pressing and sometime the true test is the management of tedium, music theory, and time management more than just "music making" that gets it all done.

25. Owns Fools With Props In A Warehouse, G minor, 4/4, 50bpm, 05:20, 10/29/2019
The songs name is what Jackie does in lots of movies , right? "Owns Fools With Props In A Wharehouse" contains a mixture of synth instruments, chinese percussion, and long Yangqin and Guzheng strums.
This was one of Tetrahedroseph's first music video's for this album: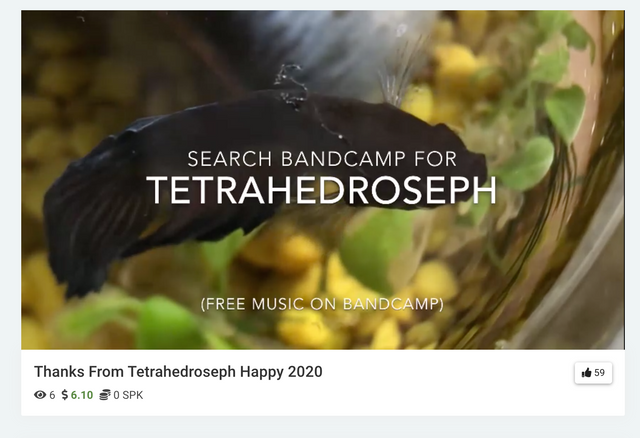 This seems like a chill song...
I think lots of people would like it... Imagine Jackie battling some fools in a warehouse. It's all in slow-motion, dramatic, sad fight scene is what I get for my first stroke of imagination and potential video content... By the end of the song the victor would wonder "why?" I think me and
@LordNigel
joked about this scene a little... Double Dragon?
26. Punched In The Nose While Juggling Antiquities, G minor, 3/4, 150bpm, 02:36, 10/30/2019
Can you count? It a 3/4 and counting practice is healthy. I chose to do a shuffle because
@jaguar.force
and I had been discussing and enjoying the plethora of
https://www.bernardpurdie.com
videos available online. Sorry ol' pal, be cool cat, it's not danceable. Next time...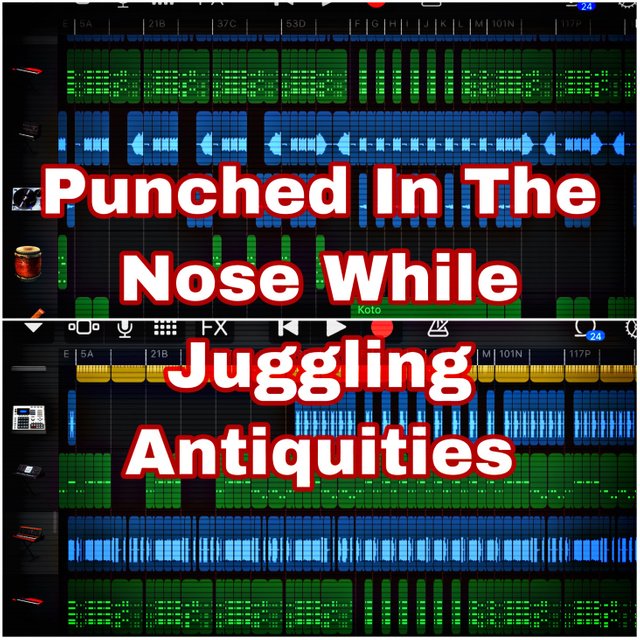 Holly crap!
Look at all the edits in the image above. Lots of samples and slices in that song. Anyway, the previous song ("Owns Fool...") was 50bpm. This song is triple that tempo at 150bpm (beats per minute). Did it sound like the songs run together?
uh oh...

WTF!?!?!
Another Quick Pause, AGAIN!?!?!
The previous two songs (25, 26) are similar tempos (50bpm, 150bpm). These last three songs on "Jackie Lee Vs Bruce Chan Hip Hop Battle" are almost the same tempo also. One is either 150bpm or 75bpm. I wanted the last part of this album to sound like one giant song. Remember the last half of Abbey Road and Sargent Peppers? Well, kinda like that. The songs should sound smooth as they transition from one to the other. Tempo is a simple trick. The Beatles used many other masterful tricks.

That really was a quick pause and this post is almost done. Moving on...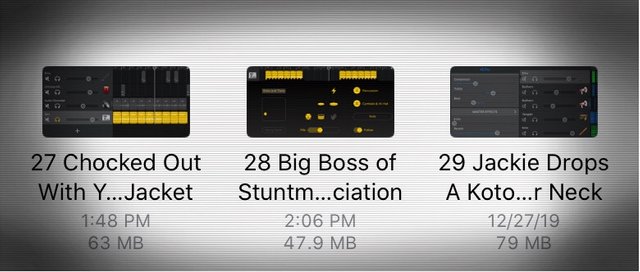 ▶️
27. Choked Out With Your Friends Jacket, B minor, 6/8, 75bpm, 03:02, 10/30/2019
That misspelled title in the image is the result of a screen shot of the song list on my computer. The error has been corrected everywhere except in that image. I think I am too lazy to fix it. This is an album cover "easter egg." I hate it. I wish I had gotten someone to proof read. It's not easy doing everything. I must be more thorough.
It's also not easy working in 3/4 or 6/8 in GarageBand. Thanksfully, I'm splurging and this is the time to learn. Again, I am working with loops designed for 4/4. I'm really lucky the smart drummers can do something other than 4/4. I use the smart drummer to reveal the songs pulse and time signals. Pulse is important.

Hey look, Dez Nutz Biotch!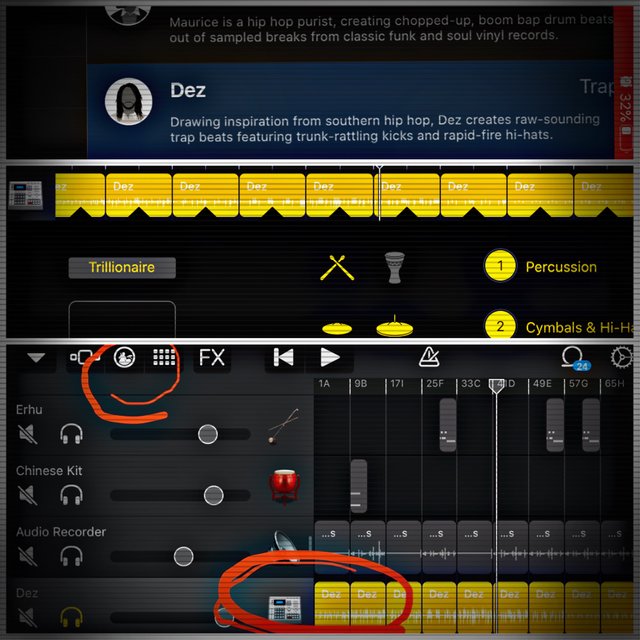 No, people probably can't dance to this one either.
28. Big Boss of Stuntman Association, E major, 6/8, 75bpm, 03:31, 11/02/2019

The name of this songs came to me after I looked up facts about Jackie. I discovered that he was an important member of the Stuntman Association. I think that is great. I have a few stuntman friends and they are very real people too. Stuntman and stuntwoman need love too.
"Big Boss Of Stuntman Association" has a detuned Koto that takes the role of a bass guitar.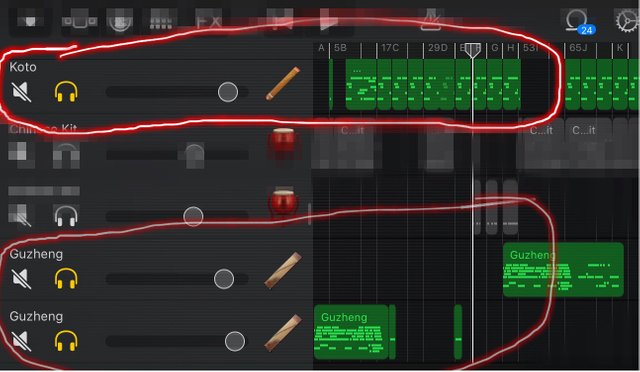 The Guzheng takes the role of an ambient soloist. It has not been altered tonally. The part was played and then quantized. I like using the midi instruments a lot, but the other instruments in this song include synths, drum machines and that smart drummer again.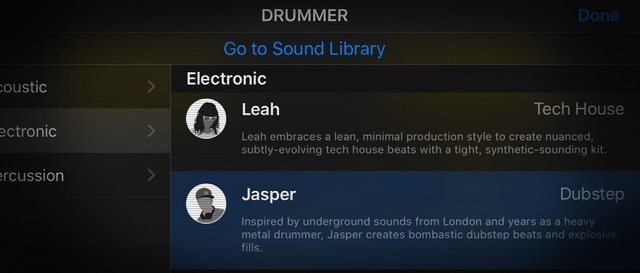 I'm determined to make palatable music in something other than 4/4 time signature. Jasper, the Dubstep drummer is going to help listeners feel the pulse in this song.
Splurging has helped me become more conscious of arrangements. By this point, i'm already thinking of how I will use the beginning of the songs to create an ending for it. Imagining a song's arrangement is starting to become an easier thought process. The next album should be fun too.
29. Jackie Drops A Koto On Your Neck, D minor, 4/4, 150bpm, 04:29, 11/04/2019
All my favorite instruments are in this song. Koto midi instruments detuned, the Yangqin, and the Bullhorn. Yup, the Bullhorn is one of my favorite... no, not really. That was an instrument that I added a "Bullhorn" effect to. It sounds a lot like a distorted guitar. I just don't remember what the instrument was before the Bullhorn got it.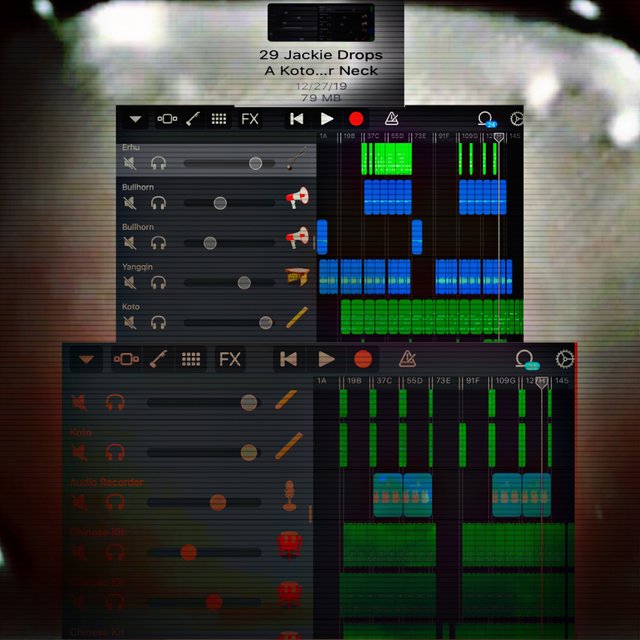 30. Oops, I thought there were 30 songs.
I messed up.
Music Production stopped and transformed into Marketing Production prematurely. My goal was to complete 30, but a slightly unorganized project folder got the best of me.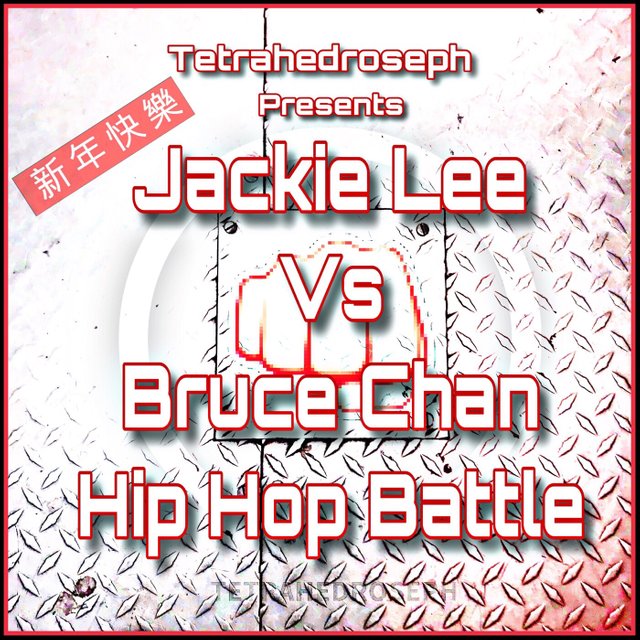 Only 29 songs!

❒ Stats and random facts are next! How many songs were in the key of ???$$$#[email protected]#$!, how many albums sold, buzz, number of plays, most popular songs... and stuff like that.
❒ MORE music videos featuring songs from "Jackie Lee Vs Bruce Chan Hip Hop Battle"
❒ Tetrahedroseph has stickers for us!

Click on the links below to see previous posts related to this album's details.
8️⃣ Tetrahedroseph JackieLee Vs Officail Music Vid Man Crush On Chris Tucker
9️⃣ Broom Stick Trick Short Tetrahedroseph Jackie Lee Vs Official Music Vid
🔟 I've FINALLY reached 3000 Steem Power and this is a new FULL Length Music Video for Broomstick Trick By Tetrahedroseph

Thank you very much. Your support helps me help anti-abuse on Steem platforms.
Your support also helps me imagine an interactive destination for my "art." Tetrahedroseph is everywhere, but Steem is the best place to be so far.
Be safe, don't eat like sh!t, have a nice day, and check-in with the distant family members that are good to you.

Have a prosperous new year.
Listen for free 8 times!