Hello and happy holidays and end-of-year everyone! I hope everyone had an amazing Christmas and will have an even better New Year's Eve! I personally cannot wait for the new year to come, I am so stoked for all the possibilities the new year will bring with it.
That being said, let's jump right into today's Finnish Thursday Tunes (Or well, more like Friday tunes. I am sorry for the delay long delay)! On today's list we have an artist that I personally love and cherish very much, as he is probably one of my most listened artists of all time, yet I rarely get the chance to share his music with anyone. And that artist is of course, * *drum roll here please* *, Olavi Uusivirta!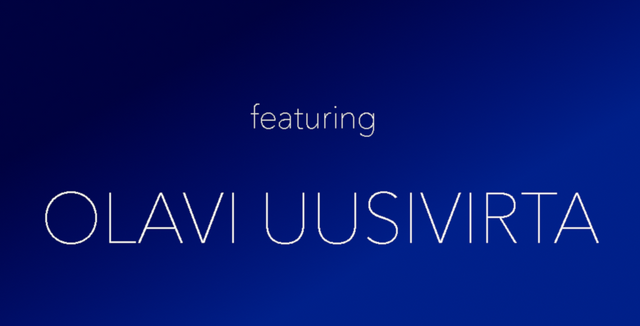 Olavi's music is usually characterized by this very specific sense of what I can only title Finnish romance - a specific nostalgic tone that I am not sure translates well into other cultures. I always think that with Finnish music it's really important to understand the lyrics (or at least this is usually one of the big reasons for me to like a song), and so it pains me that I can't always share all the music I like with people because the lyrics are often so important. But luckily, we have translations and I do think that even when lyrics are "important", music is a language of its own that can be understood and savored if one just wants go give it a go.
So let's give this one one!
Nuori ja kaunis was a huge hit in 2011 when the song came out, and it was for a good reason. This is still a song I always go back to (like most of Olavi's songs are...). The title means "Young and beautiful" (no not that Lana Del Rey song.. that came after!), and it was made for a movie called "Elokuu", which told the summer love story of two 19-year-olds. This song captures that sense of being young and free like no other song I've heard does, and it probably ties in with that feeling for me even more because I was around that age when I heard this song the first time.
Here is another one that I really like, with a similar duet concept. I love Uusivirta's songs because they have this almost old-fashioned feel to them (yet they don't sound like that!).
More duets. (What's wrong with me today.... I don't usually listen to these sort of love songs that much but Olavi does it in a way that I not just tolerate but actually love).
Juoksepoistyttö = Runawaygirl. This is a rather creepy song, with the lyrics talking about a moment in the early morning when you have come back in with a girl after a night of drinking, but the girl is too young for you and so you try to contain yourself but keep slipping up. Yeah. But even that becomes a romantic moment with Olavi.
Oodi Ilolle = Ode to Joy. An anthem for life. Me likey. What's not to like about celebrating life?
And finally, some of his newer stuff, which is equally as amazing. This one also comes with a nice music video, so bonus points for that! The title says "What if I Want You Back After All?", and well, that pretty much delivers the message of the song. However, though the song is about mourning after your ex, it is a lighter take on it (at least in sound) than most breakup songs are... I don't usually like songs about broken hearts and misery, but when it's done with a twist or a tiny bit of sparkle in the eye, even those can sometimes become much more interesting and fun to listen to.
So, as you might see from the post, my opinions about Olavi are completely biased, and his music being a part of my own youth and life story, it's hard to say anything objective about him or his music. He's awesome, go check his music out!
And if you didn't like today's artist, don't worry, other ones will be coming!
---
Thank you for reading and have an amazing new year everybody! I will (probably) see you in 2019.