In an earlier post I already presented you Mark Knopfler - one of the greatest guitarist on planet earth and the lead guy from the immensely popular band in the 80s "Dire Straits". In that post (here) I wrote:
Mark Knopfler - the English Guitarist who founded The Dire Straits with his brother David - in the 70s - a very successful band back in the days - has also a very reputable and successful solo career. Although I loved the Dire Straits, I loved the solo works of Mark even more. He started his solo career by making soundtracks, with the first ever "Local Hero" released in 1983. A year later, he produced his second solo album "Cal", also a soundtrack.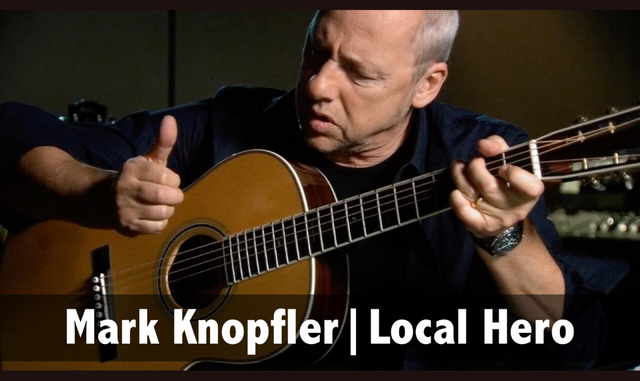 I also wrote:
It is this album I listened to so many times throughout the years, I will be shocked when I would know the exact number. I started listening to this from CD. I had multiple copies of this CD to have it available everywhere. It was the album I had on my first ever PDA, a windows based system, late 90s it must have been. It was one of the first albums I searched for on TIDAL and Spotify. I'm not sure what it is, but Cal is able to make me happy and de-stressed at the same time in - almost - an instant. The movie I did see as well, but to be honest, I don't know a lot about it anymore, but the music I will never ever forget and will likely continue listening to for the rest of my life.
I mentioned his first ever soundtrack he created "Local Hero". Also this album I have on all my music devices and in my album overviews at all my online music services, all the time ready at hand to listen to when I like. And as the soundtrack "Cal", I regularly press the play button of this soundtrack "Local Hero". I simply love the music! A mix between instrumental and vocals, a mix between movie music and band-like music. A mix of traditional, folk type of instruments and more mainstream ones. I love the ocean sounds mixed in various of the tracks.
Artist: Mark Knopfler
Album: Local Hero OST
Year: 1983
Country: UK
Hit the Play Button and NJOY
Tracks
The Rocks & The Water
Wild Theme
Freeway Flyer
Boomtown (Variation Louis' Favourite)
The Way It Always Starts
The Rocks & The Thunder
The Ceilidh & The Northern Lights
The Mist Covered Mountains
The Ceilidh: Louis Favourite - Billy's Tune
Whistle Theme
Smooching
Stargazer
The Rocks & The Thunder
Going Home: Theme Of The Local Hero
Music
Spotify
Soundcloud
YouTube
MixCloud
Discography
Gigs
Artist

sources [1]
brought to you by @qsounds managed by @edje