It was only late 90s I discovered Brian Eno, one of the most important artist driving synth music and ambient style. My discovery was related to the later, his ambient series of albums and more specifically his album "Ambient 1: Music for Airports". An album of about 45 minutes in length, with 4 tracks, that actually was played for a short period of time in the Marine Air Terminal of New York's LaGuardia Airport. The idea for the album started when Brian had to wait in the Cologne airport for hours sometime in mid 70s while he had to listen to stupid music. His composition was designed to be continuously looped as a sound installation, with the intent to diffuse the tense, anxious atmosphere of an airport terminal.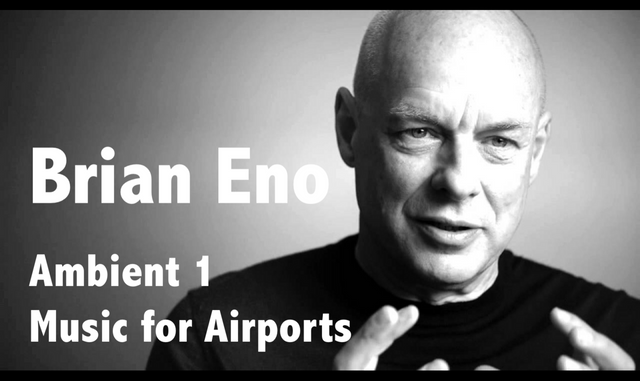 Brian Eno started his career playing synth in the glam rock band "Roxy Music" early 70s after which he took on a solo career, slowly including ambient style in his works. He collaborated frequently with guys like Robert Fripp, David Bowie and David Byrne. From the 70s onwards he also worked with many more big names in collaborations with and created production for names like Talking Heads, John Cale, Harold Budd, U2, Coldplay, Laurie Anderson, and Grace Jones. In many ways he was right in the middle of popular music at the time, however most of the time more or less behind the scenes. Reason for many of us, not knowingly exposed to him; At least that applies to me.
Artist: Brian Eno
Album: Ambient 1: Music for Airports
Year: 1978
Country: UK
NJOY
Brian Eno - Ambient 1: Music for Airports (1978)
Looking for the album, I discovered also another version with the statement it is a time stretch version. I'm not sure if they just slowed down the album, or they modified it as well. Maybe you can tell? I just know that the slow version I truly like as well. It becomes very dreamy therefore a perfect for meditation.
Brian Eno - Ambient 1: Music for Airports - time-stretched (1978)
Music
Spotify
Beatport
Soundcloud
YouTube
Discography
Gigs
Artist

sources [1][2]
brought to you by @qsounds managed by @edje