After my heavy long weekend at Amsterdam Dance Event we had a chill day at home winding down, chilling, talking and discovering new music inspired what we discovered last weekend. Having Soundcloud running and proposing music to us, one of the recordings of Call Super started to play. We never heard of this guy, but the recording did not drive us to use the skip button. It even made us dance a little. It turned out to be a mix between Experimental, Deep House and Techno. Our conclusion, he is worth it for us to spend time on him, therefore it is worth for me to create this post for you. It is the recording we listened to last Monday, I share with you today. I hope you like it too!
Resident Advisor writes:
A deft ability to craft sets known for their hypnotic intensity and musical breadth has brought him across the world and seen him develop a travelling residency of extended sets alongside Objekt.
Call Super's real name is JR Seaton and he started out in London. As an active producer and DJ, he made mix recordings for the highly respected Dekmantel label, London club and label Fabric and Resident Advisor (the one included in this post). Recently he also released EPs for Dekmantel "Nervous Sex Traffic" and "Dekmantel 10 Years 02", and Trilogy Tapes.
Artist: Call Super
Set: RA.435
Year: 2016
Country: UK / Germany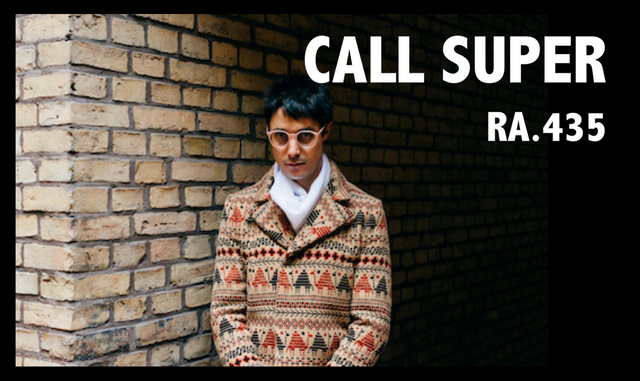 Let Me Know What You Think of this One

Call Super - RA.435 (2016)
Music
Spotify
Beatport
Soundcloud
YouTube
Discography
Gigs
Artist

sources [1][2]
brought to you by @qsounds managed by @edje