If this is your first time hearing of the genre "lo-fi", you're not alone. This unpopular genre tends to attract the anime-loving, underground music searching, chillers of today's internet culture. Lo-Fi is short for the term low fidelity which is a type of sound recording that has technical flaws making the recording sound vaguely distorted with hums, background noises, or limited frequency responses. Lo-fi is often associated with the occasional white noise we would get with playing music from a cassette tape.
I couldn't help but fall in love with the nostalgic feelings I got when I listened to this soothing genre of music. After coming back from a two day edm music festival, I felt inspired to try to make some of my own beats and tracks.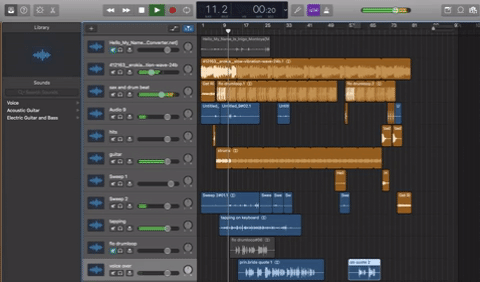 Considering I don't have much experience with making songs, I did what I was comfortable with and used an occasional voice over and spoken word. I had fun experimenting and making beats and loops on my computer. I took my mic and recorded the traffic from my window with the gain turned up all the way to get the sort of lo-fi inconsistent sound I wanted.

The first track I made was inspired by one of my favorite astronomers and authors, Carl Sagan. I took a snippet of the audio from his last interview before he passed, and mixed it with ambiance sounds and chill beats. Take a listen to the track below:
---
The second track I made I wanted to have a bit more of an upbeat feel but still stay true to the Lo Fi sound I love. I used a saxophone instrumental version of the intro to Jenifer Lopez's "Get Right" to tie the theme of getting right and getting retribution to the track. Then I recorded a voiceover of my two favorite Inigo Montoya scenes in The Princess Bride, along with audio from the film. Take a listen to the completed track below:
---
Overall I'm pretty happy with the results of my first two tracks. I know there is only growth from here and I can't wait to continue this exciting journey of finding inspirations, creating and sharing. Which of the two is your favorite? I would love to get some feedback :)
I hope everyone had a wonderful start to the new year!