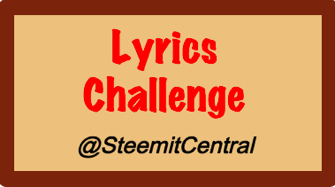 "What do you want from life? To try and be happy, While you do the nasty things you must?"
song ~ "What Do You Want From Life?"  
artist ~ The Tubes  


What do you want from life?
To kidnap an heiress
Or threaten her with a knife?
What do you want from life?
To get cable TV
And watch it every night?

There you sit, a lump in your chair
Where do you sleep, and what do you wear when you're sleeping?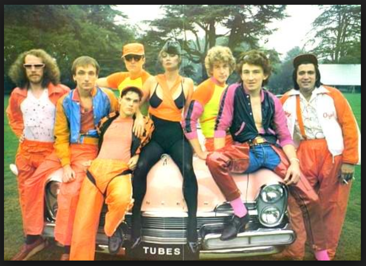 What do you want from life?
An Indian guru
To show you the inner light?
What do you want from life?
A meaningless love affair
With a girl that you met tonight?

How can you tell when you're doin' alright?
Does your bank account swell
While you're dreaming at night?
How do you know when you're really in love?
Do violins play when you're touching the one that you're loving?

What do you want from life?  (What do you want from life?)
Someone to love, and somebody you can trust? 
What do you want from life?  (What do you want from life?)
To try and be happy, while you do the nasty things you must?

What do you want from life?  [repeat]

Well, you can't have that, but ...
If you're an American citizen, you are entitled to:
A heated, kidney-shaped pool
A microwave oven – don't watch the food cook
A Dyna-Gym – I'll personally demonstrate it in the privacy of your own home
A king-size, Titanic, unsinkable Molly Brown waterbed with polybendum
A foolproof plan and an airtight alibi
Real simulated Indian jewelry!
A Gucci shoetree!
A year's supply of antibiotics
A personally autographed picture of Randy Mantooth
And Bob Dylan's new unlisted phone number
A beautifully restored 3rd-Reich swizzle stick
Rosemary's baby!
A dream date in kneepads with Paul Williams
A new Matador
A new mastodon
A Maverick
A Mustang
A Montego
A Merc Montclair
A Mark IV
A Meteor
A Mercedes
An MG
Or a Malibu?
A Mort Moriarty
A Maserati
A Mac truck
A Mazda
A new Monza!
Or a moped
A Winnebago. Hell, a herd of Winnebago's – we're giving 'em away!
Or how about a McCulloch chainsaw?
A Las Vegas wedding
A Mexican divorce
A solid-gold Kama Sutra coffee pot
Or ... a baby's arm holding an apple?     (Image source)

Comments 
The Tubes are a weird, wonderful, and bizarre pseudo-glam band who've been active since the 1970s. Through their art, they exaggerate and satirize the absurdity of life in America.  
Drugs, TV,  and Other Bad Habits
Like many of their early songs, "What Do You Want From Life?"  is about potentially nasty and harmful habits such as drugs, bondage, watching TV, and shopping. Much of this song was tongue in cheek, but their mockery of both consumerism and celebrity was real and sincere.  
A Tsunami of Shallow Trash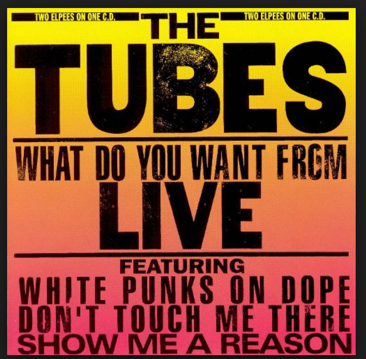 After forming in 1972, The Tubes had become notorious for their wild, aggressive, and raunchy shows, which sometimes evoked extreme reactions.
After one show in Mexico, they were even chased out of town by the local police. And apparently more than one record-company executive ushered The Tubes out of the office, simply because their music and shows were too risqué for the popular tastes of the time.    
Before being allowed to release their first album in 1975, they had to tone down their act a bit. Neverthelesss, the album still featured this song and several other anthems that ridiculed the tsunami of shallow consumerism and other travesties of that time and place.   
(Image source)

The Tubes –
"What Do You Want From Life?"
(Right-click to hear on YouTube)
Lyrics by
Bill Spooner, Michael Evans,
courtesy of –
AZLyrics.com
References –
Wikipedia
References –
NightFlight.com


    A Compilation of My Previous
Lyrics Posts 3~30


    This is my entry in the 60-Day Lyrics Challenge.
    Click here to learn about
@SteemitCentral
's –
Lyrics Challenge.