When people think of war, music is not usually the first thing that comes to mind. However, when the United States fought World War I, the Federal Government deemed music an "essential industry" that must continue while the people fought overseas. So, in the interest of public well-being during World War I, the Philadelphia Orchestra scheduled twenty-five concerts at the Academy of Music.
Who played?
The Philadelphia Orchestra was made up of players from all over the world, especially allied nations like France and the United Kingdom. The conductor was Leopold Stokowski, who was born in England. Stokowski is one of the greatest conductors in orchestral music history and was famous for conducting the Philadelphia Orchestra in the American debut of Mahler's Eighth Symphony in 1916. Other important musicians included the principal violist Samuel Belov, who was later one of the first faculty members of the now renowned Eastman School of Music in Rochester, New York.
The Philadelphia Orchestra patriotically boasted that it was the only orchestra that was allowed to travel with all of its members to a performance in Canada in 1918. They were able to accomplish this because all members of the Orchestra were from Allied or American backgrounds.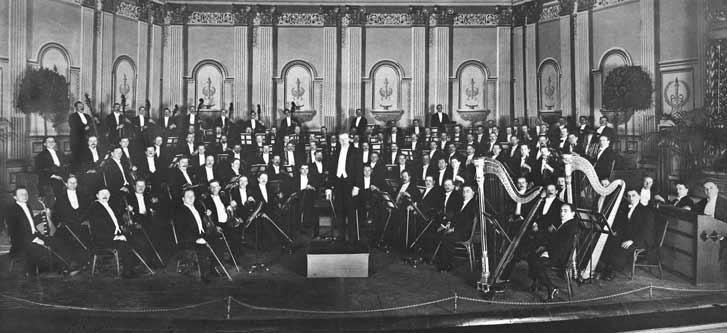 What did they play?
The 1918-1919 Philadelphia Orchestra season featured innovative music experiments, such as Belgian poetry recited on top of music written by British composer Edward Elgar, who was well known in the United States for work such as "Pomp and Circumstance" and "Enigma Variations."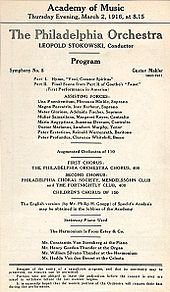 How do we know?
An important part of history is asking how we know what we know. In this case, the information was published in a journal called the "Musical Courier" which told Americans of music news from the 18th - 20th centuries.

Why does it matter?
While many excellent #explore1918 have highlighted the challenges of the Spanish Flu and World War I, this post is another example of how national pride and allegiances impact organizations that one might expect to be free of national affiliation. Gustav Mahler, played to great crowds in the United States before the American entrance to World War I faced some challenges in 1917 when American opinion turned against Germany. Only a little over a decade later, Mahler himself was abandoned by the Nazi part and, as a Jewish composer, declared "Degenerate Art" despite his frequent use of German folk songs in his compositions. Likewise, the use of Edward Elgar in the 1918 season shows the friendship between Great Britain and the United States during World War I.
100% of the SBD rewards from this #explore1918 post will support the Philadelphia History Initiative @phillyhistory. This crypto-experiment conducted by graduate courses at Temple University's Center for Public History and MLA Program, is exploring history and empowering education. Click here to learn more.