My Top Ten Favorites Music Albums of The Decade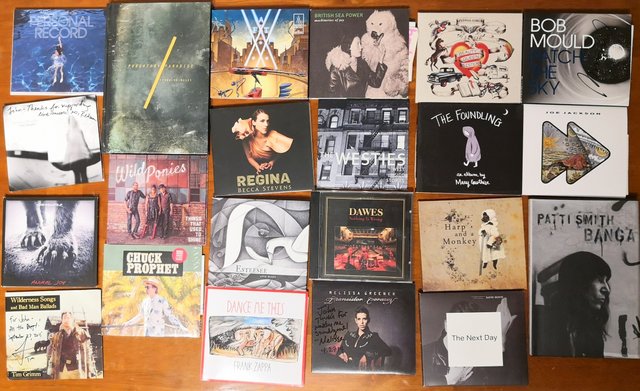 I blame @gibic. Their 'My Top Ten Favorites Music Albums of The Decade' was at the top of my feed when I didn't know what music to listen to. It's a damn fine selection, but not even close to what I've been listening to.
So here's my list of the best from the last ten years. I went through the shelves and pulled out eligible CDs I played repeatedly. Then went to Spotify for a few more. Then whittled down 40 entries to ten.
In no particular order...
JP, Chrissie and the Fairground Boys - Fidelity!
Chrissie Hynde of The Pretenders with JP Jones created an album of middle-aged lust and yearning. 2010

Chuck Prophet - Bobby Fuller Died For Your Sins
Sixties pop meeets Eighties college rock with an Alice Cooper sneer and the swing of Springsteen's E-Street Band - 2017

Frank Zappa - Dance Me This
The final Frank Zappa album of new material, released 22 years after his death. Classical music rendered on the Synclavier, throat singing, jazz and some mean guitar work. 2015

Dawes - Nothing is Wrong
Songs and stories of naive maturity in Los Angeles. Soft rock excellence. 2011

Prophets of Rage - Prophets of Rage
A supergroup comprising Rage Against The Machine, Cypress Hill and Public Enemy. Proper old school rap with a metal blade. - 2017

Tim Grimm - Wilderness Songs & Bad Man Ballads
Tim Grimm is an actor, musician and accidental farmer. These songs are based on the writing of Scott Russell Sanders. Unapologetic Americana with great stories and eerie Indiana love songs. 2011

The Divine Comedy - Foreverland
Wherein Neil Hannon returns to form and delivers an album of classic humour and whimsey. 2016
British Sea Power - Machineries of Joy
Their rockiest album but still with that feeling of having been written while hiking through a forest. 2013

Eleanor Friedberger - Personal Record
Co-written with Wesley Stace AKA John Wesley Harding but delivered as though it was written in her bedroom. Jangly pop genius. 2013

Wild Ponies - Things That Used to Shine
Country music from the gutter. 2014

Becca Stevens - Regina
Songs about queens of all types, including one composed entirely of Freddie Mercury quotes. 2017

Okay, so that's eleven. Here's the rest - all great and worth repeated listening.
Tengger Cavalry - Ancient Call
Diana Jones - Museum of Appalachia Recordings
Avi Buffalo - Avi Buffalo
Lucinda Williams - Blessed
Susan Werner - Kicking the Beehive
Giant Sand - Blurry Blue Mountain
Alison Krauss & Union Station - Paper Airplane
Indigo Girls - Beauty Queen Sister
Throwing Muses - Purgatory Paradise
Patti Smith - Banga
Shearwater - Animal Joy
Joe Jackson - Fast Forward
Mary Gauthier - The Foundling
Brown Bird - Salt For Salt
Citizen's Band - Grab A Root and Growl
Bob Mould - Patch The Sky
Rebecca Pronsky - Only Daughter
The Fierce and The Dead - The Euphoricard
Harp & A Monkey - Harp & A Monkey
Melissa Greener - Transistor Corazon
Michael McDermott / Westies - West Side Stories
Franz Ferdinand Sparks - FFS
Ange Hardy - Esteesee
Manic Street Preachers - Resistance is Futile
Nick Parker & The False Alarms - Besta Venya
Kristin Hersh - Possible Dust Clouds
Pabst - Chlorine
David Bowie - Next Day
Final Coil - The World We Left behind For Others
Atorc - Under The Raven Banner
P.S. I'm one of those pedants who thinks this decade has another 365 days to go, but like I say, this is @gibic's fault!