Yet another of the many great bands that I found through compilations, I first came across these guys on the most excellent Thugs 'N' Kisses from one of the key labels of 90's coldwave and industrial rock, Re-Constriction Records. The track that appeared there was a remix of "Matador", and I was hooked big-time (to a few other tracks on that comp as well, but we'll get to at least some of those in later articles). That track, the compilation I found it on, and the album it came from (which is the one I'm writing about here) are not only some of my favorites of all time, but are also some of the things that bring up the strongest feelings of nostalgia for me. Although I have strong emotional ties to all of the music I've witten about and will write about here, well, I'm sure you can relate to how some particular things get tied up with certain times and events, and the feelings that go along with them. I'm not exactly sure how much of it is a matter of timing, and how much is a matter of me relating to the particular music, but there are no less than five Acumen Nation albums with such emotional ties for me. Some of it is actually hard to listen to because of the feelings that get stirred up, but I still love it. Music is amazing. :)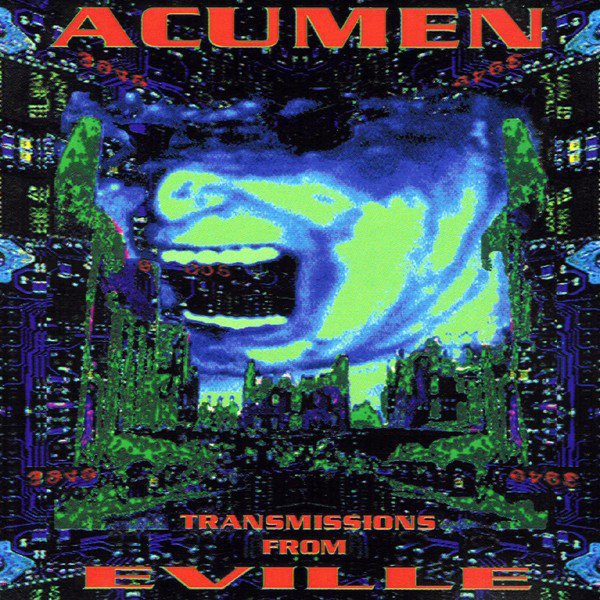 Acumen Nation is another band with an interesting history, some of which is tragic. Their guitarist Jamie Duffy died in 2012 of a sleeping pill overdose. This sad event inspired a memorial concert called "Cold Waves: The Jamie Duffy Memorial Concert", which included many of the big names in the coldwave and larger industrial scene. Although it was only intended as a one-off, it became a yearly festival, and I think it's a touching example of artists coming together to support each other. In less tear-jerking events, you may notice that the cover I posted gives the band name as simply "Acumen". That's because that was the band's name until sometime in 1997, after the release of their second album, when they got sued by some hippie jam band that was also using the name. There have since been reissues of this album with the updated name and different artwork. Pictured here is the version I own, which is also a re-release (there was a version before this one, though these releases were less than a year apart; first on Robot Records, then Fifth Colvmn). There's a really interesting documentary called "Rally And Sustain: The Cracknation Documentary" that details the band's history, and includes appearances by several other heroes of the genre. You can find it on the 'tube if you're interested.
Listen to Transmissions From Eville on Deezer: https://www.deezer.com/us/album/1021631?autoplay=true
The opening track is the one I mentioned above, "Matador". This is industrial metal perfection right here. Awesome guitars, awesome drums, awesome vocals and lyrics, just such a great track! Although not quite as intense, the next song, "Eville", keeps up the excellence with some cool vocal samples and an all-around fantastic vibe. This is followed by "Gun Lover", which slams things into high gear again, and includes some equally cool, but different, vocal samples. In addition to more great lyrics, this track is a good example of another of my favorite things about Acumen Nation, which is their ability to be as funky as they are heavy, without either feeling subtracting from the other. That overall feeling meshes quite well with the sardonic vocals. This is another album where I could gush about every track, so we'll jump ahead to "Noarms Nolegs", which is possibly the heaviest track on the album. Also, you've gotta love the lyrical turn of phrase "The gun in your back is a gat, and if you move, I'll blow your brains through your hat". This is followed by another favorite, "Anchorite", which starts out with an excellent ambient intro, then turns into another rather intense romp, with more great lyrics. "Chameleon Skin" and "Sutures" help bring things to a close before "Finalize Transmission" ends things with an instrumental outro. Though those two last songs don't hit as hard for me as some of the others I mentioned, they are still really good, and I recommend giving this album at least one full listen all the way through. It's really fantastic, and these final tracks provide a nice cooldown after the intensity that precedes them.
This album and Territory = Universe, the first two Acumen (Nation) albums, are probably my favorites, but the rest are also very much worth checking out. The first album realeased with the "Nation" appendage, More Human Heart gets a lot of flak, even from the band, but I think it has some moments of greatness. I'm not really sure how I would rank the rest, other than all being good. I also really like DJ? Acucrack and most of what I've heard from the other side-projects, especially Iron Lung Corp.