Spring season is now in full swing, and despite a slight setback in the form of a few chilly days and some frosty nights leading up to the weekend, the weather forecast is now promising proper spring temperatures again and since Easter holiday will be coming up next week I, like many of my countrymen, plan to take advantage of this in full.
A change of season naturally also means a change of music, and the bright yet still slightly chilly days of the blooming season calls for similarly bright, hopeful and yet subdued music that sets the stage for the season and prepare you for the summer that is yet to come. As I touched upon in an earlier blog post, it is very hard to get around the cultural significance of Japan in the different depictions of spring in art due to her strong affinity with the seasons in general and spring in particular, and while my choice for best cherry blossom song, Sakura Sakura by the Japanese pop group Rin' is certainly worth a second mention when discussing spring music, it is the breezy, ethereal piano piece flower dance by Japanese electronic music DJ Okawari.
It says on DJ Okawari's Soundcloud page, that he ...creates sounds that underscore the connection between settings and emotions, and I find that this is definitely true in this beautiful, humble tribute to the spring season. The melancholic yet hopeful piano melody feels ethereal, breezy and slightly melancholic, like like the chilly breeze felt on a sunny spring day while walking under blooming branches.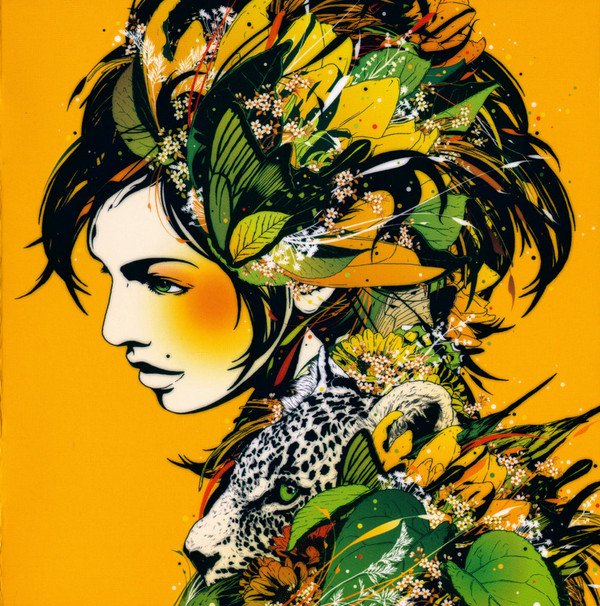 Flower Dance can be found on the DJ Okawari album Kalaidoscope - image from Discogs
For me, there is a gray (or rather light green, maybe even teal?) area between spring music and summer music, as both categories seem to cover a lot of the same emotional ground and my next pick Wish you were here by American rock band Incubus seem to fall into this category, as the imagery conveyed in the lyrics is most likely that of a summer landscape (at least it would be on these parts), but its exuberant celebration of love and the longing after being with the person you love is something I definitely associate with the spring season, and this one I will be sure to make it into the playlist I am preparing for the long strolls I plan to take during the coming Easter break.
Not straying far genre-wise, the rock song that unambiguously sits in the spring category is The Red Hot Chili Pepper's catchy, little tune The Zephyr Song. Not only because it takes its name after Zephyrus, the Greek personification of the Western wind, that was thought to be the bringer of light spring and early summer breezes, but also because of how the lyrics use the gentle nature of the Zephyr as a metaphor for courtship and romantic love. The chorus especially conjures up images of warm spring days and butterflies in the stomach:
Fly away on my zephyr
I feel it more than ever
And in this perfect weather
We'll find a place together
Fly on my wind
The last pick for my list of spring music is for some perhaps a strange choice for spring music and unusual for me, as it is a piece of music I rarely revisit outside the season of spring. My pick is Wolfgang Amadeus Mozart's 35th symphony, also known as the Haffner symphony and while many would argue that the genius of Mozart transcends the seasons and could and should be enjoyed at any time of the year (which is definitely not a point I would contest), this particular symphony reminds me of a particular trip I made to the United Kingdom as a university student and especially its two first movements conjures up memories of enjoying the English countryside bathed in sunshine whizzing by during a bus ride to Oxford and smiling by the thought that soon I would be enjoying the good company of old friends in Oxford's picturesque surroundings.
---
Thank you for reading! Following bands and artists were discussed in this post:
Rin'
DJ Okawari
Incubus
Red Hot Chili Peppers
Wolfgang Amadeus Mozart
I do not own any of this music. If you enjoyed any of the music shared in this post, I strongly encourage you to support these artists by purchasing their works
Please feel free to share your spring music in the comments below as well!