Hello dear Steemians,
Hallo liebe Steemians,
In 2019 a long capital in my career as a musician ended forever. Happily, I am now heading for new shores and new challenges
What might sound like a hackneyed phrase is absolutely true for me.
🔊🔊🔊
2019 endete ein langes Kapital in meiner Karriere als Musikschaffender für immer. Frohgestimmt geht es nun auf zu neuen Ufern und neuen Herausforderungen....
Was vielleicht wie eine abgedroschene Floskel klingen mag, trifft bei mir allerdings den Nagel auf den Kopf.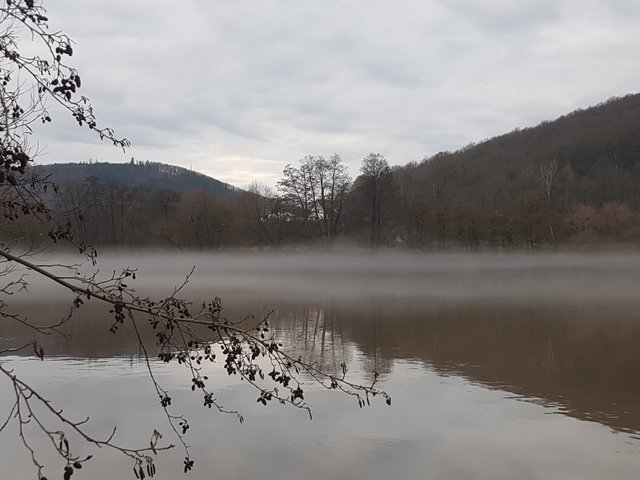 Das Produzieren fällt angesichts dieses Wetters momentan auch echt leicht. Draußen ist es finster, draußen ist es kalt, wär' das hier so immer, dann würd' ich gar nicht alt.
🔊🔊🔊
Producing is also really easy at the moment in this weather.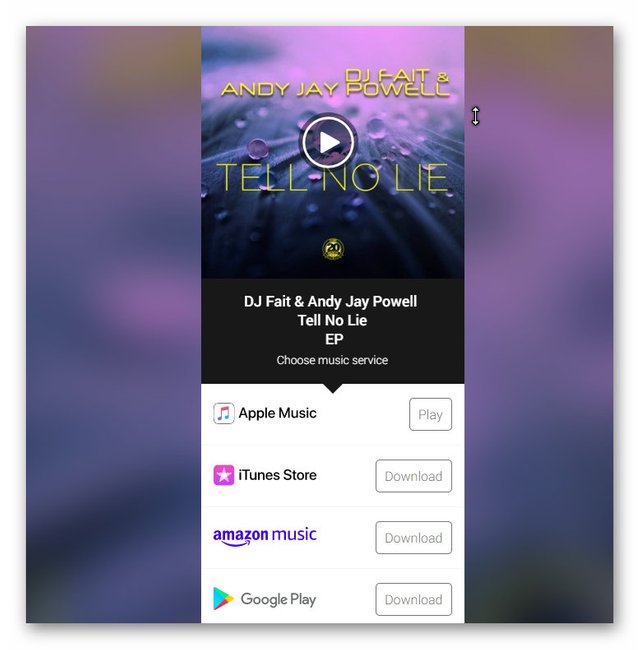 Das Jahr 2020 startet mit einer Kooperation - Single mit meinem Kollegen DJ Fait. Der Track heißt "Tell No Lie" und wird Ende nächster Woche auf dem famosen Label "Aqualoop" von DJ Pulsedriver erscheinen.
🔊🔊🔊
The year 2020 starts with a cooperation - single with my colleague DJ Fait. The track is called "Tell No Lie" and will be released at the end of next week on the famous label "Aqualoop" of DJ Pulsedriver.
Auch eine neue Single mit meinem langjährigen Kollegen DJ Klubbingman steht in den Startlöchern. Der Track ist meiner Meinung nach richtig geil geworden und heißt You Always Want - kommt wie immer auf Klubbstyle Records. In der Sunshine Live Mix Mission 2019 feierte der Track bereits seine Radiopremiere. Wer es verpasst hat, kann in dem Youtube Video oben in das kleine Preview reinhören..... Ich poste den Track aber bald in voller Länge. Versprochen.
🔊🔊🔊
Also a new single with my longtime colleague DJ Klubbingman is in the starting blocks. In my opinion the track has become really cool and is called You Always Want - comes as always on Klubbstyle Records. In the Sunshine Live Mix Mission 2019 the track already celebrated its radio premiere. If you missed it, you can listen to the little preview in the Youtube video above But I will post the track soon in full length. Promise.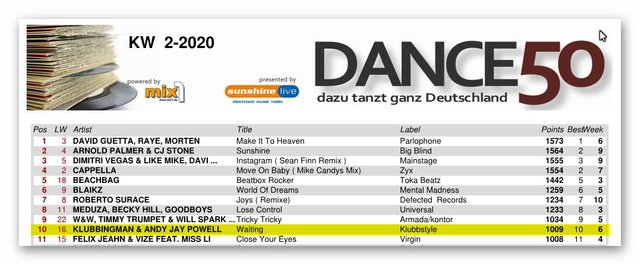 Momentan ist die aktuelle Single noch in den Radio Sunshine Live Charts auf Platz, und konnte nun auch in den Dance50 Charts die Top 10 erreichen.
🔊🔊🔊
At the moment the current single is still in the Radio Sunshine Live Charts, and could now also reach the Top 10 in the Dance50 Charts.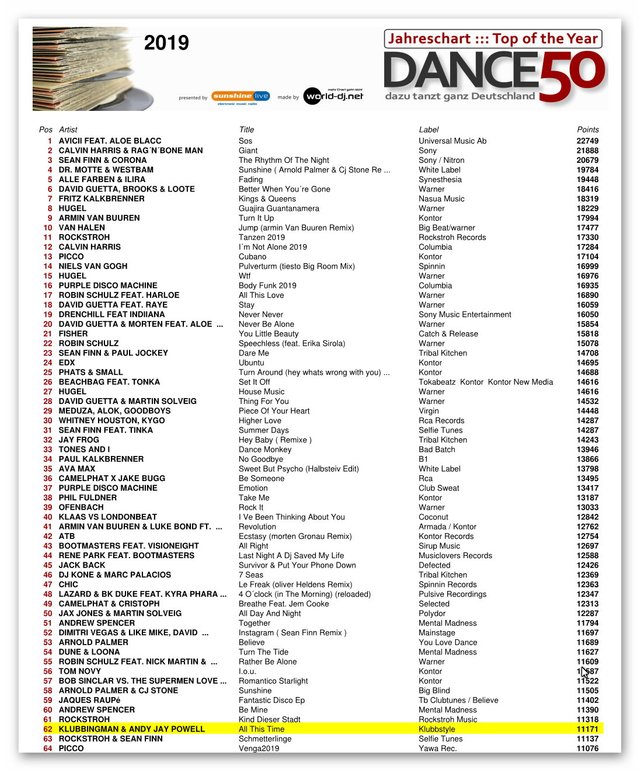 Mit unserer ersten Single "All This Time" des Jahres 2019 haben wir es in den Dance50 Jahres Charts sogar auf Platz 61 geschafft. Und das mit einem Trance - Track. Dieser Sound ist nun wahrlich derzeit nicht der Mainstream schlechthin. ;-) Auch das Follow Up "Butterflies" konnte sich in den Jahrescharts noch platzieren.
🔊🔊🔊
With our first single "All This Time" of the year 2019 we even made it to position 62 in the Dance50 year charts. And that with a Trance - Track. This sound is really not the mainstream at the moment ;-) Also the Follow Up "Butterflies" could still place itself in the yearly charts.
Feel Free To Enjoy The
DAILY MUSIC TAGS
Monday Trance by @andyjaypowell
Disco Tuesday by @musicgeek
Wednesday House by @andyjaypowell
Rap Thursday by @flipstar
Techno Friday by @neutronenkind
Dance Weekends by @uwelang
---
Weblinks:
Andy Jay Powell On DTube
Andy Jay Powell On BitTube
Andy Jay Powell YouTube Channel 1
Andy Jay Powell YouTube Channel 2
---
🔊🔊🔊 Follow @andyjaypowell 🔊🔊🔊