Muse March 2018 Update
Hello Muse supporters!
It's time for an update. I'm really excited about this one and I'm sure you will be as well!
Things are really coming together for the Muse project during Q1 of 2018. Our team of full time contributors has grown, and we are now able to move forward on many fronts at once. It feels fantastic to have this new-found velocity.
Something worth a special mention is the addition of John to the team. He has quit his day job and is now all in with Muse. His previous work experience makes him the perfect candidate to bring some structure to our efforts to radically change the way music is consumed and monetized.
He is now on board full time and has begun bringing balance to the Force :p
I'm neither a technical founder or high in orderliness (to those familiar with the big 5 personality traits) and feel as though John can complement my flaws perfectly in that regard. He has been continuing development on the Rights Management Portal with @Johnstor, but now that he is full time, has also set the stage for some structure and established protocols going forward.
John is taking over management of all aspects even remotely technical, which frees up a lot of my own time to focus on where I can actually add value.
All good news to MUSE HODLERS if you want my opinion :D
Updates
Part of the new structure is the post-sprint community updates which sum up what was achieved and what we will be tackling next. Each sprint is 15 business days so about 3 weeks calendar time.
Last Sprint
We outlined the new Biz/Ops plan going forward
We began development of http://support.museblockchain.com/ in order to have a place to go other than Slack when you need assistance
We've so far created 11 articles for the support site
We updated the MuseBlockchain.com website
We updated the PeerTracks.com website
The PeerTracks Web app's UI was worked on
The audio player is also being modified to track the relevant data which Muse requires
The Rights Management Portal made great progress! Base features include:

User Registration/Login
Post Content Metadata (this part is huge! We can finally put metadata on the Muse blockchain using the GUI)
Existing Muse wallet integration. The wallet is being re-written in Angular.js so it can be part of the RMP (written in Angular). This means we will only have one codebase to maintain for both the standalone and the RMP versions. The (current/existing) React.js wallet will eventually be completely replaced by the Angular version.

The people from CoinMarketCap.com have gotten back to us a few days ago, so the information regarding Muse should hopefully be brought up to date shortly!
Here's a glimpse at the RMP: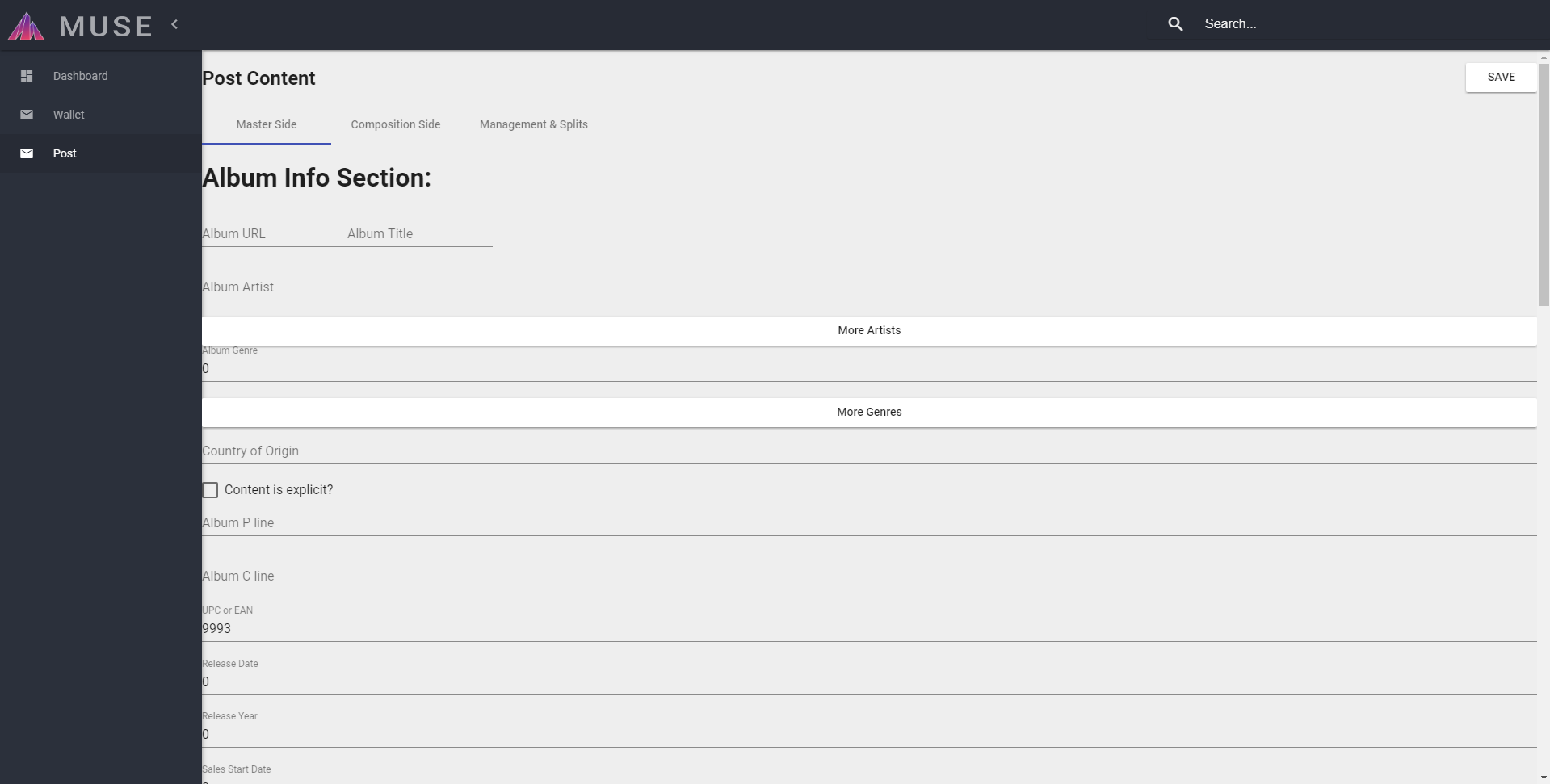 This sprint
This is the hardening sprint where we are doing a lot of testing and bug fixing. Essentially:
Getting the RMP ready for our first, invite-only artists while ensuring the PeerTracks app can read the correct metadata on the Muse blockchain and push out spins (plays/streams) in real time.
Continue to progress on Biz/Ops plan by adding in-depth details to initial outline
Continue work on the Help/Support portal. A lot of content needs to be created for it as we only have 11 articles up so far. Community help greatly appreciated :)
As stated above, you can now expect an update of this sort at the end of each sprint. If you have any comments or feedback on the structure and/or content of the new updates, please say so in the comments.
Also, please help us out by upvoting, resteeming and sharing to all social media outlets.
Cheers everyone!