Multinational Corporations
What is Multinational Company (MNC)
It's a company that operates or has assets in 2 or more countries other than the home country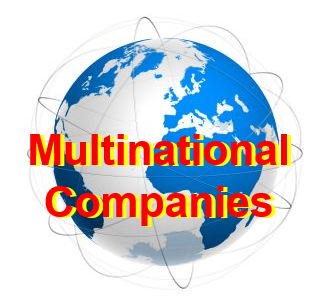 In the early 1980s, policies supported the General Agreement on Tariffs and Trade and the World Trade Organization both advocated minimal barriers to international trade. Free trading with Canada began in 1987, leading to the establishment of the North American Free Trade Agreement in 1994.
The government has allowed companies to make their products anywhere, taking advantage of low-cost labor in other developing countries. In the 1990s, China became the biggest country for making basic goods and products and has since expanded into high tech.
The Internet have opened the door for many other types of labor , With MNCs like Apple rushing to set up shop in BRIC countries (Brazil, Russia, India, and China), where the profit is at it's highest there.
Cons of Multinational Companies :
The Market Dominance of Multinational Corporations : small markets and small businesses find it hard to succeed.

Criticized For Using "Slave Labor" : workers are usually paid small wages.

Environment Threat : they pollute the environment by using non-renewable resources.

"Multi-billion-dollar multinational corporations view the exploitation of the world's sick and dying as sacred duty to their shareholders." -John le Carre