Tonight there will be another draft in my favorite bar - Crni Mačak. We will be drafting a bit older editions this time. It will be a draft with Eventide, Morningtide, and Shadowmoor. I am really hyped about the draft, so I decided to write another post about MTG. As I will be drafting tonight, I will share a deck from my previous draft here.
B/W Vampires
The first booster I opened during this draft told me what I was going to play. I opened one of the most powerful draft cards in Ixalan; Bishop of Binding!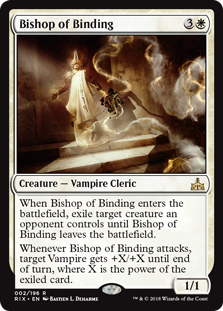 Bishop is an amazing card, it removes a threat from your opponent's side of the board, and boosts himself or another vampire each time he attacks, ideally one with lifelink.
Luckily for me, no one else at the table was drafting vampires, so I managed to draft some pretty decent ones. I got 4 copies of Squire's Devotion which means that my Famished Paladin never had to be thirsty. Those two work great in combination as once it is enchanted Famished Paladin untaps whenever it deals damage.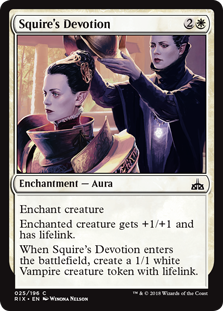 I picked
Forerunner of the Legion
to help me find Bishop, and 2x
Costly Plunder
as I had lots of ways to create 1/1 vampires, so it wasn't that costly after all. :)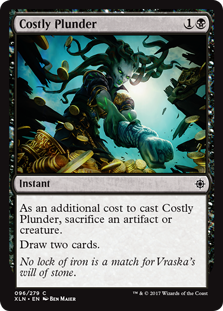 Besides vampires, I drafted some really nice board control cards like Luminous Bonds, Baffling End and Impale. They helped remove some nasty threats while quick and deadly vampires quickly drained life from opponents.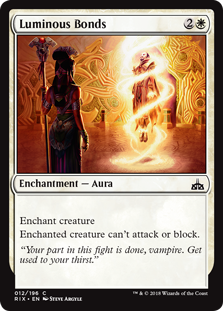 I bolstered the ranks of the vampires with a few useful pirates likeDire Fleet Poisoner and Deadeye Tracker, and I took a pet dinosaur in form of Wakening Sun's Avatar for sideboard as board clear option in dire situations.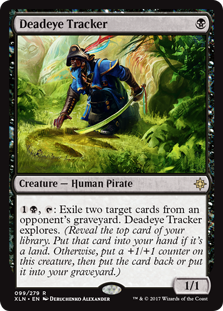 This deck was pretty quick and efficient and it earned me the 2nd place in the tournament. Here is the full decklist if you are interested in checking it out.
---
My previous MTG posts: