Hello Steemit!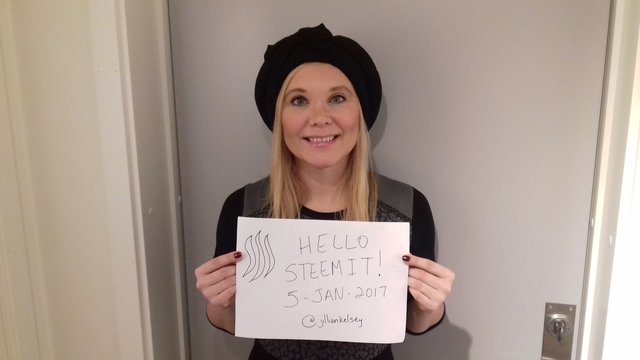 Hello Steemit!
Just wanted to introduce myself. My name is Jillian and I am living in Oslo, Norway currently with my boyfriend Mike (@adventureevryday). Mike and I have been in a relationship for 4 years and its amazing to get to have an adventure in Europe with him. At first when he told me that he was moving to Norway for a new job, I was in shock. I felt all the normal emotions of fear, sadness, and confusion. This news had me questioning where I fit into the plans. If you had told me two years ago that I would be living in Europe for a year I would have said you were crazy. Yet here we both are living in Oslo, Norway and traveling around Europe seeing things that I only read about in books.
At the time when he said he was moving I thought the world was ending. A bit dramatic to say the least, but as a born worrier I couldn't help but feel anxiety about what the future holds. I soon began to try to find a way to be together in Norway. I had a few obstacles in front of me. See I owned a house, had a great job, and was the mother of a small fur baby. All things I was going to have to find solutions for if I was going to go to Norway.
Asking for a leave of absence from work
After looking over my contract at work, I discovered something that few people paid attention to. If you work for the school district for 5 years you are allowed to apply for sabbatical leave with partial salary and benefits. Was I reading this right? A paid leave of absence and my job waiting for me when I get back. It seemed too good to be true, but I put my sabbatical application together and made an appointment to meet with my principal. It felt like a bit of a long shot, but I was very passionate about the leave of absence. After meeting with my boss and going over the application, he was excited for me as well. He also saw that a year living in Europe was a once in a lifetime opportunity. As the cards all started to fall in place, my goal of going to Europe for a year seemed well in reach.
Selling my house
As overwhelming of a task that it was I decided to get my house ready to be sold. I enlisted the help of my family and friends for finding new homes for some of my possessions. I sold furniture, gave away clothes, and donated a large amount of items to Goodwill. Next it was time to paint and clean. This was a huge undertaking and luckily I was off for a week in March for Spring Break. No it wasn't going to be a vacation. It was going to be a lot of hard work, but my goal was to find a way to be with the man I love. When a woman sets her mind to do something there is few things that can stop her.
I hired a steam cleaning company to steam clean all the carpet in the house. My mother and I painted the master bathroom a neutral grey and cleaned, cleaned, and then cleaned some more. Finally, the day had come for my realtor to take pictures and make a video for my house to be listed and sold. We both decided on a price, but were prepared to go lower if needed. My plan was to leave for Norway at the end of May 2016, so it being April we were in a bit of a time crunch. Soon the prospective buyers started to book showings of the house which my dog Shiloh and I had to be gone while they were there. This was very inconvenient and required some time sitting in my car down the street while strangers toured my house.
After only 5 days of house showings to my shock and surprise I got an offer to buy the house. It was $10,000 lower than the asking price, but I was a highly motivated seller who didn't have the time to be choosy. After months of work and anxiety, there was a deal on the table. Things were all starting to fall in place and working out. The fear and anxiety that I had felt for months was subsiding as the realization hit me that it was all going to work out. At this point, I was getting the feeling that it was meant to be. Moving to Norway for a year was definitely what I was supposed to be doing with my life.
Finding a temporary home for my fur baby Shiloh
Next it was time to move out. Luckily my mother was also working hard at my parent's home to clean everything out of the basement to make room for all the furniture, clothes, etc. that I didn't give away. She was also taking in my fur baby Shiloh for the time that I will be gone. I couldn't be happier knowing that he will be well taken care of. My parent's are both retired so he would get even more attention then he did when I was home with him.
It was now time to pack my suitcases and move to Norway from the end of May 2016 til the end of June 2017. Was I scared, nervous, anxious? Yes, of course I was, but the old saying goes whatever doesn't kill us makes us stronger.