It has been a while since I wrote a movie review, but now I thought it was time again. Not only because it is time, but because I got inspired to try the @steempeak platform again after reading a recent article from @namiks on the matter (why he has left Steemit and decided to use Steempeak instead). You can read it at https://steemit.com/steempeak/@namiks/praising-steempeak-why-i-ve-moved-from-steemit
But, I decided to give Steempeak a try again, and what better way than by sharing my most recent cinema experience (and the only one I have had in the last half a year) with you all!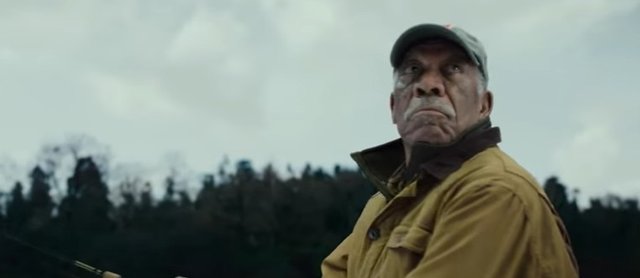 Morgan Freeman is playing the role as the American President in Angel has Fallen!
About Angel Has Fallen
Angel Has Fallen is the movie number three portraying Gerard Butler in his role as Mike Banning, an agent who has the task of taking care of the American President. In the fire movie he didn't really have the task, but as a super agent who took the task, even though the President held a major grudge against him. The second movie took us to London, and now the third movie is here, called Angel Has Fallen.
These movies are not fantastic productions in any way, but for those who love an action movie with a super person able to fix any problem, shot a lot of bad guys, and save the president, this is great action. But, I should warn you about the third movie, you have seen it before!
Angel Has Fallen is about an attack on the American President which leaves him in a coma, and everyone else is dead, except for Mike Banning. And when someone tries to blame him for what has happened (by planting a lot of evidence), he is taken captive and it really seems as if the good angel has fallen. Have you heard the story before? Does it remind you of Taken 3, or any other movie with the same plot? This is exactly like that, and the movie is just giving you what you would expect. Mike Banning manages to escape while in custody and now he has to prove his innocence and save the President from future attacks while staying off the radar.
Need I say more? I have got to say, the movie isn't great, but I had an awesome time watching it. The nachos and the salsa was fantastic, and I am actually able to enjoy such movies, even though I do know the story and can foretell every single event before they happen. The biggest surprise and the coolest in the movie is actually the entrance and the character of Mike Banning's father. He was just awesome, he was funny, and he came with some real fresh air to the movie.
My Angel has Fallen judgment
If you are picky when it comes to movies, skip this one. If you don't like action and just all the standard action cliches, skip this one. If you just want to relax, eat some popcorn and see some bodyguard fighting his way and beating all the bad guys, this might be a good one for you. Based on my experience, I would give the movie a 7/10. That is way better than the critics score at Rotten Tomatoes and IMDb, but I guess I was simply happy to be able to go to the cinema again and eat some nachos!
One more thing... one of the last scenes of the movie portrays Morgan Freeman as the American President in a super funny photoshopped pictured, standing together with Angela Merkel, Vladimir Putin, and all the other guys... I just had a great laugh looking at it!
Have you seen Angel has Fallen? I would love to hear your thoughts!
Ps: I have really enjoyed writing the article using Steempeak. I guess I will repeat that in the future whenever I decide to write some more articles :)