Can a lawman retire?
This is a fun sit back with the popcorn and enjoy the ride type of Western. It may have used Wyatt Earp's life as inspiration but don't expect any of the story to be based in fact. If you can get past this, then it is a reasonable movie.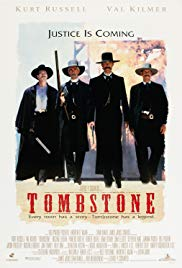 In short, Wyatt Earp is looking to take it easy, he has cleaned up Dodge city and it is time to kick up the heals. But he can't do that anywhere he might be known. So off to Tombstone Arizona it is for the quiet life.
Unfortunately for Wyatt, the small town also has a relatively small criminal gang doing their best to run it. Initially he does what he can to avoid them, but when Doc Holiday has a run in with them he can't stay on the side lines.
This of course leads to the shoot out at the OK Corral, and your typical western movie showdown.
Basically don't a documentary from this or any real factual details and you may enjoy it. I am quite satisfied that I saw this on DVD and not at the cinema.