The Geeky Dad and Geek Guy Present the Top Movies of 2017 (Part one)
When the Geeky Dad and I sat down to compile this list, I couldn't help being reminded of the first time I met Tyler Durden.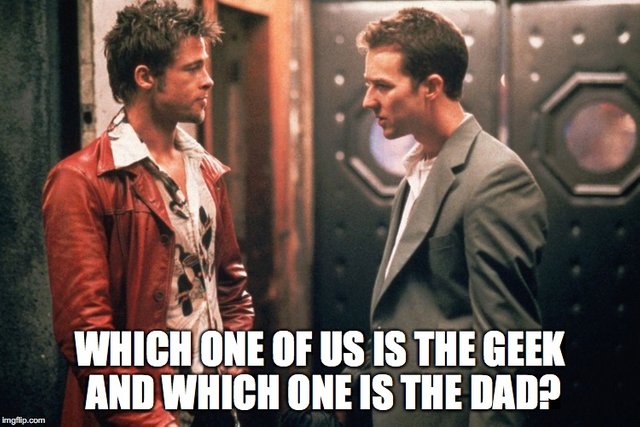 Oh my gosh!
The Narrator and Tyler are the same person?!
No Way!
Because I am both a Geeky Guy and a Geeky Dad, it was quite challenging to try and pick the top ten movies of 2017. Should I keep the types of movies separate? Should I do a mixed list? Do I have to do a top ten list like everyone else? There are two of me, should I go for a top twenty?
But this is steemit. There are no rules! Who says I have to pick just 10? And who says I can't split them into multiple categories?
Nobody. That's who.
Therefore I present eight of the Geeky Guy/Dad's top 13 movies of 2017!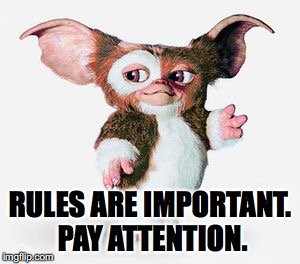 If you are wondering what my criteria is to make the list, it is simple.
1. Which movies would I tell my friends to spend their time and money on?
2. Which movies are most likely to result in my friends thanking me for the recommendation rather than wanting to punch me in the face for wasting their time?
3. Which movies do I want to own for my personal collection?
The Geeky Guys Top Movies (The adult in me loved these and will watch them again after 9:00 P.M. when my kids are in bed.)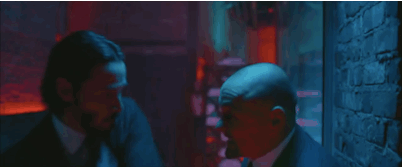 Don't tell my kids I'm watching this!
4.John Wick Chapter 2
I was absolutely shocked by how entertaining the first John Wick was. Just like the original, the sequel is light on plot and super heavy on action. The hand to hand as well as gun battles are so well choreographed that it is like watching ballet... really freaking cool ballet. Although the movie is very similar to the first, there are enough differences to make it exciting. The underworld Wick navigates and the characters in it are just so much damn fun. If you are in the mood for an over the top action movie, pop this in and enjoy.
3.Atomic Blonde
Get ready for this. I do not like Charlize Theron. I don't think she's a very good actress and I don't find her attractive in the least (no sarcasm for once). So that should tell you just how entertaining the movie was. I thoroughly enjoyed it despite her being cast as the lead. It is similar to John Wick in that it includes ridiculously over-the-top action sequences. However, this adds a very cool 1980s Cold War spy angle. In addition the soundtrack is simply fantastic.
2.Logan
In some years, this would have been my favorite movie of the year. It is a love letter to one of my favorite comic book characters of all time. Far too many of the movies involving Wolverine did not do him justice. This one made up for it. Logan becomes the true hero we always knew him to be. He's flawed. He's broken. But damn it, he's relentless. See this movie. For an added bonus, you can check it out in black and white for an even grittier experience.
This may be my favorite movie of the year (yeah I still haven't decided). It is one of the most original movies I have seen in years. I have never seen a movie that used sound and music almost like an entire character of its own. Please take note, this is not a musical. The characters don't bust out into song at weird times. Instead, sound is woven into scenes and matches the actions such as the closing of car doors or the passing lines on the road. That may sound boring, but when you see it, you will see it is actually amazing. In addition, I normally hate car chases but the ones in Baby Driver are incredibly entertaining. If you liked Quentin Tarantino's True Romance and music that takes over a scene, you will love Baby Driver.
The Geeky Dad's Top Movies (These are movies I enjoyed watching with my children but might not watch without them)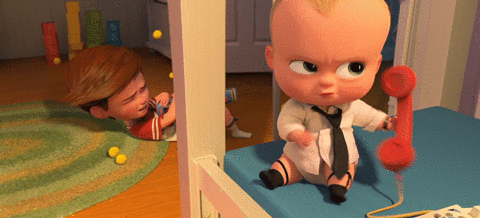 Can you keep a secret? These movies are made for kids but they are still pretty good.
The Boss Baby could have just been a mindless money grab. Instead it had heart and was filled with a ton of Easter eggs for parents who grew up in the 1970s and 1980s. This was the biggest surprise on my list.
Being able to skip the origin story and jump right into the action made this movie a lot of fun. Making Peter Parker a geeky 15 year old really hit home with my kids. I also enjoyed the spin they put on Peter Parker's friends. I don't know ho much I would have enjoyed it without my kids, but my son got the DVD for Christmas and I enjoyed it a 2nd time with him.
The first time I saw the movie, I over thought it and paid too much attention to the many plot holes. However, when I turned off my brain and tried to slip in the frame of mind of the intended audience (13 year olds) I enjoyed it much more. It is filled with action, has great special effects and some really cool characters. Give your brain the afternoon off and enjoy.
1.Jumanji: Welcome to the Jungle
Yes I enjoyed a Jumanji sequel more than a Star Wars one. I honestly can't believe I am writing that but it is true. If one of the criteria for this category is turning off your adult brain and juts enjoying, then Jumanji: Welcome to the Jungle wins the award for most mindless fun. It is full of laughs and action. I'd never watch it again without my kids... but I'm sure they will be asking to see it again very soon.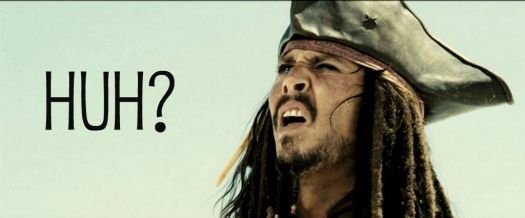 "But wait. That's it? There are so many good movies missing. What's your problem?"
You are correct. The list is incomplete. There are still five more movies that need to be ranked. Those movies will be a combination of the tastes of my two personas. (Pirates of the Caribbean will not be on that list.)
I had intended to include them here... but the post was over 2000 words long.
Even I have my limits.
So please come back on Saturday to check out the final installment of this two part series.
I will also name my absolute favorite movie of the year in that post.