I feel compelled to reveal that I likely have a more favorable opinion of this movie because I went to college with Sandra Bullock: We weren't pals or anything but i did meet her a couple of times at bars. There is one massive difference between us though. I graduated and she didn't :P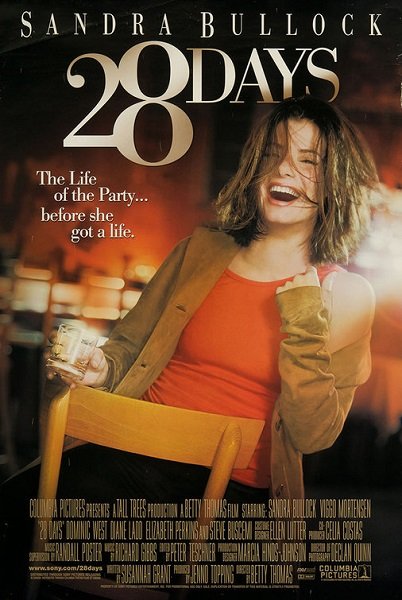 source
I recently thought of this film because someone i know (again, from college) is a truly problematic alcoholic and I am one of the few people that hasn't walked away from her during her most recent implosion. I'm not trying to come across as a saint. I only had to tolerate her antics via WhatsApp. I think if i was dealing with what was basically drunken lunacy in person, that I would have distanced myself from her as well. This girl i know recently went to rehab a number of times and at least for now, due to the help of her father, she has gotten sober - and it is like dealing with a totally different person.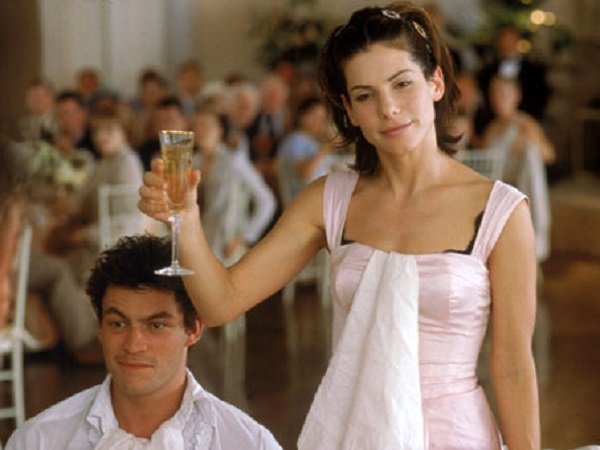 source
In 28 Days Bullock plays the role of Gwen Cummings - A person that I think most of us have known at one point in our lives or another. They are a source of great fun in social settings until they inevitably have too much and then lose control, often creating real havoc in the process. These are people that tend to get worse over time until eventually they are 10% fun / 90% havoc and 100% liability.
Gwen Cummings causes a great deal of harm at a family event (I'm being intentionally vague) that results in her crashing a car and causing a really horrible scene in the process. She is arrested and given an ultimatum: She can spend 28 days in jail or go to rehab.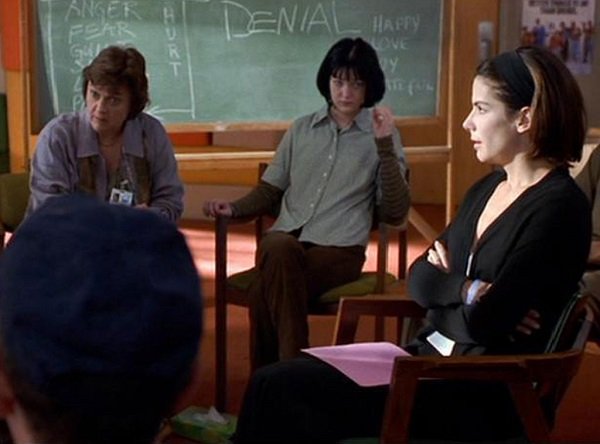 source
Like almost everyone that has ever involuntarily gone to a rehab clinic (including my aforementioned friend,) Gwen doesn't believe she has a problem with alcohol and drugs, and refuses to participate in any of the therapy as well as pursues getting out and getting tanked. Throughout the course of the film, as you would expect, she acquiesced eventually and starts to see real (and touching) improvement in her life.
This movie hits close to home for me because of the way that I have seen alcoholism destroy a few people's lives that I have known. They probably should seek help but don't and they routinely make asses of themselves in public just the same way that Sandra does in this film. They almost seem to take pride in their mishaps and start to blame everyone else for their issues, again, just like Sandra's character does in 28 days. In some respects it is a fairly accurate representation of this affliction.
However, this film did get lambasted for being preachy and unrealistic about how effective rehab actually is and that is something I can also relate to. Luxury drug and alcohol rehabilitation clinics (resorts) are a big business in Chiang Mai and I know quite a few people that are employed at them. They have told me that almost everyone who stays there ends up relapsing. This is tragic but true.
To the critics that said the film seemed "preachy" and "unrealistic" I think maybe they should go watch a documentary about alcoholism if they are looking for absolute realism. What was the director supposed to do anyway? Make this a depressing film where everyone fails?
28 Days showcases something that I see on a regular basis because I see horrible drunks that make a scene nearly every time they go out. I know multiple people in my community that when they turn up at the bar we all know it is just a matter of time before trouble starts.
I really can't understand why anyone would dislike this film because it is funny, touching, and has some great performances in it particularly by Sandra Bullock and Steve Buscemi (who i think doesn't really get as much credit as he is due.) It doesn't have a great rating on the major review sites either but once again, i am going to disagree with the "professionals" here.
The film barely made a profit and has an overall rating of around 50 to 60% online... I rate it much higher than that and therefore it receives the coveted rating of.....