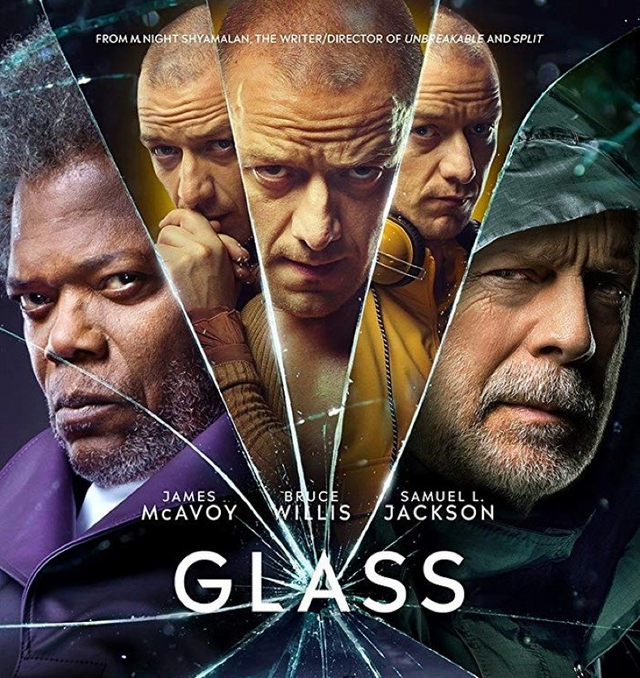 Source
Glass, a the Drama/Fantasy genre movies, was released on the 18th of January 2019‧ It runs for 2 hours 9 minutes and is the third sequel in a trilogy of movies which started with 'Unbreakable' in 2000 and was followed up with 'Split' in 2016. Glass is a very unique movie for a relatively unique kind of audience because of it's rather striking thriller and super hero twists. This amazing movie stars Samuel L. Jackson as a villian/manipulator/mastermind, Bruce Willis as vigilante with special extrasensory powers, Jame McAvoy as a mentally disturbed young man who has got 24 personalities as a result of a dissociative identity disorder and Sarah Paulson as a psychiatrist who would stop at nothing to convince the other 3 characters that there is absolutely nothing special about them. The story comes to an end in a crashing crescendo of a super plot that would blow your mind as it did mine. It is a must watch for lovers of psychological thrillers.
M. Night Shyamalan brings together the narratives of two of his standout originals—2000's Unbreakable, from Touchstone, and 2016's Split, from Universal—in one explosive, all-new comic-book thriller: Glass. From Unbreakable, Bruce Willis returns as David Dunn as does Samuel L. Jackson as Elijah Price, known also by his pseudonym Mr. Glass. Joining from Split are James McAvoy, reprising his role as Kevin Wendell Crumb and the multiple identities who reside within, and Anya Taylor-Joy as Casey Cooke, the only captive to survive an encounter with The Beast. Following the conclusion of Split, Glass finds Dunn pursuing Crumb's superhuman figure of The Beast in a series of escalating encounters, while the shadowy presence of Price emerges as an orchestrator who holds secrets critical to both men. WIKIPEDIA
Movie Trailer

Cheers & thanks for reading!