Start Failing Everyday - Find Your Success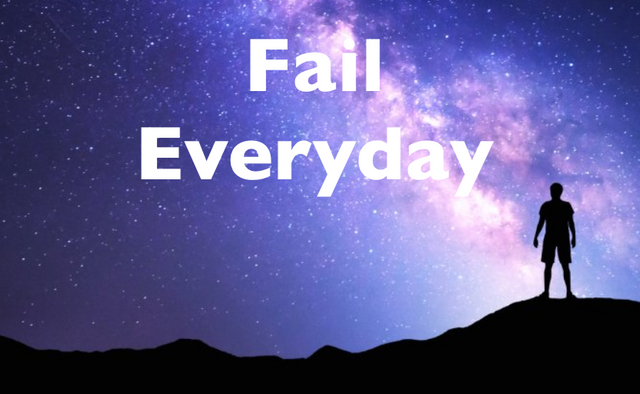 Many people live with the view that their failure is exactly that, a failure. In reality your failure is your success, without constant failure, the real success your looking for will never be found.
We can look at one's life mission and goals in all the aspects(love, money, career, health) and the same applies across the board.
You should be failing everyday
If your not failing everyday then something is completely wrong with your approach and overall lookout on these goals and missions. Let's go over some common fails:
If your trying to grow your business and your not cold emailing with a majority no responses Fail..
If your trying to improve your dating life and not approaching(the correct way) people daily Fail..
If your trying to improve your career but not learning new skills to grow your skillset Fail..
Failing is not an option get used to it
Learning to accept failure will become a pivotal breakthrough moment, learning to enjoy it will unlock your full potential. Ultimately you need to not just accept failure but find pleasure in it. Without accepting pleasure in your day-to-day failures then it can never pick up full momentum.
Momentum is key because failure is a bit of a stepping block in each evolution in your boldness. If you do break your momentum from time-to-time(which often happens), rest assured like a muscle, it's a lot easier to come back then have never started before.
What are you waiting for
If you want the success in areas in your life start failing everyday.
If your day is nearing an end, and you can't count all the failures of the day, then it's time for a major paradigm shift in your mindset.
Start failing. Find that success.
~~ original work by ~~
@insights
Bonus: What aspect of your life isn't getting the results you want? Tell us below. I'll be creating future posts containing detailed tasks that will help you make real progress.