Monthly Author Challenge - Sashimi Lunch... Looks Good, Tastes Great
There's something about Japanese food, lots of effort put into the presentation and taste usually also great. It really does taste as good if not better as it looks most of the time.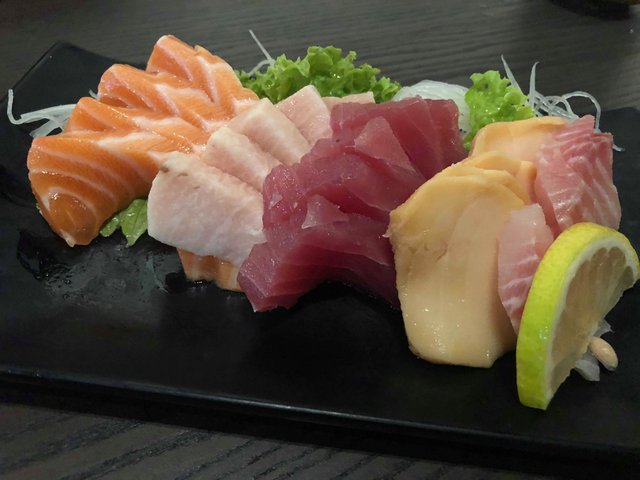 The freshness, the colours, the texture and the taste of the plate of sashimi, none of which disappoints... at least for me.
Sashimi is a Japanese delicacy consisting of very fresh seafood or fish sliced into thin pieces. Dipped in a little soya sauce and a bit of wasabi, every bite is a delightful adventure by itself.
My lunch was heavenly and I'm a happy camper :)


We are all on a journey, remember to enjoy the sights and sounds along the way, and do good as often as you can and as much as possible.
Alex


Here's a few more from that little voice in my pea-brain head ;)
https://steemit.com/monthlyauthorchallenge/@alexthemagician/monthly-author-challenge-japanese-lunch-today
https://steemit.com/monthlyauthorchallenge/@alexthemagician/monthly-author-challenge-dim-sum-or-light-snack-not-exactly-light-in-this-case
https://steemit.com/monthlyauthorchallenge/@alexthemagician/monthly-author-challenge-it-s-the-weekends-the-time-to-pick-up-the-wand-and-spread-smiles-and-laughter
Here are some useful apps and resources that I use to keep track of my progress on steemit.
My favorite is steem.supply and you will soon find out why ;)
http://www.steem.supply
https://steemd.com
https://Steemnow.com
https://steemdollar.com