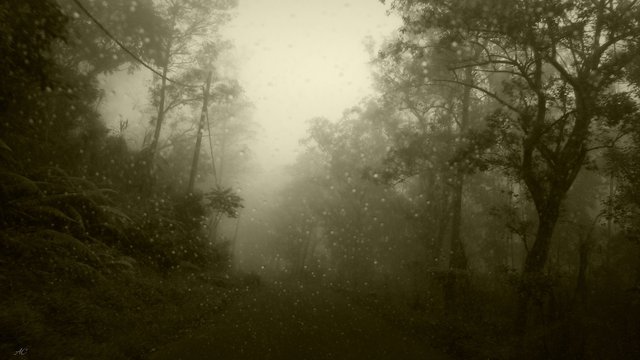 A drive on a mountain road in failing light...
This was not at twilight, in fact it was just past midday, around 3pm... but with the rain and altitude, a blanket of mist fell softly...
So, together with a continuing light drizzle and the heavy tree cover over this lonely mountain road, all these elements caused this dreamy effect
And I shot this through the car windscreen, while on-the-move... hence the raindrops!
I converted this image into a black and white, then used a light tone yellowish monochrome, to add to the mystery, and dreamy, surreal atmosphere
---
Captured with SONY Xperia M5 | © image & text original content | click image for fullscreen view
---
---
---



I'm with QURATOR... Are you?

Vote for Qurator as a Steemit Witness
via steemit.com or steemconnect