🐒 Hey littles! Can we be friends?
---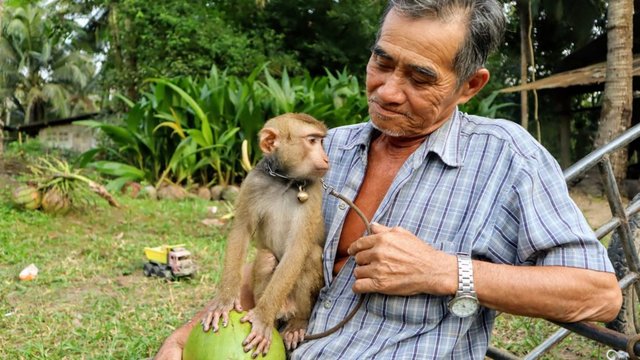 ---
Not too sure if any other countries would have monkeys as pets or workers.. In Thailand, the place we just went and learned a lot, they have monkeys as ones of their family members and work together with them too!
Monkeys?? Are you serious?
While we're travelling in Chumphon, I was browsing around on Google Maps and checking things around. 'Tourist attractions' May sounds a bit cheesy but yes, that's the word I used to look up to see where's interesting to go visit. One place not too far from Chumphon City and sounded super fun to me, 'Monkey School (โรงเรียนสอนลิง ชุมพร)'.
Not time wasted. We went almost straight away and guess what, I'm taking you guys along with me!
There's also a RAW version. No edit!
Monkey School (โรงเรียนสอนลิง จังหวัดชุมพร)
Probably 15-20 mins scooter ride from Chumphon city, we hit the smaller road with all the greens surrounded. Once we got to the place, the small hand-written sign told us we're at the right place. Also the giant pile of coconut husks. Like, crazy a lot a lot!
Found out later that all these husks will be sold and then made as mattresses.
First few minutes we arrived, we're welcome with smiles and a few sweet coconut water that we sucked it right of its shell. How refreshing!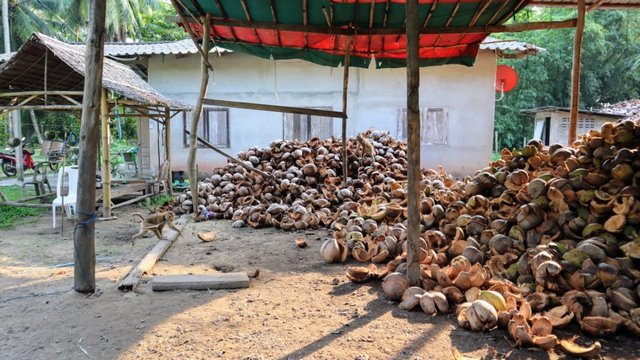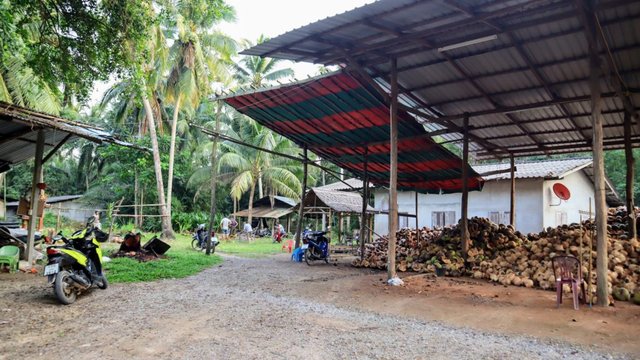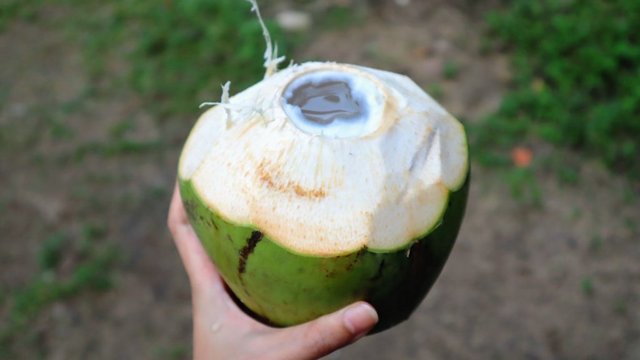 Coconut picking by monkeys in Thailand
Not that hard to guess how the coconuts are picked.. We're right at the monkey school so yes, all picked by those littles one by one with their own hands. The small one could pick around 300-400 coconuts a day and the big one could do like, 1,000 coconuts at his best. Incredible, ain't it? The owners get paid 1 THB ($0.03ish) per coconut picked.
How to train the monkeys?
That's the main question I have in mind and I'm sure, so do you. They start with the shorter pole and have all the coconut tighten. Then the ones a bit taller and the last training session is when the monkeys pick coconuts from the real coconut tree.
Every time the monkeys finish the tasks, they will be rewarded with what they like to each such as, rice with sweeten condensed milk, milk and drinking yogurt as a special bonus once in a while.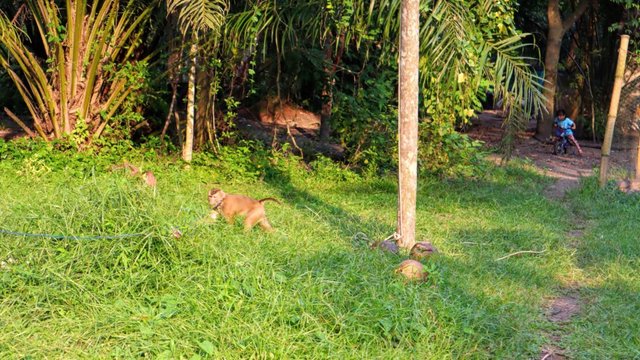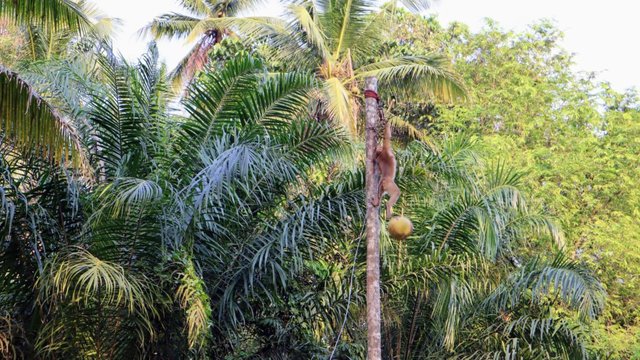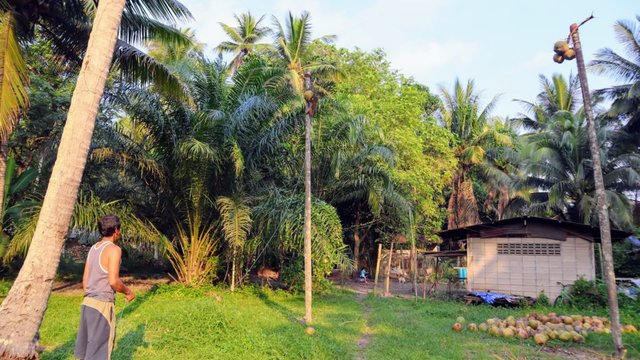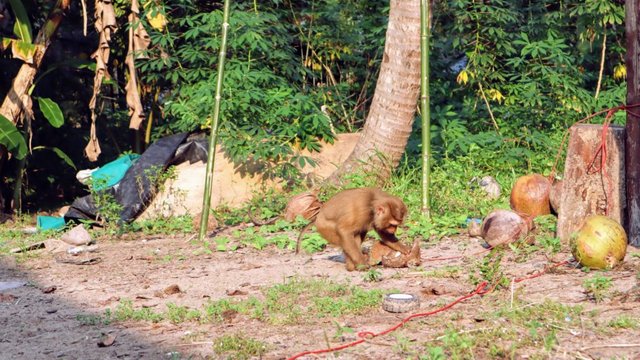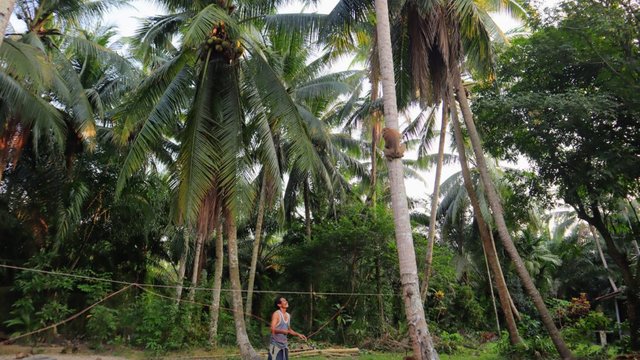 Are the monkeys happy?
Not everyone's happy about this job / the way monkeys are trained to work that way. After posting a vlog about this on my Way Beyond Padthai facebook page, I got a few negative feedbacks. Literally not much.
I know how they may feel but I totally don't feel the same way. I have been to the place and I see it in person how it is like. They are, like, family (not the same species but still!) and the monkeys are treated like family members.
I mean, the monkey looked happy when he drank that drinking yogurt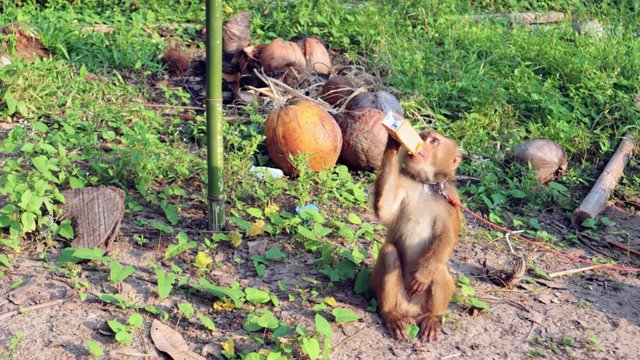 I, to be honest, am pretty scared of animals. Yes, even dogs. I have to get used to them for a while before becoming friend. Those monkeys were so cute that it took me being there less than 2 hours before beginning to pet them. This little boy named 'Nui' is crazy adorable!
You gotta see how excited and happy he was when he's brought back from work and got together with his owner at the end of the day.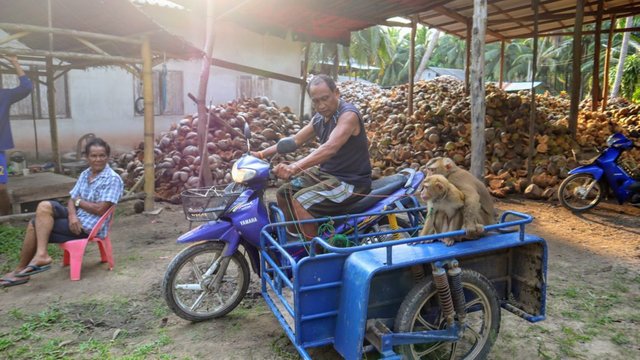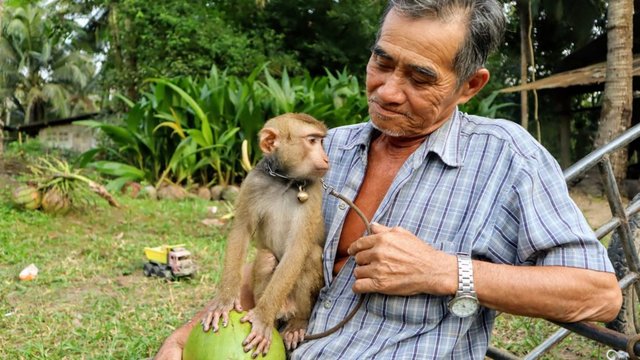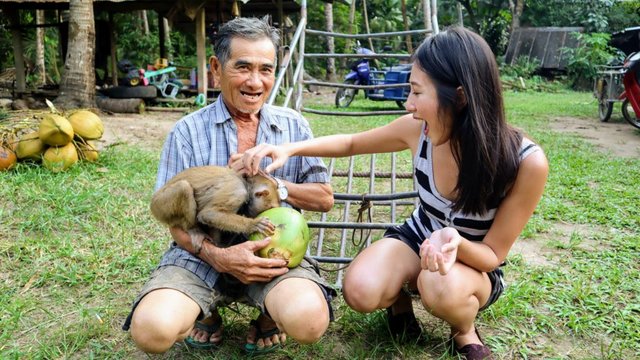 The place don't require you to pay any baht but I really think they expect you to at least donating a few bucks. If it's possible, I personally recommend you go with a dozen or two of drinking yogurt so that way, the donation goes straight to the cute little monkeys.
Another unique experience in Chumphon besides those ones I really enjoyed like, staying over night on Koh Phitak (fisherman village), the weasel coffee, the secret beach and a lot more! Once again, I can't recommend the place enough! Go hang out with them monkeys in at Monkey School, Chumphon, Thailand.
Monkey School, Chumphon, Thailand
Address : Bang Mak, Mueang Chumphon District, Chumphon 86000
Tel : 063 296 6528
Hours : 5-6.30PM
Not on Steem yet?? Let the ninja gets you a Steem account and start earning crypto!
㋡ Earn free crypto : https://www.waybeyondpadthai.com/free-crypto
㋡ Play dice and earn Steem (or lose!)
㋡ Get $27 credit on Airbnb
---
All copy and photos are original content by me.




TO SUPPORT WITH LOVE 💙 PLEASE SUBSCRIBE!!! TO MY SUPER DUPER AWESOME YOUTUBE CHANNEL :)
---
Sponsored ( Powered by dclick )