Hello steemit,
are you tired of reading stock market news every day? Are you a subscriber of financial advisor newsletters, but don't earn continuous profit? Do you not want to waste anymore time and money about financial issues?
If you answer to these questions with YES, than please read this article.
But first of all, I have to admit that I'm not a native english speaker, so my english is not perfect, but I will try my best to present my ideas.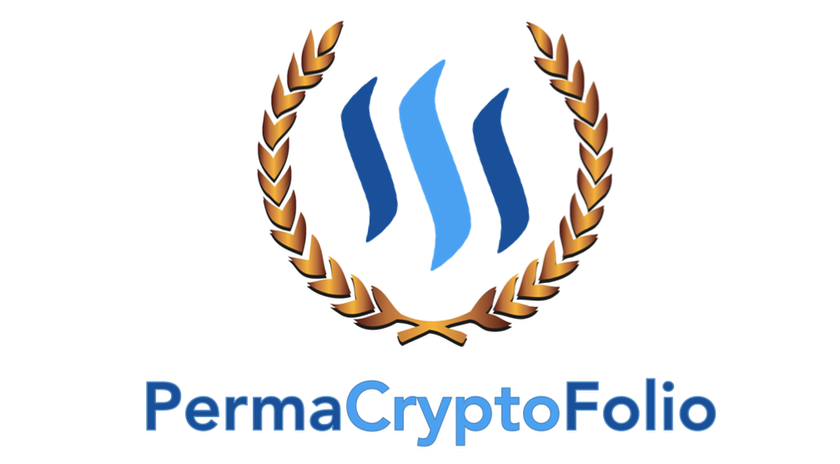 Imgur
In this post I present my PermaCryptoFolio-system to the steemit community. It's an experiment using real money (Bitcoin), starting on 1st of september 2016 exclusively on steemit. The goal is to outperform Bitcoin using a passive investment strategy with low volatility.
The permanent portfolio
For more than a decade I'm now watching the "markets" (especially stocks, precious metals and in the last years cryptocurrencies), and after trying many different investment approaches finally I became a huge fan of the "permanent portfolio" strategy.
The permanent portfolio theory was published in September 1999 by Harry Browne. Brownes idea was to set up a diversified investment portfolio of stocks, bonds, cash and gold to assure "that you are financially safe, no matter what the future brings" including economic prosperity, inflation, recession or deflation. This is achieved because some portion of the portfolio will perform favorably during each of those economic cycles.
The breakdown of Brownes permanent portfolio is as follows
25% in U.S. stocks, to provide a strong return during times of prosperity.
25% in long-term U.S. Treasury bonds, which do well during prosperity and during deflation.
25% in cash in order to hedge against periods of "tight money" or recession.
25% in precious metals (gold) in order to provide protection during periods of inflation.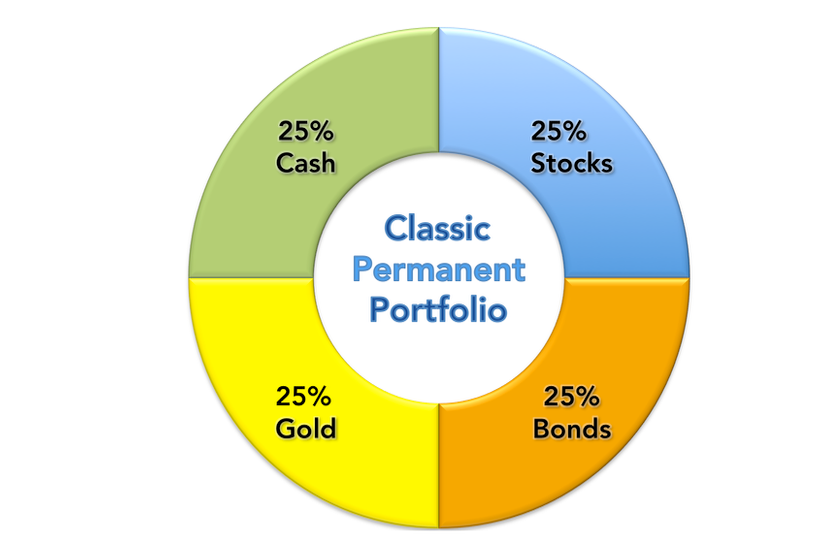 Imgur
According to the movements of the markets, the breakdown will change over time, and Browne suggested a rebalancing once a year back to 25% for each of the 4 asset classes. More details on the permanent porfolio you can find at https://en.wikipedia.org/wiki/Fail-Safe_Investing
PermaCryptoFolio - the Permanent Cryptocurrencies Portfolio
Due to the massive und often unpredictable price movements of Bitcoin and other Altcoins I decided to adapt the ideas of Harry Browne to the cryptocurrencies markets. I call this strategy "PermaCryptoFolio", an artificial shortcut that stands for Permanent Cryptocurrencies Portfolio.
As long as there is no digital gold token tradeable for Bitcoin, I breakdown the PermaCryptoFolio as follows
1/3 bitcoin
1/3 cash
1/3 a mix of other crypto currencies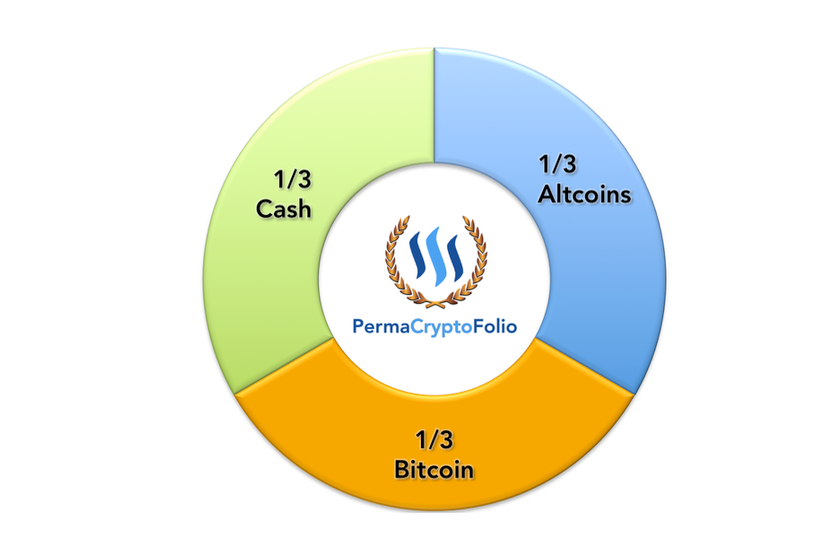 Imgur
1/3 - Bitcoin
Bitcoin is still the king of the cryptocurrencies and that's why a base investment for the PermaCryptoFolio.
1/3 - Cash
In the case of a Bitcoin or Altcoin crash, the PermaCryptoFolio portfolio needs a cash position to buy the dips. In blockchain space we have currently two US-Dollar pegged token,
PermaCryptoFolio will use both token for the portfolio and split the cash position 50:50 into USDT and SBD.
1/3 - a mix of other cryptocurrencies
The PermaCryptoFolio portfolio also invests into the 8 biggest cryptocurrencies (sorted by market capitalization) behind Bitcoin. Currently these 8 crypto currencies are
The portfolio invests the same amount of Bitcoin into each of these projects.
Putting it all together
Finally the PermaCryptoFolio will start with this setup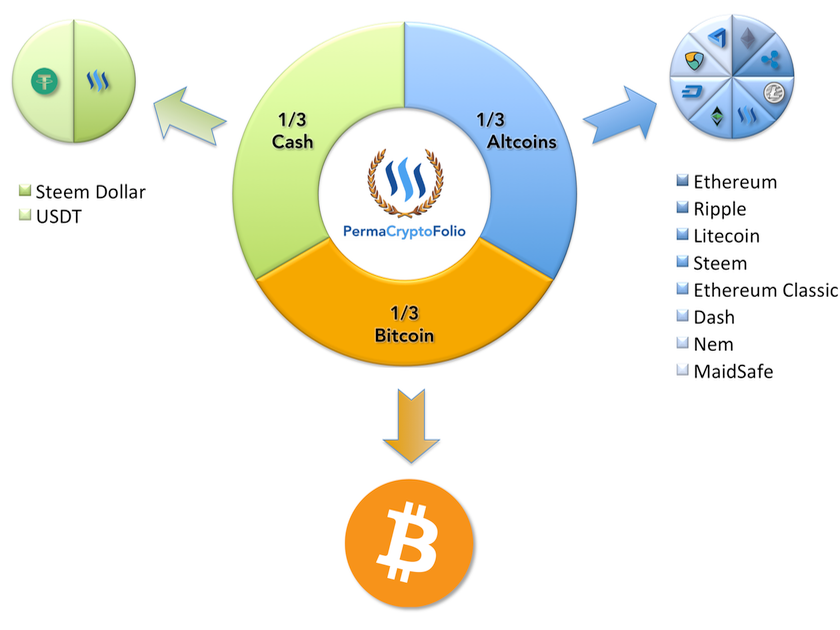 Imgur
Rebalancing rules
According to the movements of the cryptocurrency markets, the breakdown of the PermaCryptoFolio will change over time. This section contains the currently defined rules.
Rule for the rebalancing of the entire portfolio
Similar to Brownes permanent portfolio also a rebalancing of the PermaCryptoFolio (back to 1/3 bitcoin, 1/3 cash, 1/3 other coins) will be necessary from time to time. Instead of executing one rebalancing per year, I will rebalance the complete portfolio in the cases that the proportion of one of the 3 parts of the portfolio (bitcoin, cash or altcoins) exceeds 5/12 of the total value of the PermaCryptoFolio.
This rule is based on the following ideas.
Scenario cryptrocurrencies bull market
Assume a rebalanced portfolio holds $ 1,000 cash, $ 1,000 in bitcoin and $ 1,000 in altcoins. Imagine that in case of a bitcoin bull market the value of the bitcoin rises to $ 1,875 and in parallel the altcoins rise to $ 1,625. The total value of the portfolio would be now $ 4,500 (= $ 1,000 cash + $ 1,875 bitcoin + $ 1,625 other coins), and the bitcoin position currently worth $ 1,875 has now a proportion of 5/12 of the PermaCryptoFolio portfolio. Rebalancing means to sell $ 375 worth of bitcoin and $ 125 worth of altcoins to hold $ 1,500 each in bitcoin, cash and other coins at the end.
Scenario cryptrocurrencies bear market
Assume that the rebalanced portfolio is holding $ 1,500 cash, $ 1,500 in bitcoin and $ 1,500 in altcoins. Imagine that in case of a bitcoin bear market the value of the bitcoin sinks to $ 1,200 and in parallel the altcoins fall down to $ 900. The total value of the portfolio would be now $ 3,600 (= $ 1,500 cash + $ 1,200 bitcoin + $ 900 altcoins), and the cash position currently worth $ 1,500 has now a proportion of 5/12 of the PermaCryptoFolio portfolio. For rebalancing I would buy $ 300 additional altcoins. After rebalancing the portfolio will hold each $1,200 in bitcoin, cash and altcoins.
Rule for rebalancing the cash position
As our cash position consists of the "stable" USDT Tether and the "volatile" SBD Steam Dollar, we also rebalance the cash portfolio in the case that one position exceeds 60% of the total value of the cash position.
Rule for rebalancing the mix of cryptocurrencies
I will rebalance the altcoins in the case that one altcoin exceeds 25% of the total value of the altcoin position.
Rule for replacement of an altcoin
In the case that the market capitalization of another cryptocurrency raises massive and this cryptocurrency climbs the 8th rank of the cryptocurrencies charts, we will replace the weakest cryptocurrency inside the PermaCryptoFolio with the newcomer on rank 8. Or in other words, a new cryptocurrency is added into the PermaCryptoFolio, if this new coin goes beyond the two weakest cryptocurrencies inside the portfolio. Here is an example ...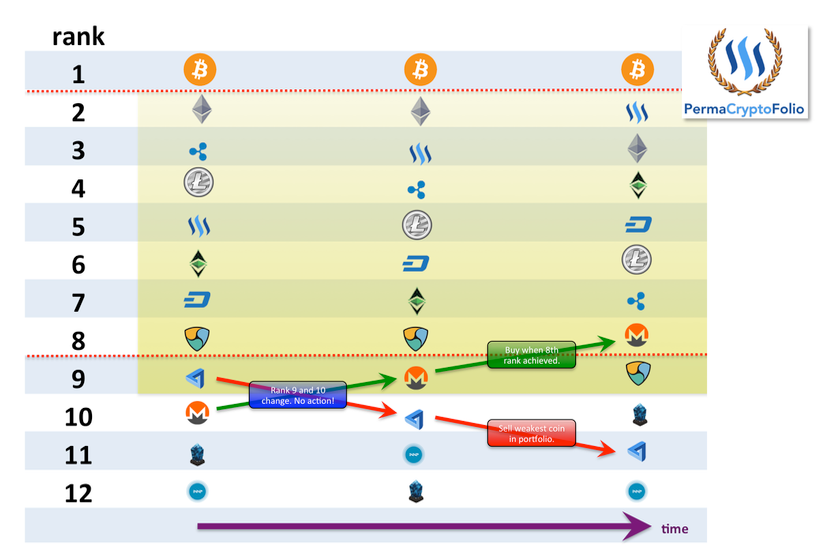 Imgur
At the time I wrote this article and designed the graphics, the Monero cryptocurrency was ranked on 10th place on https://coinmarketcap.com/all/views/all/. In the meantime Monero and MaidSafe changed places 9 and 10, which had no effect on the PermaCryptoFolio. This morning Monero also had gone beyond NEM, which triggered the sell of MaidSafe (weakest altcoin in PermaCryptoFolio) and the buy of Monero (newcomer on rank 8).
Due to this rule we avoid often replacements and trading fees if there a changes on rank 9 and 10.
What's next
I plan to start this experiment on 1st of september 2016.
In the next days I will post a series of articles covering the topics
how to buy your first Bitcoin
how to setup a new account on cryptocurrency exchanges
how to deposit Bitcoin to a cryptocurrency exchanges
how to buy/sell cryptocurrencies using an exchange
how to withdraw the cryptocurrencies from the exchange
After the launch of PermaCryptoFolio I will post weekly status updates and spontaneously posts if a rebalancing is necessary.
Please follow me and stay tuned!
Disclaimer
The author is already invested in all of the cryptocurrencies mentioned in this article.
NOTHING ON THIS POSTING IS TO BE TAKEN AS TRADING ADVICE.
Everything on this article, including but not limited to: suggested trades, trade setups, and posting of "real-time" trades of cryptocurrencies by the author is for educational purposes only. This article is not an investment advice nor should it be construed as such. I strive for accuracy of charts and information, but make no guarantee of such.
By accessing any information on this post, you acknowledge you have read, understand, and agree to this disclaimer. Past performance of any cryptocurrency, trading system or methodology is not indicative of future results. The contents of this article is neither a solicitation nor an offer to Buy/Sell any cryptocurrencies.
Trading cryptocurrencies carries a high level of risk, and may not be suitable for all investors. Before deciding to trade you should carefully consider your investment objectives, level of experience, and risk appetite. The possibility exists that you could sustain a loss of some or all of your initial investment and therefore you should not invest money that you cannot afford to lose.
I do not and have not received any compensation from any cryptocurrency or cryptocurrency exchange that appears in this article.
Its risky to store cryptocurrencies long-term on a cryptocurrency exchanges. In case of a hack or in case of the bankrupty of a cryptocurrency exchange you can lose a part or in worst case your total cryptocurrencies investment. Whenever possible, withdraw immediately your cryptocurrencies from an exchange to your cold storage wallet (your keys = your coins, not your keys = not your coins).
There may be tax consequences for profits or losses on cryptocurrencies trades. Please consult your local tax advisor for details on this if applicable.
Don't forget to follow me
Please don't forget to follow me to get be informed about any updates.
Thank you for reading!