I've decided that it's worth reviewing my wealth holdings once a month, combining it with shifting wealth about as I see fit.
This month it's also quite gratifying because of a significant increase!
Total Net Wealth End May 2019 = £48.8K
Constituted of
£53.9K wealth
Minus £2K on an interest free credit card
Minus £3K, estimate of what I owe in tax (not due until January 2020!)
Total Net Wealth Breakdown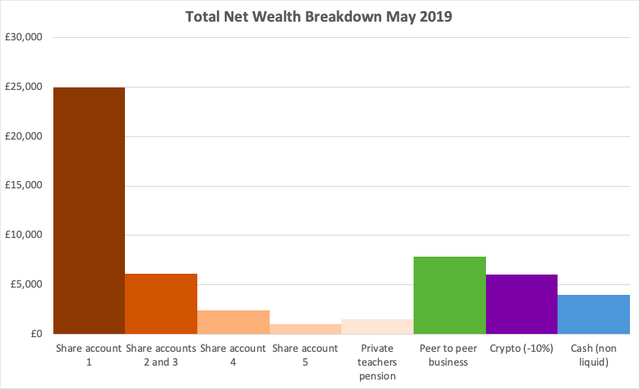 Way too much in shares you may say, BUT I actually cashed out £10K from that main share account one back in August last year, so I at least have secured some profit if it all goes pear shaped.
Change from April = + £5K
Although NB - this is mainly down to my underestimating or miscalculating how much I had in share account one, although this has also increased significantly in value even in just the last 30 days!
The Crypto has really helped too, that's plus £2K.
What I like most of all out the above is the Peer to Peer business - this is now just churning out a reliable, steady + £50 (>) a month. It actually feels like the most secure of my investments. (I can't really count cash as an investment as it isn't really doing anything significant).
I'll make a point by next month of doing a funky comparison chart, hopefully it won't be a depressing one by then!?!
In conclusion
I'm a happy man! Good motivation to keep on grinding!
NB - I wrote this a week in advance, so fingers Xd we haven't had some sort of massive crash since!