If Bonds Do Not Stabilize Here, Expect The Stock Market To Drop. By Gregory Mannarino
The chart below demonstrates what the last 2 trading day sell-off in the bond market looked like.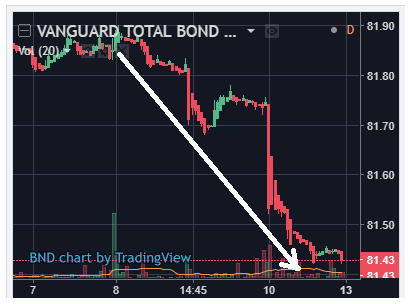 To say the least, it is substantial.
You can watch this chart of the bond market in REAL TIME right on my website, Click here: https://www.traderschoice.net/
**If the bond market continues to sell off next week, you can also expect that the stock market will react very negatively. In other words, unless the bond market stabilizes here, there is trouble ahead for stocks...
Gregory Mannarino
*EVERYTHING YOU NEED TO RIP THIS MARKETS FACE OFF IN ONE PLACE! Click here: https://www.traderschoice.net/
#1 Trading Tip: You beat the Stock Market by watching THE BOND MARKET. Period.. Click here: https://www.traderschoice.net/
*This is an animal shelter which I personally support financially with monthly donations. Please adopt homeless pets. Gregory Mannarino https://animalfoundation.com/