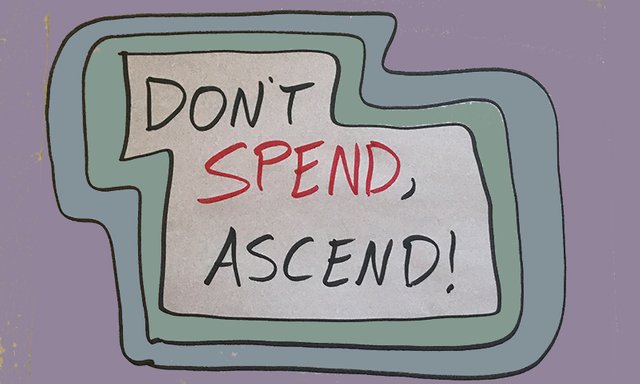 Not spending any money most days of the week, living an absurd lifestyle, and making no bones about it. That's the way for me to radically speed up the personal finance journey.
It's simple and it isn't.
The simple side is in avoiding all decisions. For me, it's the reality that I am no longer willing to spend even one dollar more than I can afford. Therefore all spending outside of what I can intelligently afford is immediately not an option, 100%, with no exceptions.
In modern American society, you are expected to always spend more than you can afford. The "normal" thing in most of the communities I've been part of, is to be in debt and not be frugal.
I know very few people who are successfully and independently putting away money towards savings for many years. That's the place I want to reach, ASAP. The epiphany for me was obvious but difficult — that I just have to break away from all of the dumbness of modern society.
I set "extreme frugality rules" for myself, which will be removed after my first goal benchmark. Here's what it looks like:
Rule 1 — Dont Go More Than Walking Distance From Home
I can't afford it. Without at least a few hundred bucks in readily available liquid cash, it is not wise. Until I can have my "emergency savings" at least at that level, I should stay near home.
Rule 2 — Avoid Groups
Any group of more than 3 people is dangerous. No matter how strong my personal ethic and point of view are, if several people are agreeing about spending money on something, the group is going to do it. And since most people my age spend money as a compulsion, this is inevitable.
They're going to go to a movie, a show, or a restaurant. If I try to either not go, or to go and not spend, it's a bad look. Better to avoid the situation in the first place.
Nobody has ever wanted to be the guy hanging out with their friends at a restaurant drinking a glass of water. I'm avoiding groups at all costs for now.
Rule 3 - Don't Spend a Single Dumb Dollar
This is really hard to do. Any avoidable expense that isn't "guilt-free," i.e. in the budget, is dumb. Right now the budget is literally nothing but groceries for a few weeks, and about $5 for some coffees to get me out of the house.
If I can follow this to the extreme for just a month or so, as weird a lifestyle as it is, I can be completely caught up on all debt payments.
The Final Goal is to Catch Up on Debt Payments
Once I'm back on debt payments, with not a single one behind schedule (about $800 due to me being two months behind on two debts), then these three restrictions go away. I just need to be able to put aside some genuine "guilt free" money before I enter situations where I know I'll be tempted to spend it.
Will You Please Join My Mailing List? Click Here