How to Identify a True Ecn Broker ?
How to Identify a True Ecn Broker ?
Forex is a very lucrative market and it is attracting people everyday who are eager to invest their hard earned money and make it big in short span of time.
Due to it's high interest among public, new Forex brokers are appearing in the market continuously.
There are countless number of Forex brokers in the trading world so choosing the right one is absolutely crucial to start your trading journey.
In my previous article, I have already stated the basic steps to choose a broker that would keep your trading safari less dreadful and help you achieve your goals without worrying about external factors. After getting useful comments from knowledgeable community members and gaining experience through research and trying out multiple brokers, I am confident that ECN brokers are way more suitable than Market Markers.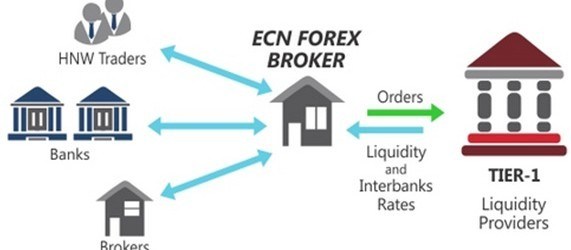 What is an ECN Broker ?
The word ECN is an abbreviation for Electronic Communications Network.
It provides a marketplace where people or organizations from different parts of the world gather to compete bid and offer against each other thus providing small spreads for traders.
It is always advisable to pick an ECN broker due to the fact that they will never trade against you like Market Makers.
Their main source of income is through "commission" so they absolutely don't care if your trades win or lose.
However, there are many brokers who claims to be an ECN broker to grab clients when they are actually not. This is a very serious cause of concern and We traders must initiate proper steps in identifying them.
This would not only help to eradicate scam brokers but will also improve your percentage of return in the long run.
How to Identify True ECN Brokers ?
I have come across few terms that I would like to share with you all as often new traders get confused by these :-
A) True ECN
B) ECN by Association
C) Outright Bucketshop.
These are often used interchangeably by Forex Brokers and traders but if you know the real meaning, your life would become lot easier.
True ECN brokers offers a transparent platform where traders, banks, organizations can compete against each other by sending bids and offers. Traders get the best deal for their orders at that specified time.
ECN by Association acts as a Level 2 brokers that forms a bridge between traders and real marketplace or True ECN brokers. These types of brokers have their own in house platform and can manipulate your trades if they want.
Outright Bucketshop are simply thieves, scams who are out there to steal your money. I have only one word for you if you happen to be with them and that is "good luck"
MODE OF IDENTIFICATION
Most traders usually new and gullible ones never read the broker agreement that usually tells you if the broker is a True ECN or ECN by association. All regulated ECN brokers will state that as it is mandatory for them to disclose such information to their clients.

True ECN brokers will have variable spreads. I'm sorry to tell you if any ECN broker promises to offer fixed spread then it's not a True ECN broker.

Absolutely NO dealing Dealing Desk if it's an ECN broker. Usually Market Makers have Dealing Desk meaning they will trade against you. Tips : In order to find out if it's a dealing Desk broker open a demo account and a small real account. you will see the pip difference and how much the price varies during news.

No restriction in setting the distance of Stop Loss or Take Profit. If a broker doesn't allow Scalpers or Day traders take your pick what would that broker be? Yes you're right. That's not an ECN broker.

Check Forex brokers chart and your order chart. Do you see any difference any BID price? If there is no difference then bingo you're with an ECN broker.

If your Broker is giving you only negative slippages then it's not a True ECN broker. Slippage is an usual occurrence and that's pretty normal in a True ECN market. Slippage can be both positive as well as negative.

A True ECN broker always allow traders to place any lot of trades. You can absolutely trust me on this one. Tips : If you really want to find out if it's a True ECN broker, place a trade bigger than 5 standard lots. If the order gets rejected then it's not a True ECN broker.

Usually True ECN brokers won't promise you big offers and discount while opening an account. Like I said before they would generate revenue through commission regardless of you win or lose your trades.

True ECN brokers will display all pricing updates every minute as the prices are coming live from the market. Tips : Check the Platform and best would be to compare it with a demo platform as well.
All these tests can be done by anyone to distinguish a True ECN broker from a Fake ECN broker.
So what does your ECN broker stand for? Electronic Communications Network or Electronic Con for Newbies ?
If I have missed out on any point, feel free to add them and let me know as well. We can only make our trading journey beautiful by helping each other.
      UPVOTE ME