Bitcoin Goes Loco! Surges through $2,500 Despite Fork Issues Continuing To Remain Unclear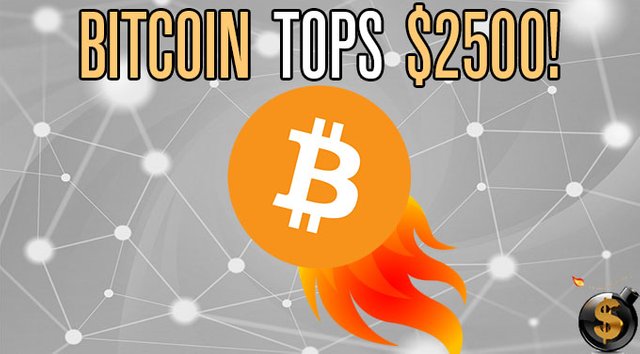 It seems like barely a day goes by without bitcoin rising $100, $200 or more.
It was only three weeks ago that we trumpeted that bitcoin had hit a new all-time high above $1300.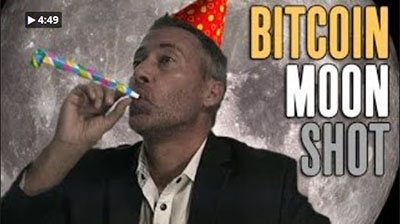 A few days later we were thrilled when it broke $1,400.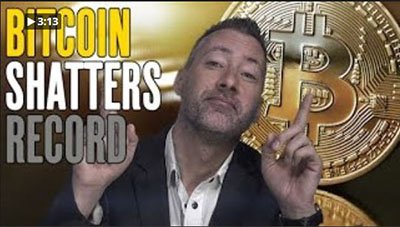 The very next day we livestreamed on Youtube for our bitcoin $1,500 party.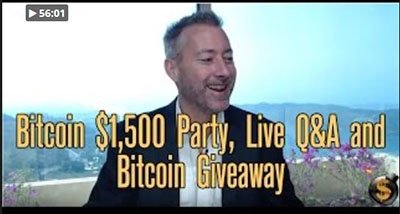 Five days ago bitcoin hit $1,900.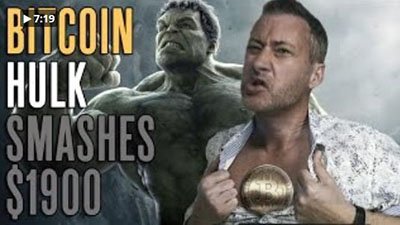 The next day it broke the $2,000 mark and I broke out the champagne, cigars and my 1980s era rap skills (see video for more).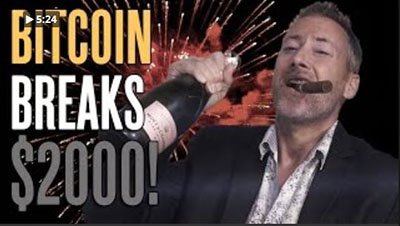 Then two days ago it broke through $2,200.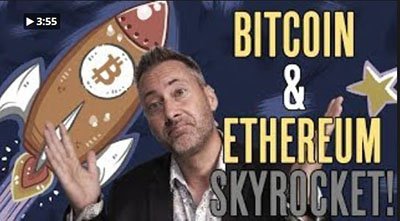 And now, today, bitcoin has surged past $2,500!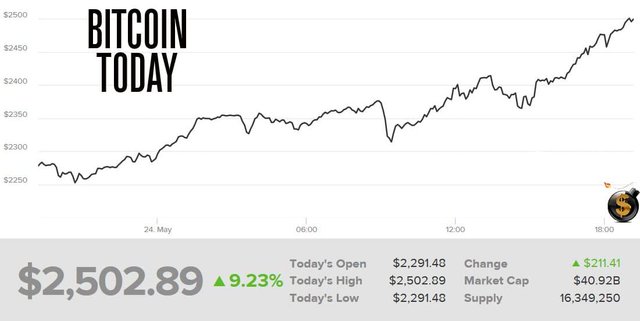 Bitcoin has now doubled in price in just the last month.
Everyone is asking, how high will it go?
Well, we wouldn't be surprised if it is down for at least a little while. This has been an absolutely stunning move higher that added more than $20 billion to bitcoin's market capitalization.
Those looking to buy large amounts should be at least somewhat cautious. Nothing goes up forever.
And, especially considering bitcoin is having serious growing pains right now. A few bitcoin transfers I attempted earlier this week took three days to go through due to massive congestion as bitcoin popularity soars.
And its popularity has absolutely exploded and has never been higher as Google Trends can attest.

And the growing pains of bitcoin are very serious. While this headline came out yesterday, "56 Bitcoin Companies Approve Segwit-2Mb Combined Fork Plan", I have it from high level sources that it is far from a done deal. And, in fact, is likely to not go through.
I have just completed an interview with Trace Mayer, of the Bitcoin Knowledge Podcast, and one of the biggest and most trusted names in bitcoin who tells me that bitcoin could be in for some major turbulence this summer.
That interview will be given first to TDV subscribers (click here to subscribe to make sure you get advanced access). But within 24 hours later it will be offered to the public on TDV's Youtube channel (so make sure to subscribe to the Youtube channel here so you don't miss it).
In it Trace outlines why bitcoin could be in for a rocky summer but how to protect yourself and profit from it… including his favorite altcoin pick which he thinks could rise 1,000%+ in the next few weeks.
Even if bitcoin does have a pullback and a volatile summer, however, the future for bitcoin is brighter than ever. Much of the financial world seems to have finally awoken to the potential of bitcoin, and other blockchain cryptocurrencies, and we are seeing billions of dollars flow into the sector.
That is unlikely to stop anytime soon. In fact, if things go as I hope, it won't stop until the US dollar and all other fiat currencies collapse and bitcoin and other altcoins become the currencies of choice for people worldwide.
If that happens, bitcoin will be worth over $1 million US in today's dollars. But we are a long way from that happening still.
And, the globalists have their own plan for a completely centralized, one world currency, called the SDR, which they have plans to roll out in 2018. And they will do everything they can to stop bitcoin.
It's an epic battle of good versus evil and the future of humanity rests on the outcome.
For this reason, I'll be going to Bilderberg, for the third year in a row, from June 1-4 in Chantilly, Virginia to expose the globalists and shine the light on the parasitic cockroaches who yearn to enslave all of humanity.
Stick with us here and on our Youtube channel so you don't miss a thing.
And, for those who still don't understand bitcoin very well and want to learn more I've just created a free four video tutorial to get you up to speed and a special offer to send you your first $50 in bitcoin (restrictions apply and must be new TDV subscribers).
Click here to view the free tutorial.
While bitcoin has been rising tremendously, we are still in the very early innings of the game and you'll be much better prepared to protect your assets and profit by understanding how bitcoin works today.
So, check out my free 4 video tutorial and $50 in bitcoin offer here.