The privacy-focused digital currency Monero was up 2760% in 2016. Is it for real or a flash in the pan?
2016 was a good year for Bitcoin and Ethereum, the two digital currencies with the most traction and public recognition. Bitcoin ended the year with a total market value of $15.6B (up over 119% y/y). Ethereum ended the year with a total market value of $699M (up over 760%).

But it turns out that a lesser-known digital currency that was quietly created by an anonymous developer on a message board in 2014 was the best performing digital currency in the world in 2016. That digital currency is Monero.
Adding privacy to blockchains
Contrary to the mainstream media portrayal of Bitcoin, the Bitcoin blockchain does not offer strong privacy protection for people who don't want their transactions known to the world. The Bitcoin blockchain actually reveals the public address of both the sender and receiver, the transaction amount and a timestamp for every transaction. Basic data mining can reveal the identities of senders and receivers based on the public data revealed on the blockchain. As a result of this poor privacy, there's an opportunity for new privacy-based blockchains to create a digital currency built on a truly private payment network.
You might be wondering why any normal person would want to use a private transaction network. Some assume that if you want private transactions, you must have bad intentions. It is true that illegal activities could be an early use case of the technology, but that has been the case throughout the history of technology (see the cover of Time during the early stays of the Internet in 1995). The reality is financial privacy is a fundamental human desire and a private payment network could have major benefits for all people.
Monero leading the privacy-focused blockchain movement
Monero (symbol XMR) is the current leader of the privacy-focused digital currencies. The Monero developers' breakthrough, "Spontaneous Ring Signatures", was created to mask the source of funds so that the specific signers of transactions can't be specified. The details on this privacy innovation can be found here.
While there are several blockchains that have implemented privacy solutions (e.g. Zcash and Dash) and also a few proposals for implementations of privacy features on top of the largest blockchains (e.g. Mimblewimble and Confidential Transactions), Monero currently has the most momentum of all the live privacy projects. See the chart below for details on how the competition stacks up in terms of market value, % increase in market value, average daily transactions, developer activity and hashing power.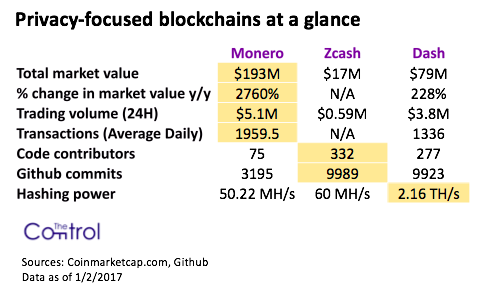 A grassroots movement
One of the most interesting aspects of Monero is that the project has gained traction without a crowd sale pre-launch, without VC funding and any company or well-known investors and without a pre-mine. Like Bitcoin in the early days, Monero has been a purely grassroots movement that was bootstrapped by the creator and adopted organically without any institutional buy-in. The creator and most of the core developers, including our own @smooth, serve the community pseudonymously and the project was launched on a message board (similar to the way Bitcoin was launched on an email newsletter).
Zcash has only been live for 3 months, but it has received more funding and publicity, has a well-known creator and has well-known investors publicly backing it. For traditional startups, these are significant advantages. But it remains to be seen how important known, well-respected founders, publicity, traditional funding and well-known investors actually are for blockchains — only time will tell.
The adoption and the road ahead

The lead that Monero has now does not guarantee long-term success and there are many challenges ahead for adoption. A few of the most significant challenges are:
Economic: The network effects that Bitcoin and Ethereum have over Monero could prove tough to compete with over time. If Bitcoin and Ethereum are able to build in privacy-features natively (through Confidential Transactions, Mimblewimble, or something else), Monero adoption may stall.

Psychological: Because it is decentralized and lacks a charismatic leader and institutional buy-in, it may be difficult for Monero to move past crypto-anarchist users. This could allow Zcash or other privacy focused projects to secure more integrations and partnerships with wallets, exchanges and merchants. The Alphabay integration was important for the trajectory of Monero in '16 and future integrations are crucial to adoption (note: just yesterday Kraken added Monero to its exchange).

Technical: There are some theorized vulnerabilities in the anonymity of Monero. For example, sophisticated data mining could emerge to render ring signatures ineffective at hiding the sender, which would challenge Monero's usefulness as a private transaction network.
Additional resources
If you want to learn more about Monero, here are some resources:
Read more about the project here: https://getmonero.org/knowledge-base/about
Engage with the Monero community at: https://reddit.com/r/monero
Download the recently released Beta I version of the desktop wallet at: https://getmonero.org/2016/12/22/monero-core-gui-beta-released.html
Follow one of two publicly identified core members of the project, Ricardo Spagni, on Twitter
NOTE: THIS WAS ORIGINALLY PUBLISHED ON MEDIUM
---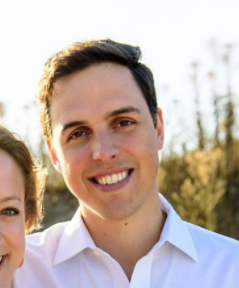 About me: I run The Control and am an investor at Runa Capital, an early stage venture fund. Previously, I worked on business development and marketing at Coinbase and as an Associate at North Atlantic Capital. My work has been featured in publications like the Wall Street Journal and Entrepreneur and I've guest lectured at the Yale School of Management.
Follow me on Twitter, signup for our newsletter and support us by becoming a member!