Hello there!
This is my entry for the Flora Photography Contest hosted by @the1ramp.
---
These photos were taken in May of 2016, at the Dendrarium Park (Парк Дендрариум) in Chisinau (Кишинёв), Republica Moldova (Респу́блика Молдо́ва).
While I was walking around the city one day, I noticed this park on the map and I decided to go there, since I was in the vicinity. After walking for 30 minutes, I finally got there. Yes, the park was close to me... its entrance, it's a whole other story.
---
As soon as you enter, you can imediately feel that this is a very well maintained public park and that the gardeners care a lot about their work. These small trees were not trimmed by employees who are fed up with their works, that's for sure.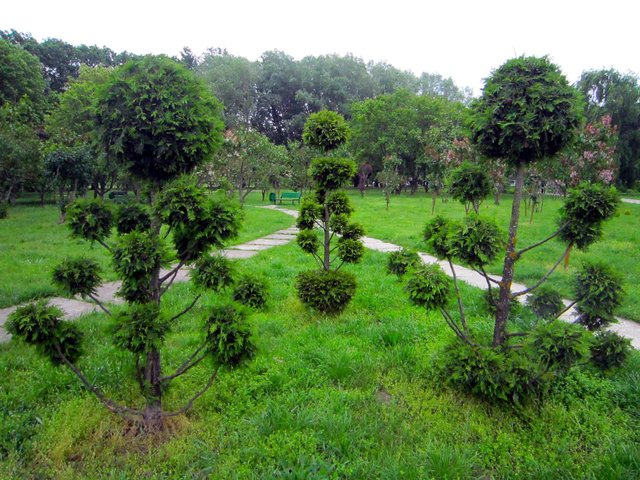 The trees and bushes were all trimmed in a cute way, forming interesting shapes, which gave the park a very romantic atmosphere.

There were all kinds of plants, bushes, flowers and trees at this park. And I found a squirrel, too.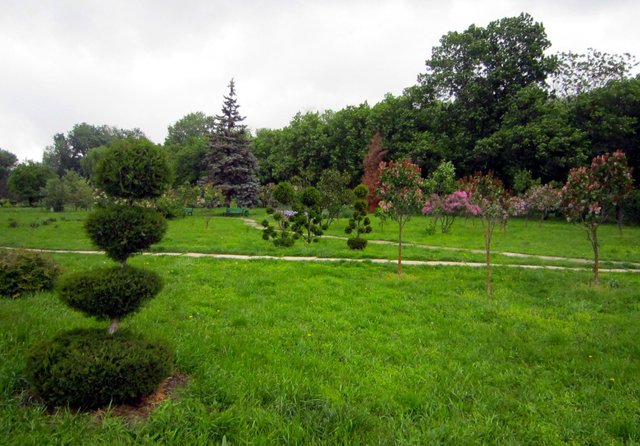 Check out the amount of colours in this group of flowers. These were not planted at random. Another good example of the love that this place gets from the dedicated gardeners hired by the city. Please keep in mind that Moldova is one of the poorest countries in Europe. And yet, they spend their taxpayers money to improve the city... as it should be.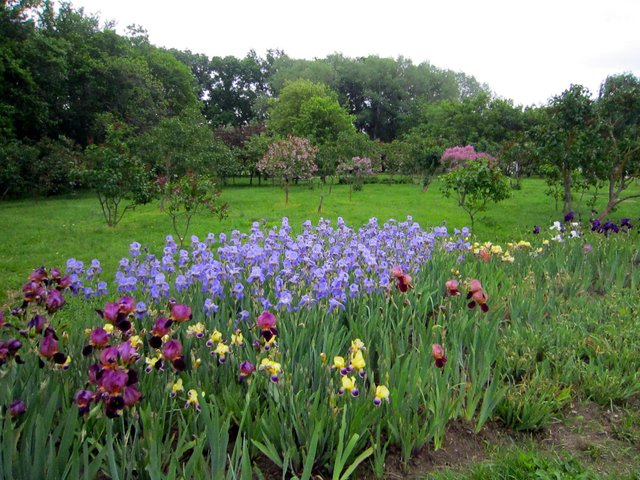 The city employees really do a fantastic job taking care of this lovely park. You won't see a single piece of trash on the floor. You can appreciate all this immaculate beauty, smell the fresh air and be happy!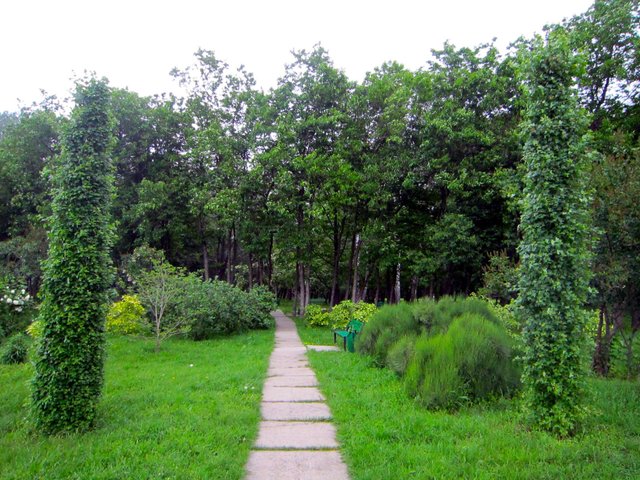 There are plenty of paths to walk along and you'll find lots of benches to sit on, in case you want to rest or simply read a book.
---
Somewhere in the middle of the park, there's a cute artificial pond, with tons of lily pads and a few frogs. A few streams of water were added to make it look even cooler.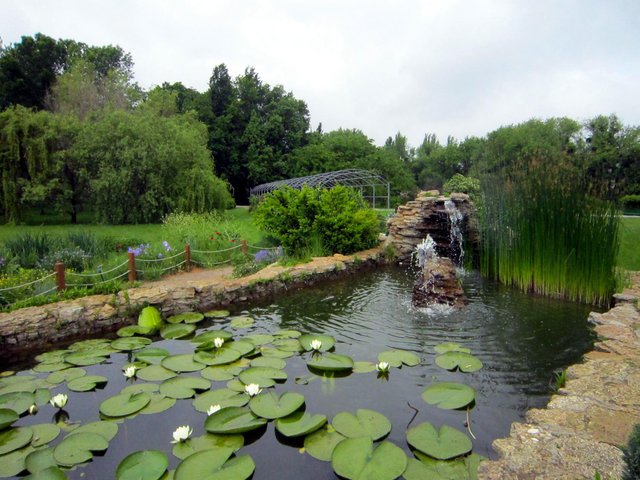 Here's the rest of this pond... I looked into the water and there were a few fish in there, too. They seemed quite happy about their tank.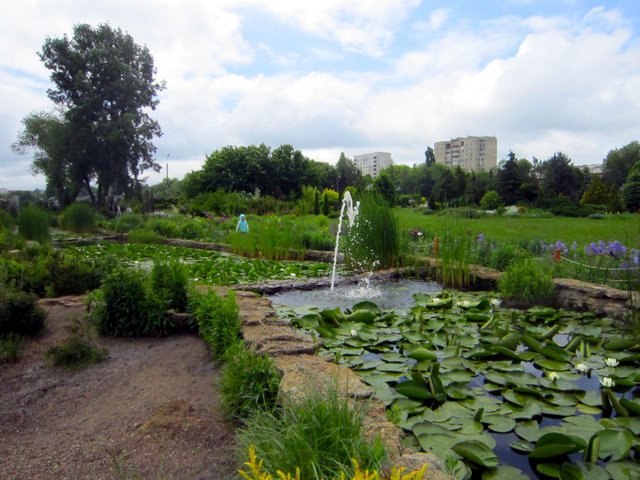 At the end of the pond, I saw another fountain with water squirting into the air, in all directions.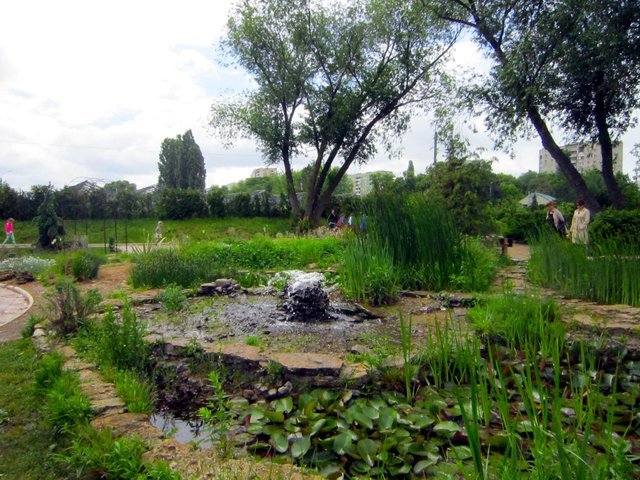 ---
There were a few people around, some couples, some parents with their kids, a few youngsters listening to music... and not a single one was disrespecting the place. You can see the kid below wandering off into the grass while his father kept an eye on him, making sure he wouldn't mess up anything.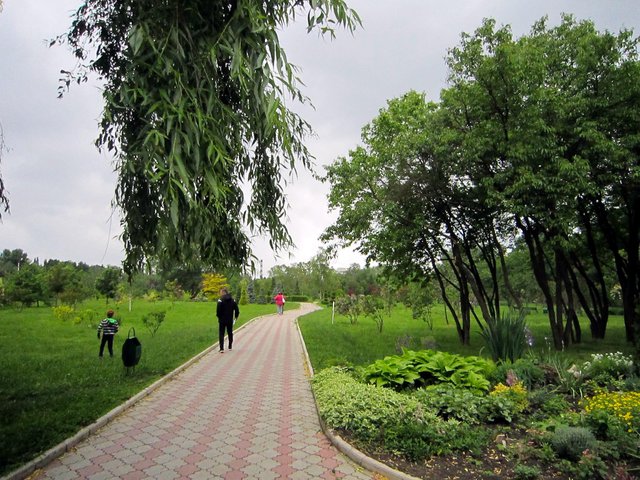 This kid was being called by his mother... but instead of running back to her, he kept smelling all the flowers. 😄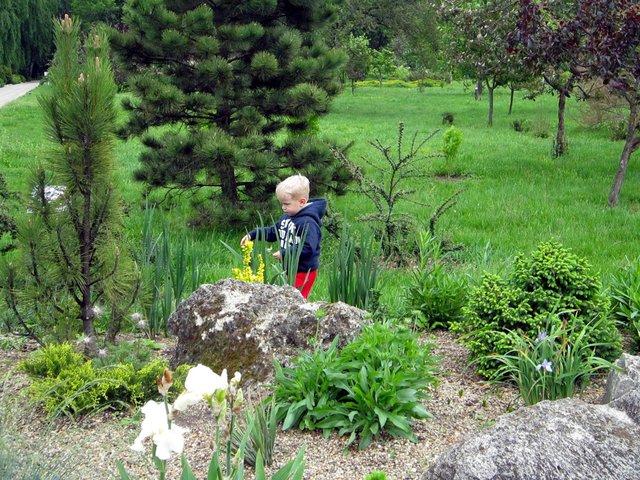 After a few minutes... his mother went to him instead. 😂
---
I hope you have enjoyed this little stroll through this park.
I highly recommend a visit to Chisinau if you enjoy nature, green areas like public parks and forests, and spectacular food. (If, on the other hand, you enjoy seeing historical landmarks, statues and museums, you'll be extremely bored.)
---
| | |
| --- | --- |
| Camera | Canon IXUS 210 |
| Location | Chisinau - Republica Moldova |
| | Edited with GIMP |
---